Need great Venice Information when you travel to Italy?
Welcome... Need Venice information? This is the best website for traveling to Venice Italy. For tips and information you came to the right place... I really love Venice. You see I went many times to Venice, some were romantic holidays, some were just for fun. 
Now I'm an expert. I tell my personal tips and Information. Learn from my experiences, learn from the do's and don'ts. All you need to know you can read it here on my Venice Information site!
There is so much to discover when you go to Venice Italy. The city will fulfill your expectations? Is Venice the same as on photos and in movies? What do you think?
Why i'm asking? Because it's an amazing city after your flight, the canals, the Venice Italy Hotels, and the Italian people. The Venice Attractions and sights and the fun after a gondola ride in Venice. And you? Are you ready for a holiday vacation in Venice and a City trip to this wonderful city?
"Read my quality Venice information and love the city..."

Why this is my own Personal Venice Information
When I went to Venice for the first time I stayed a week in this city! I was just married. I bought tickets to Venice for a flight to Venice Italy. Did you realize there are two Venice Airports? Which airport is yours? Read about in my explanation and own experiences. 
But know,,, finding a cheap Venice hotel requires preparation! There are nice apartments in Venice for rent, B & B, and what about hostels? I can help you!
Did you know there are great holiday parks and campsites outside Venice? And how do you get from Venice airport to the historic center? And in which is the best period to visit Venice Italy?
All I 'll explain! Read my Venice tips and the weather in Venice. I also have tips on Venice Carnival, Venice restaurants and shopping places.

And not to forget; see the Rialto Bridge and the Doge's Palace. Oh, yeah, and Venetian glass! On the island of Murano you can see how the famous glass is made in the traditional way. See the key facts about Venice to brush up your knowledge of this city in a nutshell.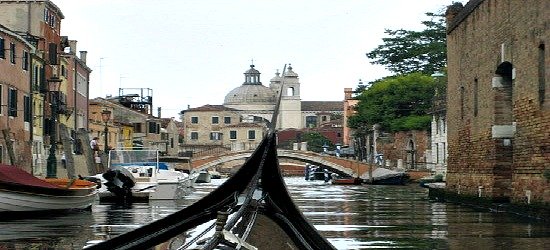 It is for me fun also to tell you a little bit about the history of Venice Italy. The first settlers were farmers and fishermen from around the Veneto area. They discovered some islands just above the water-line. These islands were made out of tree trunks gathered from the nearby mainland, fasted down into the silt. Nice to know before you go to Venice right?  
There is so much to tell about Venice. A city that you must visit and which is more than the opinion of a day tourist!!! The day tourist is somebody who will visit Venice on a hot summer day from their campsite or cruise ship. That is why I have tips on how to enjoy Venice when it gets busy and warm ....
First tip! Don't stay around too long around Piazza San Marco! Explore Venice! Hide in the narrow alleys and walk over its hundreds of bridges. Or even go to the less touristy islands, like Torcello, Burano or Murano!
OK, are you ready to explore more about your Venice holiday?
Share your thoughts with your friends on social media or subsribe to my newsletter...
Have A Great Story About Venice Italy, did you find something new?
Post your question or suggestion here using the form. Your contribution will be part of the site! I and other visitors will give you a response.
NEWSLETTER : Sign up and receive free updates about our shared passion 'Venice'. I promise I will not sell your information, your e-mail is safe with me.
Sign up for my newsletter 'New Venice Tips'.  Each issue contains a variety of information.  Updates to the site, answers to frequently asked questions, Venice tips, do's and don'ts.  
Sign up now and your subscription will start with the next issue.  Enter just your address and you will be added to my newsletter list. 

---

Cheap Parking in Venice Italy
Be smart and get a cheap parking place when you are visiting Venice Italy ! Here is an overview and mostly they have a shuttle services to Venice... Check it out! 
---