Get Cheap Flights to Venice Italy


Compare Prices for Round-trip, One-way, or Last-minute flights to Venice



I will tell you more about airplane flights to Venice Italy, on this page. Well prepared... That's what I had done before I took my trip to Venice. 
Visiting Europe for the first time? Which airlines offer direct flights to Venice? In this article I'll tell you everything you need to know about my flights to Venice Italy. 
CONTENT:
Let me show you all...

1. ...direct flights to Venice Italy from the US and the UK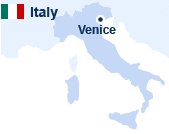 I summarized all direct and nonstop flights from the United States and the United Kingdom. But, first, let me explain the direct nonstop flights to Venice Italy.
,,, First, I will show you some other valuable information before buying an airplane ticket:

1. Compare the price if you fly to Venice. Play with the days of your departure. Choose back and return days and see if it's cheaper to stay an extra day in Venice. But which Airlines fly to Venice Italy?
2: Saving money includes creativity. Suppose your holiday means a trip to Europe. In that case, you can take your route to Venice by first visiting other central European cities.
In Europe, there are many ways to book cheap flights to Venice. Rome, Amsterdam, Berlin, London, Barcelona, or Paris? From these cities, you can book a trip to Venice directly. For example, with KLM  Amsterdam to Venice.
In Europe, cheap flights to Venice Italy is a competitive market. There are many discount fares to this romantic city. Some will just cost EUR 19 -. Flying overseas is a different story. Check on my particular page about a cheap flight to Venice Italy and more about the differences. 
For visitors who are traveling via Glasgow, I have more information. You might want to know more about the details and how to find the best
Glasgow to Venice airfare to arrive at TSF. The best European discount airline companies are Easyjet and Ryanair. Of course, it takes time to prepare, but hey… it really looks more complicated than it seems.
3. You are saving on your budget if you book a flight and accommodation directly in Venice. I will show you about 'from Rome to Venice' (Soon). Two romantic cities in one.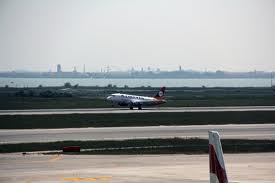 4. You have to travel outside your favorite seasons for cheap flights to Venice Italy. It really is a big difference in your airfare to Venice, Italy.
Venice itself is always magical. Pick your flight between October and April. Venice tourism is at its lowest. Bookings during Christmas and the Venice carnival with this excluded;).
Curious how we arrived in Venice? Check my page from the airport to Venice. You can also click on this link for information about the bus services.
5. Is it getting late? Or only one day left to visit Venice? Don't worry, there are enough Venice airport hotels.
Some people get confused about which airport they will arrive at. Therefore, I always advise to...
2. ...Prepare your Flights to Venice Italy
Why? Because agencies are using two different airports to reach Venice. It depends on which airline you take. 
Are you traveling with a major airline company, like Delta Airlines, British Airways, or American Airlines? Then you will arrive at Marco Polo Airport. I often use KLM for the best airline tickets and rates to this bigger airport. They have direct flights from the Netherlands, which are comfortable, and you save Flying Blue points. 
But are you traveling within Europe from Rome to Venice or from Glasgow to Venice? You likely will arrive at Treviso Airport (20 miles away from Venice).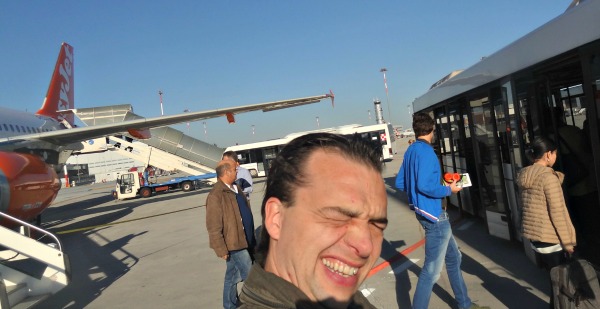 Arrival at Marco Polo Airport with my Venice Italy Ticket!
Sep 16, 23 01:29 PM

Visit Harry-s Bar Venice: Bellinis, Hemingway, and Venetian Elegance: The Legend of Harry's Bar.



Didn't find the information? Search within Venice-Information.com:



Let me explain. Because this is helpful... From the Netherlands, I often fly to Venice. I love the two airports in Venice. The cheaper Airport is Treviso Airport (TSF) which is only served by budget airlines like Ryanair. 
The disadvantage is that you still have to travel more than one hour to arrive in Venice. You can take a shuttle bus, a complicated train route (because you first have to get to Treviso center), or take a private taxi to Venice, Italy.
By saving on the airline ticket, you can use the extra budget for a nice hotel in Venice. Explore Venice on my way, and read more about getting Low prices on Venice Italy Tickets.
Marco Polo Airport (TSF) is a closer location and is served by international airlines. You can travel from the Airport directly with the Allilaguna boat service to Venice. Within 15 minutes, you are in the center of Venice.
Start looking for a cheap place to sleep in Venice

You could read about Flights to Venice. I have some suggestions, as you see. Please explore my website more and get more information about the different topics.
Home >  Flights to Venice Italy >
Continue Reading: