From Airport to Venice, how to get there?
Home >  From Airport to Venice >
I'll tell you all about how to get from airport to Venice! Venice Italy uses two airports nearby. Named: Treviso Airport and Marco Polo Airport.
If you fly with a low-budget airline you probably will arrive at Treviso Airport. I often use both, so continue reading to choose your favorite way to Venice... Please read my tips how to get in Venice or ask questions and make contributions to my site at the bottom of this page...
From Marco Polo airport to Venice

Marco Polo Airport is used by the major airlines. Big chance your flight will arrive here. The airport is 6 miles from Venice.

From airport to Venice you can take the Alilaguna line. This is the ferry between Marco Polo Airport and Venice. From the Airport to Venice by Alilaguna boat is fun! 10 minutes walk from the terminal to the wharf. Direction signs will show you the way.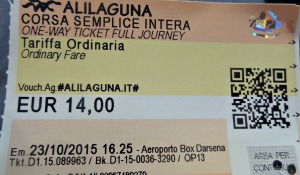 Alilaguna tickets are cheaper when purchasing more than 1
The Alilaguna boat instance stops at Lido, near the Rialto Bridge and St. Mark's Square in Venice. Until midnight it is possible to get from airport to Venice with this service.
Please be aware,, taking the Alilaguna line can be quite expensive. A return ticket on the Alilaguna boat costs € 27, -, a single ticket ticket € 15, -. It takes between 45 and 90 minutes to arrive at most destinations.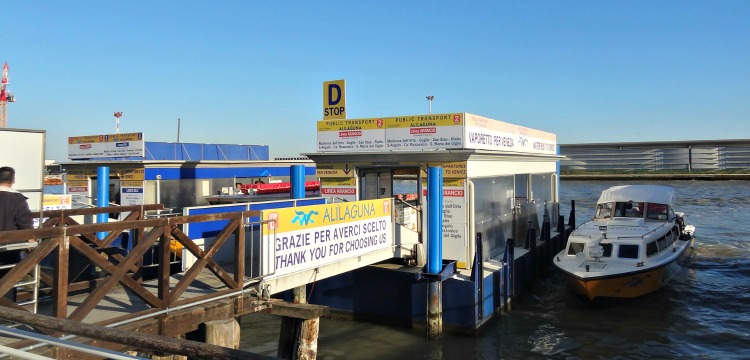 This is a small Alilaguna boat to Venice
The water taxis leave from the same dock where the Alilaguna boats also leave. A water taxi to Venice costs between € 90 - € 110, -. You can share a water taxi from EUR 32, - p.p. up to eight people and ten cases / bags. A taxi is the fastest way to get to Venice from the airport... 

The cheapest way to get airport to Venice is the bus; shuttle service with ATVO buses. Every 30 minutes they are driving from the airport via Mestre to Piazzale Roma. The journey takes 25 minutes and costs about € 15, - for a return ticket and a one way ticket € 8,-. The ticket includes large luggage.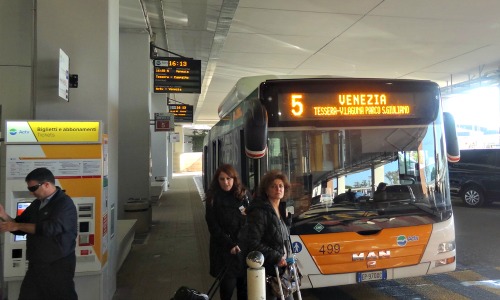 Front of the Aerobus no. 5 towards Venice from Marco Polo Airport
Another bus option is the most cheapest. This is the  Aerobus no. 5. This bus-service is operated by ACTV the public transport carrier around Venice.
Pay attention! Taking large suitcases into the bus is not always aloud. The ticket costs are about € 8. -, but in combination with a Tourist Travel Card € 6.50. This Travel Card is available in the machine or ticket desk at the airport.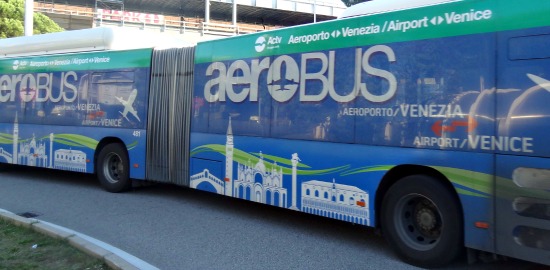 The Aerobus no. 5 from airport to Venice
Tip! When you using more than 3 times a day the Tourist Travel Card you can save on your budget! 
Tourist Travel Card: 
1 Ticket to use the vaporetto boat € 7.50 (75 minutes).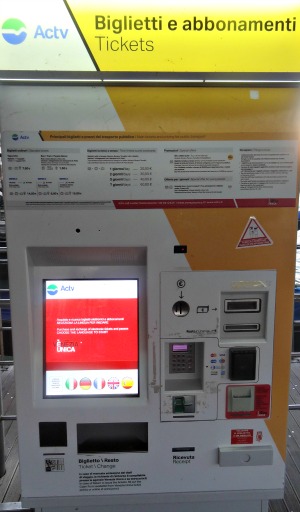 The ticket machine you can find on Treviso Airport, Marco Polo Airport, in Mestre and in Venice!
·         20,00 € - 1 DAY TRAVELCARD
·         30,00 € - 2 DAYS TRAVELCARD
·         40,00 € - 3 DAYS TRAVELCARD
·         60,00 € - 7 DAYS TRAVELCARD
Go for more information to the ACTV service & actual prices >
For Alilaguna- and the above mentioned bus-services you can not use the Travel Card, because it is not valid in the ATVO buses and even in the ACTV bus from and to the airport. 
The Traveld Card gives access to all boats (vaporetto) in and around Venice, the tram to Mestre (vice versa) and most public transport buses of ACTV around Venice.
You can also use the travel card on the island of Lido. It is valid for both the bus and the vaporetto boats.
From Airport to Venice 'Treviso'

Venice airport 'Treviso' is an airport 25 miles from the Venice historical center. The airport also has ATVO shuttle buses that leave every 45 minutes to Venice.
It's a cheap way to get to your destination. A return costs EUR 22, -. A single ticket costs EUR 12, -. The prices include baggage. The journey takes about 70 minutes.

The bus departs at the front of Treviso Airport. You can not miss it . Bus tickets are available in the bus or at the ticket machine / desk at the side of terminal 1 .

The ATVO-shuttle bus from Airport to Venice
The other option is a regular Taxi from Treviso Airport to Venice. It costs around € 100, - from Treviso. I always book the taxi with the best price on Cheaptaxis. It's cheaper! And you have a pre-agreed price.

If you don't book online, make sure you agree a price before you get in the cab! Taxis are available at the arrivals. Be careful, because it is important to agree on the fare before you get in the taxi. One time I just got in.. My fare was unexpectedly high,, of course I was angry, but he didn't change his mind… mmmm.. So.. Be careful…
The pricey option is to rent a car. You can easily hire a car from Venice Airport. Hertz, Avis and Europcar are represented. It is better to make a car reservation before you will arrive.  To drive from Treviso Airport to Venice is about 45 minutes. You can drop-off the rental car in Venice. Take a look at my page about car rentals in Venice >
What I did my first time at Treviso Airport? Most tourists will take this bus service from airport to Venice. But I took a more adventurous way. I took a train from Treviso to Venice railway station Santa Lucia. Train to Venice.

Therefore take the local bus (no 6) to the Treviso Railway station. Though this route takes 15 minutes longer, I took the train. I didn't want to sit all sweaty and bumpy in the bus. I loved the train!!! See the timetable of bus no. 6
Don't make mistakes many train visitors do,,,they take off at the wrong Station "Venezia Mestre". Wait until the train has crossed the lagoon and arrives at "Venezia Santa Lucia" and get out!!! Venice begins! From here there will be a water bus service who will drop you off near your Venice hotel. Total cost to arrive from Treviso airport to Venice? About € 15, - per person.

Have A Great Story About This?
Write about it here! Display your own great story how you got from the airport into Venice Italy. Share it! Writing skills? Your comment will appear on a new webpage. Make it as long as you want with photo's and your story.

---
---

Cheap Parking in Venice Italy
Be smart and get a cheap parking place when you are visiting Venice Italy ! Here is an overview and mostly they have a shuttle services to Venice... Check it out! 
---
I have shown you how we get from airport to Venice. I have some suggestions, as you will read. Please explore my site more and get even more information about the different topics.
Go from 'From Airport to Venice' to 'Home'
Continue Reading: