Where to find the best Venice Italy Hotels?
...The romance... The atmosphere in Venice... You will experience it in Venice Italy Hotels. More than 500 hotels in Venice are waiting for you in the heart of the lagoon... Cheap hotels and luxury hotels. 

But how to choose the best hotel? ---> This is my guide about Venice hotels and the best places for sleeping in Venice. 
Do you want the best? This city has it all. Read where I slept and experience my personal tips! 
For example, my stay at Hotel Lisbona. A great hotel when you are visiting Venice. Enjoys the privilege of a central location with a fair night rate.
CONTENT
1. My Hotel Experience and Advice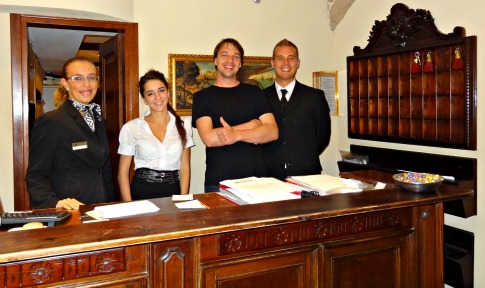 I was hoping you could read about the hotels I have visited, my experience, and tips. The last hotel that I stayed in was Hotel Palazzo Priuli. I had a great time with my family (2 kids). Great room and location. Please tell me about your experience at Hotel Palazzo Priuli.
As I wrote, my first hotel was 3 nights in hotel Lisbona, including a simple continental breakfast. It was a kind of honeymoon, a romantic holiday... A nice Canal hotel in Venice style! The price is low and very near Piazza San Marco, the heart of Venice. Don't care about the cheap and old Venetian decoration style. The price is low in comparing the location!
 2. This is why I book the best Venice Italy Hotels in advanced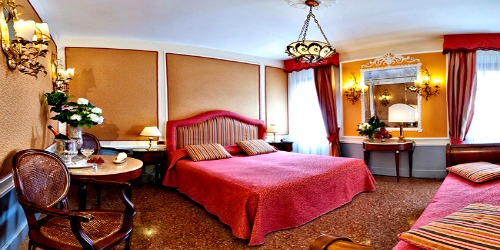 Holidays in Venice, Italy, are because of romance... Poor me... Well,, I can't afford every visit to a 5-star hotel! But maybe you can do it once! For example, the Venice Hilton Hotel - Molino Stucky is doable. And it is a 5-star hotel. Curious about the Advantages and Disadvantages and the Location? Read all about the Hilton Hotels in Venice. 
Imagine... When opening your windows at a Charming luxury hotel in Venice. The Piazza San Marco is at your doorstep. If you have the possibility,, Go! It's a lifetime experience.
People contact me about which hotel I should advise. My answer is always that I prefer a Hotel in the Venice center. The city is right on your doorstep. Early in the morning, Venice is at his best. You can only experience this when your hotel is in the center. 
Sep 16, 23 01:29 PM

Visit Harry-s Bar Venice: Bellinis, Hemingway, and Venetian Elegance: The Legend of Harry's Bar.



Didn't find the information? Search within Venice-Information.com:



Tip!: Venice, Italy, is one of the most expensive cities in Europe. And yes, the city has a lot of hotels. But I know the best quality is cheap...
An example of a good affordable hotel in the center of Venice and near the Rialto bridge is Hotel al Vagon.
Check out this hotel which has no breakfast facility. You have to arrange this yourself. But, it is a comfortable hotel in an excellent location. I stayed here when I joined the marathon of Venice.
Escape Venice tourism? So. Why don't you take the convenience of a hotel outside of Venice? Many advances; you can quickly discover the Veneto area from an airport hotel. Most of the time, the price of the hotel is lower. But, be aware because you also have to calculate the transport costs to and from Venice... Check here the hotels outside of Venice >
3. Extra Venice Italy hotel tips:

Prepare good and book on time. Read my advice and reviews about the hotels.
Your hotel needs to give comfort, so you can enjoy and relax. After a whole day of walking and exploring Venice, you need a rest. And also the romance, of course ;).
No annoying sound, stinky rooms, and an uncomfortable bed. In Venice, Italy, there are a lot of hotels that have small rooms. Even 3-star hotels have old decorations, and it is too cozy. 
You can book one of the many Venice luxury hotels. You probably know these Venice hotels from celebrity news or movies. For example, James Bond in Hotel Cipriani.
Have A Great Story About a Venice Hotel?
Do you have a great story about this? Share it! Write about it here! Display your own story about your Venice Italy Hotel. Writing skills? Your comment will appear on a new webpage. Make it as long as you want with photo's and your story.
---
You have read about the Venice Hotels in Italy. There is plenty to offer, as you see. Please click on the links to explore my site more and get even more information.
Return from 'Venice Italy Hotels' to my Home page
5. Continue reading about hotels:
Start looking for a cheap place to sleep in Venice