Do you want to sleep in nice Venice Italy Hotels?
Home >  Venice Italy Hotels >
... The romance... The atmosphere in Venice... You will experience it in Venice Italy Hotels. There are more than 500 hotels in Venice waiting for you in the heart of the lagoon... Cheap hotels and luxury hotels. 
But how to choose the best hotel? This is my guide about Venice hotels. You want the best? This city has it all. Read where I slept and experience my personal tips! For example my stay at Hotel Lisbona.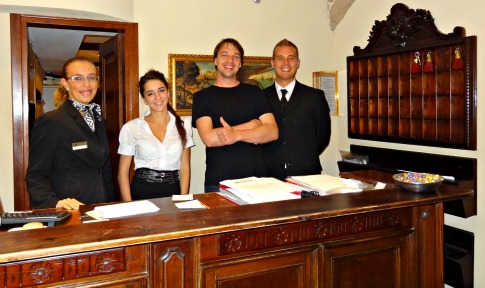 Read here about the hotels I have visited, my experience and tips. The last hotel that I stayed is Hotel Palazzo Priuli. With my family (2 kids) I had a really great time. Great room and location. Please tell me your experience on Hotel Palazzo Priuli.
And the first time I stayed my romantic holiday 3 nights in hotel Lisbona, including a simple continental breakfast. A nice Canal hotel in Venice style! The price is cheap and very near Piazza San Marco, the heart of Venice. Don't care about the cheap and old Venetian decoration style. The price is cheap in comparing the location!
Holidays in Venice Italy are because of romance... This is why you have to book the best Venice Italy Hotels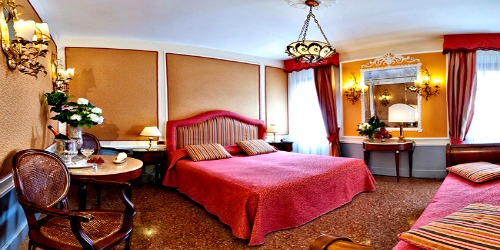 Poor me... Well,, I can't afford every visit a 5 star hotel! But, maybe you can do once! Imagine... When opening your windows at a luxury Charming hotel in Venice. The Piazza San Marco is at your doorstep. If you have the possibility,, Go! It's a life time experience
Tip!: Venice Italy is one of the most expensive cities in Europe. And yes, the city has a lot of hotels. But I know the best quality cheaps... Read my page about cheap hotels >
Escape Venice tourism? So.. Why you don't take the convenience of a Venice airport hotel? A lot of advances; from an airport hotel you can discover easily the Veneto area.
Extra Venice Italy hotel tips:
Prepare good and book on time. Read my advice and reviews about the hotels.

Your hotel needs to give comfort, so you can enjoy and relax. After a whole day walking and exploring Venice, you need a rest. And also romance of course ;).

No annoying sound, stinky rooms and an uncomfortable bed. In Venice Italy there are a lot of hotels which have small rooms. Even in 3 star hotels they have old decoration and it is too cozy. 
You can book one of the many Venice luxury hotels. Probably you know these Venice hotels from celebrity news or movies. For example James Bond in Hotel Cipriani.
Venice Italy budget accommodation

TIP! Union Lido Camping Park & Resort outside Venice is a number 1 budget accommodation. More info >
---

Cheap Parking in Venice Italy
Be smart and get a cheap parking place when you are visiting Venice Italy ! Here is an overview and mostly they have a shuttle services to Venice... Check it out! 
---
You have read about the Venice Hotels in Italy. There is plenty to offer, as you see. Please click on the links to explore my site more and get even more information.
Return from 'Venice Italy Hotels' to my Home page
Continue reading about hotels: