Looking for Cheap Venice Hotels in Venice?


Read about Great Hotels and Tips & Advice
You will save money and can spend more on Fun! You are here at the right place to find Cheap Venice Hotels...!
I know this because I have visited Venice a lot. For sure, I stayed for 75% at cheap hotels in Venice. So, I can tell you all about it!

I will show you information about great hotels with a price range between € 70,00 - € 175,00. All the cheap hotels in the heart of this city!
The hotel rates in Venice are one of the highest in Europe. That's why I have for you...
CONTENT:
1. ...My Best Cheap Venice Hotels with a story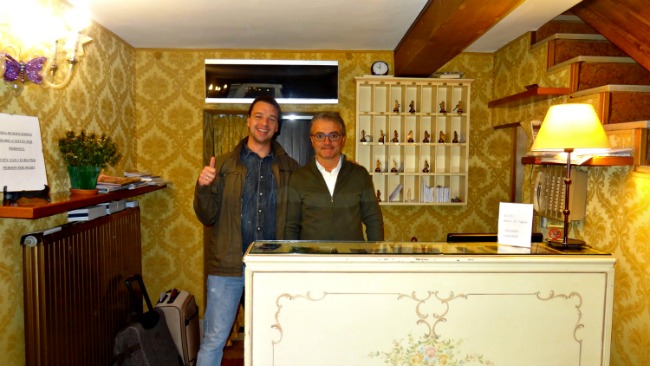 Hotel Al Vagon has a location where you can experience the atmosphere of Venice. I stayed here in late 2015. A total of 4 nights for EUR 430, -. Room number 29 with a view of a canal.
There is no breakfast. The rooms are excellent and clean for one of the cheap Venice Hotels. Your hotel is near the Rialto Bridge and within easy reach from the vaporetto stop 'Rialto.' Please read about my stay at this hotel>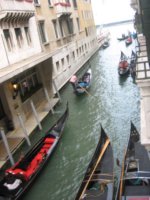 Hotel Lisbona is a cheap hotel where I still remember my first holiday in Venice. I stayed for 3 nights. Unfortunately, the hotel rate went up when I checked for the last time. But it is reasonable because this Venice hotel is near the Piazza San Marco. Nice!  
I had a room where opening the window, beneath the Venice gondolas were passing, and I could enjoy the view. The hotel is next to a canal connected to the grand canal. Read my page about Hotel Lisbona >
Well, of course, I agree with you. These two hotels are still somewhat costly, but because of their location, they are one of my favorite cheap Venice hotels.
That's why I have great tips on... 
2. ...Finding a Cheap Stay in Venice
Hotels in Venice are sometimes unexpected romantic beauty spots in Venice. You will find one too. Keep looking and take into account that Venice hotels are mostly small, but comfortable.
You will find a lot of affordable Venice hotels decorated with furniture and fabric reminiscent of the 18th century. Real Venetian style. When you stay in Venice, you will experience your holiday with all your senses. Admittedly, it's possible to visit Venice and sleep cheap...! Yes, you just got to prepare well. And I will show you how in these more in-depth details for a cheap hotel in Venice Italy! 

The most common cheap accommodations are:

3. ...Budget hotels, Hostels and Bed & Breakfast Accommodations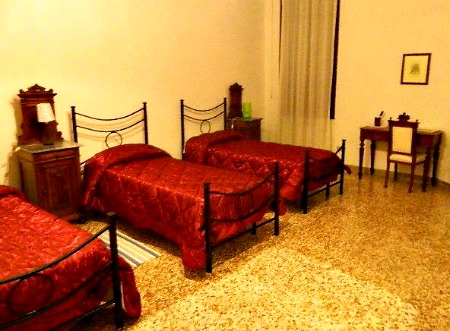 Hostels and Budget hotels in Venice
Budget life in Venice? Take care in which location you will have a drink. Otherwise, you have to pay, for example, for two cappuccinos EUR 45,- on San Marco Square. This carefulness you also have to be aware of this when booking accommodation.
Read about quality budget hotels Venice, available hostels, and the cheapest apartments! Venice is expensive, and the prices are among the highest in Europe. But compare it with an excellent location in Paris or London. Save on hotel rates for a city trip to Venice. Read other tips on Budget Hotels in Venice and get more information and tricks to have a budget stay in the city of love...
Staying in a hostel. Whether you're a student backpacker? A hostel is not fancy, but the goal is to save money. Ssssssst…. The jet is paying for fancy and expensive hotels, while you see the same sights... Finding good hostels in Venice, Italy, is not easy. Explore the city and read about my Top 5 favorite Hostels in Venice.
Comfortable Bed & Breakfast in Venice? Your host provides tips on what to do in this beautiful city. Travel advice is better than most travel guides. The B & B's are an affordable alternative to expensive hotels. You do not have room service, but you get a comfortable home. I have a Top 5 carefully chosen Bed and Breakfast in Venice > Check it out!
Another option is to have an...
4. ...Accommodation in the urban city Mestre or island Lido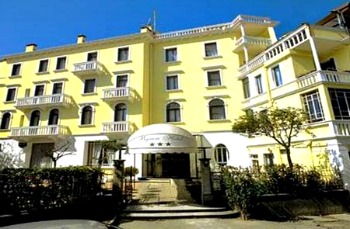 Hotel Byron on the island Lido
What is better? A hotel in the historic city of Venice or a Hotel in the urban town 'Mestre'? Many visitors choose a hotel on the island of Lido because the hotel rates are better than in Venice.
When finding cheap Venice Hotels, it is good to know that Mestre is where you can quickly catch the train or bus to Venice in just 15 minutes. And Lido is the island where you can reach the heart of Venice by vaporetto boat within minutes. I was hoping you could read here about my advice on a Hotel in Mestre or on the island of Lido >
Sep 16, 23 01:29 PM

Visit Harry-s Bar Venice: Bellinis, Hemingway, and Venetian Elegance: The Legend of Harry's Bar.



Didn't find the information? Search within Venice-Information.com:



I prefer a hotel on the island of Lido. Here you can breathe the atmosphere of Venice, Italy. You are already in the lagoon and can go smoothly with the vaporetto boat to st. Marc Square. Hotels in Lido are relatively cheaper and more romantic...
Well, that's all set! You are ready to book your cheap Venice hotel with other budget tips!
But, I will not leave you behind with other favorable addresses of hotels when I think about budget accommodation and great locations.
You can read about...
5. ...Location and Budget Quality Hotels in Venice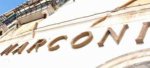 Hotel Marconi Venice Italy has some cheap rooms, and it's near the Rialto Bridge. The great thing is you can use the outside seating next to the grand canal. With the warm reception and simple rooms, it belongs to my selection of cheap places to stay.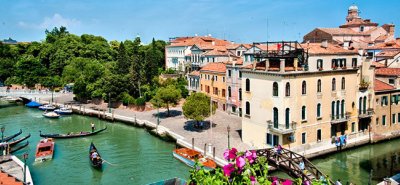 Arlecchino Hotel Venice Italy is a 3-star hotel near the Piazzale Roma. For most of you, the city of Venice begins here. Hotel Arlecchino is located in the historic center, and it's very conveniently nearby sights and shops.
Moreover, it is near parking, a bus terminal, and a train station. 
Considering this and the accommodating staff, it belongs to my selection of a cheap place to stay in Venice, Italy.
Have A Great Story About a Cheap Hotel?
Have A Great Story About a Cheap Venice Hotel? Share it! Write about it here! Display your own story about your Cheap Hotel. Writing skills? Your comment will appear on a new webpage. Make it as long as you want with photo's and your story.
---
I have some Cheap hotel suggestions, as you will read. Please click on the links to explore my site more about the different topics.

Return from 'Cheap Venice Hotels' to my 'Home Page'
8. Continue Reading about cheap Venice hotels:
Start looking for a cheap place to sleep in Venice