180 pages about Venice Italy - save money - personal answers - travel experiences - tips, do's & don'ts
Transportation in Venice? Public transport 24-72 hours.

Read more >

Gondola Ride in Venice reservation. 

Read more >

Doge's Palace Secret Tour and Opening Time + Fast Lane.

Read more >
About me: Who is Venice-
Information.com?
 I 'm fond of the city & perhaps the most frequent visitor
Home > About me >

About me: It is me who is writing the text, making this site and she is joining some of my holidays in Venice, Italy.
A Good combination if you ask me… both very happy with it… Who not… Together we make contact with the Venetian people and businesses. We search for the best Venice Italy tips, the do's and don'ts.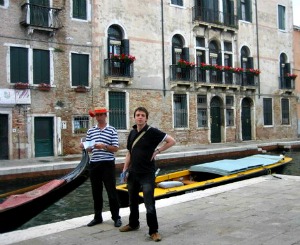 My name is Rudmer Hoekstra and i'm the author of Venice-Information.com. I live (yet) in the Netherlands, but I'm at least 1 time a year on my favorite vacation, 'Venice.' I 'm fond of the city and perhaps the most frequent visitor. Check my Linkedin profile.

I still remember my feeling the first time when I arrived at my Venetian journey. An enthusiastic emotion of a beautiful and beautiful city it is.
Venice is not losing its beauty despite the many tourists. Immediately I noticed this. This feeling I tried to pass through on you as a reader of my site.
Are you sharing my passion? Please invite friends, family, or colleagues and let them know about my site.
I made notes, tried almost everything and yearly from 2007 I've visited this historic Lagoon frequently. Since my first visit, I have collected all the news, essential information, and even many real Venetian gifts. So maybe someday I even start my real Venetian gift shop. Everything I see and know I try to share it with you.
We can talk...
...About me, but this site is for you!
Venice-Information.com is launched in 2008 with ten pages. It is a copy of my successful Dutch website: www.NaarVenetie.com. Since I had to discover how to build a website, it took some time to develop this site. And this English version is the oldest brother of the Dutch version. 
I have now 140 pages about Venice. And there is much more to come! The number of visitors grows. Besides, the number of quality links to my site grows. My site interacts and communicates with its visitors. I know exactly who my audience is. Every day I get an average of 4 questions in my email inbox. I treat them all personally.

People also respond to the pages and leave comments. Mostly I'm the first one who is responding. REQUEST! Help me with responding to a question... Do it!

All this keeps me motivated and shows my site Venice-Information.com fulfills a need.
Link to my site > https://www.venice-information.com
Do you have any questions? Please contact me. Have fun on my website and keep in touch.
Arrivederci !!!
Rudmer
---
You have read about the development of this site. Please click on the links to explore Venice more.
Return from 'About Me' to my Homepage 'Venice Information' >
---

Cheap Parking in Venice Italy
Be smart and get a cheap parking place when you are visiting Venice Italy! Here is an overview and mostly they have shuttle services to Venice... Check it out! 
---