Gondola Cost Venice | A shared Gondola or a Private Tour | With or without Serenade | Read what fits best!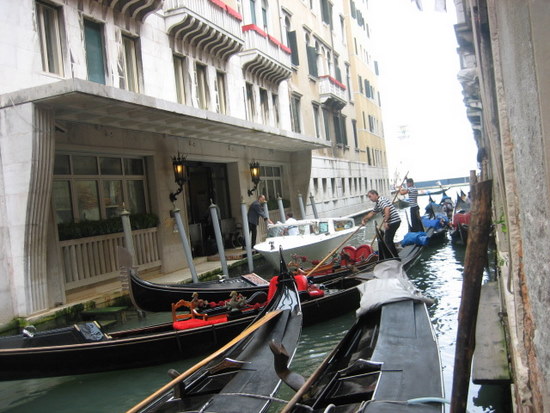 Parked Gondolas prepared for their next customer at the beginning of the day
Wondering what it costs? A standard gondola ride has a fixed price of 80 euros. You have a private tour of 30 to 40 minutes long. In the evening, a gondola ride costs 120 euros when the sun goes down.
The gondola cost Venice is a fixed price and is decided centrally every year. The prices on this page are the prices of 2019.
The prices are per group and not per person. Those 30 minutes seem short, but you can request a more extended tour. But ask the gondolier the price in advance. Often an extra 20 minutes costs about 40 euros. Check and book a gondola ride >
Do you also have to tip the gondolier? You will uniquely experience Venice. But such a gondola ride costs quite a few euros. If the service of the gondolier is excellent, then a tip is always welcome.
Sep 16, 23 01:29 PM

Visit Harry-s Bar Venice: Bellinis, Hemingway, and Venetian Elegance: The Legend of Harry's Bar.



Didn't find the information? Search within Venice-Information.com:



If you are in a shared gondola, a tip is always expected. But you don't have to.
You can take the gondola with your family for up to 6 people. The gondola cost Venice is not that bad.
But what is the difference with a trip...
...in a shared gondola?
Gliding through Venice in a gondola with people you don't know. That is so touristy. 30 minutes through the canals on a sweltering day. You can still taste the magical atmosphere and admire the beautiful views. Nooks and spots that you can only see from a gondola.
Don't bother about the other people in the gondola. Such a gondola ride is fantastic. However, those shared gondolas have the same starting point; therefore, tourists are extra busy. You will experience the magic of Venice a little less. You can expect this in July and August, so be prepared for that too.
Such a shared ride is advantageous if you are alone or in pairs. You don't have to cough up 80 or 120 euros. Often the shared gondola costs Venice 34 euros p.p. More information>
Would you rather have a...
...private trip in a gondola? What is the gondola cost Venice?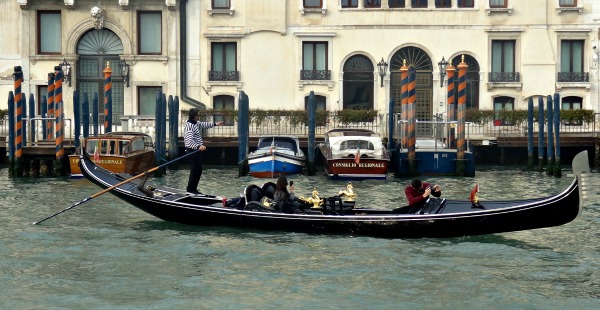 Sorry for the bad quality gondola picture
Yes, it is a bit quieter. Your own gondola with a private gondolier. Through the calm canals of the city. A personal trip that lasts 30 minutes, and you will not be bothered by unknown tourists in the gondola. 
Do you want to do a unique route? Consult clearly and make sure you understand the gondolier well. That you don't get any surprises.
Do you find agreeing on a reasonable price for a gondola tour challenging? Then it is better to book a gondola ride online via the internet.
A private gondola ride, of course! Choose when you want to go, in the morning, afternoon, or evening. Because this requires extra service and administration. The gondola cost per ride is higher. You pay 140 euros per group (up to 6 people) if you book a private gondola tour online.
And just like in the movie... How do I arrange a...
...Gondola Serenade?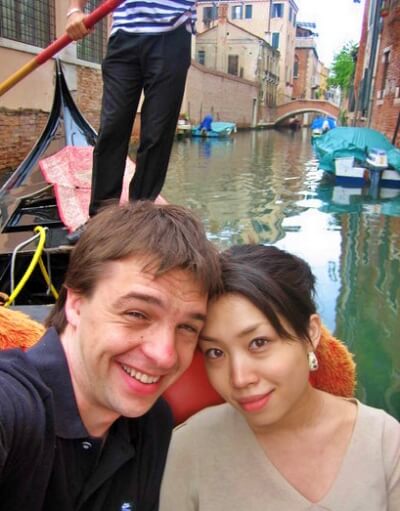 You know it. From those romantic scenes with a gondolier in a striped shirt singing fantastic songs. Something for you and your loved one? You can book a gondola tour on the Grand Canal with 30 minutes long Italian serenades.
Wonderfully romantic and perhaps the highlight of the day. You, as a couple in love in an authentic gondola. Experience a 30-minute tour of the Grand Canal with Italian serenades. Book your gondola ride with serenade >
Is a gondola ride worth doing?
Opinions are divided, and I understand. Especially when you read about the gondola cost Venice. But if you're there, why not... Just do it. Otherwise, I recommend the shared gondola ride that you can book at Tiqets.com.
Please choose the right time, such as in the morning, or take the private gondola tour at a boarding point where it is not busy. It is quite an experience. You will see parts of Venice that you would not otherwise see and experience the city from the water. In the past, Venetians boarded a gondola to get around the city. They say that the real soul of Venice lies between the canals and not in the streets where only people of the lowest classes walk.
An excellent place to find gondolas is away from the Grand Canal and St. Mark's Square. Go to these areas: 
San Polo Campo
The Jewish Ghetto
Choose a gondola stop in the area you want to visit. Walk a few blocks away from St. Mark's Square for a gondolier.
Still not sure you want to take a gondola?
How do I get a cheap gondola ride in Venice?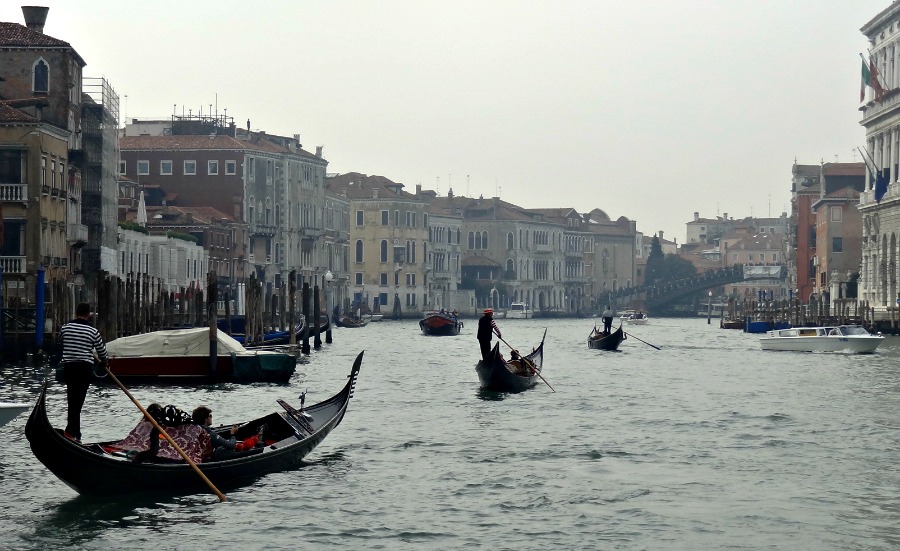 Take the waterbus, vaporetto, line 1 on the Grand Canal. This is also fantastic. Especially if you are in Venice for the first time and it costs only 7.50 euros per 90 minutes. Or go along the quays of the Grand Canal. There are several boarding points to take a Traghetto gondola. This ensures that you can make the crossing on the water. Only 2 euros per person. Otherwise, I recommend the shared gondola ride that you can book at Tiqets.com.
Not to forget and also very important... What about the gondolier? Why is he...
...Wearing a striped shirt, and what do Gondeliers actually earn?
Gondoliers can join the highest-earning workers in Venice. They earn 130,000 euros a year. But they have a lot of costs to repay their gondola or to live in Venice.
And that striped shirt? They used to wear black clothes, just like the color of the gondola. Some also wore white. But after World War II, this suddenly disappeared, and the gondoliers slowly switched to striped shirts, red, blue, or black stripes + a hat. This uniform goes very well with the striped buoys in front of the Palazzos on the Grand Canal.
Book other Gondola tours in Venice in advance:
---
Please click on the links to explore my site more and get even more information about the different topics about Venice Italy. Gondola Cost Venice helped you to get the best match on your trip.

From 'Gondola Cost Venice' to page 'Facts about Venice' >
Continue to read these related topics:
Start looking for a cheap place to sleep in Venice