How to get from Mestre to Venice?


Mestre is a Beautiful Hub to Enjoy and Discover the city




"With Answers about How to Get from Mestre, 
You can Enjoy Venice more!"
Home >  From Airport to Venice >  Mestre to Venice >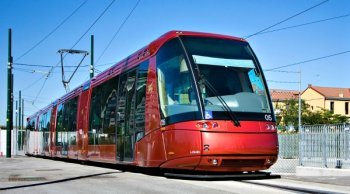 Questions on my site are about how to get from Mestre to Venice. I'm your guide because my visitors have their hotel in Mestre.
And I provide Venice Information which will save you money. I offer personal answers and others can give tips about their Travel Experiences. You choose better Accommodation and will get the best tips, do's & don'ts. 
First, a good thing,,, a hotel outside Venice is not a bad idea, because the transport connections to Venice are well organized. No worry! Read on this page how to get... 
...From Mestre with the Tram to Venice
Mestre is located 6 miles from Venice. Besides buses and trains, there is also a tram service. I prefer the tram as the best transportation from Mestre to Venice. It has stops at the most essential locations in Mestre. Probably even near your hotel. 
Tram lines from Mestre to Venice T1 & T2
To travel cheaply from Mestre, it is better to purchase...

...Tickets with a Day Travel Card
A bus or tram ticket is each time € 1,50 when you buy it at a ticket machine. On board of the bus or tram it is € 3,00. The price is low, but if you want to combine it with the vaporetto boats in Venice (EUR 7.50 per ticket), you better buy a Tourist Travel Card. You can use all public transport (not to the airport) of the company ACTV.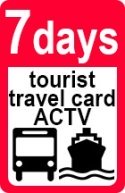 The options are;
20,00 € - 1 DAY TRAVELCARD
30,00 € - 2 DAYS TRAVELCARD
40,00 € - 3 DAYS TRAVELCARD
60,00 € - 7 DAYS TRAVELCARD
In this modern time, you can also use your smartphone to scan before entering the bus or vaporetto boat. Buy your Travel Card tickets online.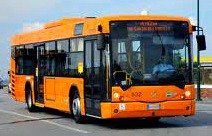 The ACTV transport company is the public transport service in and around Venice. And you should know, Venice itself has no roads for cyclists, cars, and buses, so there are no bus connections to the hotels in Venice.
The bus coaches do not go beyond Piazzale Roma. From here you can continue with vaporetto boats on the water. To check the schedule of the buses go to www.actv.it (also in English).
Another great option is to travel...
...With the Train from Mestre to Venice
Taking the train to Venice? From Mestre, it is straightforward. Just take the train to Venezia Santa Lucia station. It is a great thing if your hotel is near the train station in Mestre. With the trains leaving every 15 minutes you are in no time in the middle of the hustle and bustle of Venice.
Check the availability of Hotel Bologna in Mestre near the Train Station >
"My hotel in Mestre is not near the train station… How do I get there?" Don't worry, the public transport around Venice is well organized. 
And almost all hotels are near a bus stop to connect you with Venice or the Mestre railway station. For example: Bus no. 2 runs from the train station in Mestre to Piazzale Roma in Venice. 
The other way around all trains from Venice stops at the Venezia Mestre train station. From Mestre, you can go anywhere in Italy, also with the train to Rome. For schedules and reservations visit www.trenitalia.it (even in English).
Traveling from Mestre to Venice you need to have...

The easy options from Mestre to Venice
ACTV bus line no. 2 (Mestre train station) direction VENEZIA :: 15 minutes and 7 stops € 1.50
ACTV bus line no. 4L (Mestre Centro) direction VENEZIA :: 16 minutes and 8 stops € 1.50
ACTV bus line no. 5 (Mestre Centro) direction VENEZIA :: 17 minutes and 9 stops € 1.50
Bus ATVO line no. 10A direction Favretti :: 13 minutes and 1 stop € 3.50
ATVO bus line no. 25 direction Aeroporto Marco Polo :: 10 minutes and 1 stop € 3.50
Tram no. T1 from Mestre Centro direction towards VENEZIA :: 22 minutes and 9 stops € 1.50
Train from Venezia Mestre Train Station FS towards Venezia S. Lucia train station :: 15 minutes and 1 stop € 5.50
Taxi (road) to Piazzale Roma :: 13 minutes € 20.00 t / m 25.00
Car parking at St. Mark :: 12 minutes drive from Mestre parking fee more than € 30, - a day
Bicycle. At Venezia Mestre train station you can rent bicycles. A fixed fee of € 15.00 and after 60 minutes € 1.00 every 60 minutes. You can also book a Bike Tour to see more of Venice and its surroundings. Unique! My surprise was that it was possible, but you can indeed schedule a bike tour in Venice. You go with a guide to Lido and much more. Maybe it doesn't help you to go from Mestre to Venice, but it indeed an excellent activity in Venice.

 

Decide for your self >
Walk from Mestre Centro to Venice :: 120 minutes
Walk from Mestre Train Station to Venice :: 100 minutes
The € 1,50 prices are the prices for publick transport if you buy them in a ticket machine or another authorized reseller. 
Always prepare well to check the hotel's website. All hotels have information on how to reach the hotel from the Airport and how to reach Venice. Keep note of the hotels near the train station in Mestre. They have higher rates. 
If your hotel is not within walking distance of the train station, you need a local bus or a private hotel shuttle bus that often costs money to Venice.
Have A Great Story About How to go from Airport to Venice?
Write about it here! Display your own great story how you got from the airport into Venice Italy. Share it! Writing skills? Your comment will appear on a new webpage. Make it as long as you want with photo's and your story.

What Other Visitors Have Said
Click below to see contributions from other visitors to this page...

Changes in busprice

As you've written here, the price is 1.50, but getting on bus 43 and 7E, I paid 3 per way... I don't get this.
You've read about how to get from Mestre to Venice. There is plenty to explore. Read my site and get more information about this beautiful Italian city.
Go from 'Mestre to Venice' to 'From Airport to Venice'
Continue reading:
---

Cheap Parking in Venice Italy
Be smart and get a cheap parking place when you are visiting Venice Italy! Here is an overview and mostly they have shuttle services to Venice... Check it out! 
---