You want to go from Rome to Venice,
but you don't know where to start?
Good news, I have a lot of information on how to get from Rome to Venice. Because I've been to Venice many times.
Sometimes when you start googling, it is a lot of information... Are you going by train to Venice from Rome, or would you fly instead? What is the most adventurous, the cheapest, and the most fun...?  ...eeek!
Don't worry, there are a few options for getting from the Italian capital to the floating city. And I'll take you. And you can always ask!
In short: By plane from Rome to Venice or by train and bus?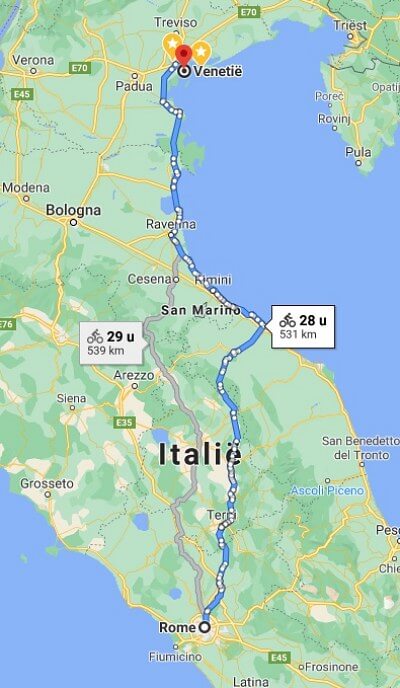 A direct flight from Rome's "Fiumicino" airport to Venice takes just over an hour. Alitalia planes fly to Venice multiple times throughout the day. Are you also wondering how much are the flight tickets Rome Venice? The plane is the fastest route, you would say... Read my page; Flight tickets Rome Venice.
However, the train is a cheaper option. It takes 3 hours and 15 minutes at its fastest before arriving at Venezia Santa Lucia station. You must book this train in advance. Read everything about your best option with the Train from Rome to Venice.
Alternatively, a night bus can be an easy option. But then you are on the bus for about 8 hours.
How far is Rome to Venice?
About 400 kilometers. The high-speed train takes normally 3 hours and 55 minutes to travel. At some times, it is even 3 hours and 15 minutes. From "Roma Termini" station to "Venezia S. Lucia" station. You can see this nicely on the RailEurope.com website.
With a regular local train from Rome to Venice, it takes more than 9 hours. This train also leaves from Roma Termini to Venezia S. Lucia.
It will take you about five hours and fifty minutes by car. This is more than 526 km. This is the fastest route with a car, but of course, you can also take some adventurous ways and not just drive the E35. Please note that you still have to park your car somewhere in Venice. You cannot drive a car in Venice.
May 15, 22 05:08 AM

Easy to drive to Venice. But not the last 3 miles. You have to choose which parking garage in Venice you will use? I'm going to help you with that.
If you ever consider that you can also walk the nice trip - that seems like fun to do - then you have to walk for more than four days. And then without an intermediate stop. So take into account 8 to 10 days of walking. Rather beautiful!
I know there are many adventurous readers on my site. And cyclists are really among them! Cycling from Rome to Venice is really doable. The fantastic route along the Adriatic sea. It is more than twenty-eight consecutive hours of cycling. Taking into account rest and sleep, it is approximately three days. But how cool!
I get totally excited!
But the fastest you are, of course, always by plane. In one hour and 10 minutes, you often fly from Rome to Venice for just € 50. Planes fly to Venice daily from the airport in Rome.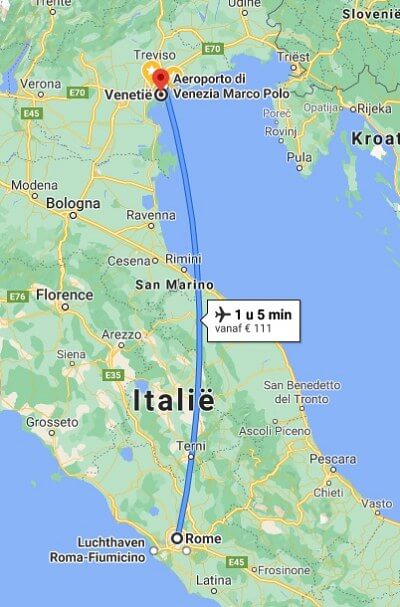 Rome to Venice plane ticket
It's a short flight between Rome and Venice. The extra time it takes to travel to and from airports, check-in at the counter, get through security, and wait at your gate, makes the whole journey longer than the train.
It takes about an hour to get from Rome city center to one of the local airports. It is the same if you want to get from Marco Polo Airport or even Treviso Airport to Venice.
Another cheap option is if you take a bus. Traveling from Rome to Venice by bus is the most budget-friendly option, with prices starting at € 17 with RegioJet (RJ) if booked in advance. Tickets become more expensive as the travel date approaches - up to € 60 for a single journey - negating the price benefits of using the bus.
Direct bus routes from Rome take between six and eight hours and depart from Tiburtina station, with arrival options near Venice in Tronchetto or Mestre. Therefore, the arrival is outside Venice, and, consequently, you need an extra bus connection to get to Venice. You can get to Venice from the end stations by tram, train or taxi.
What is the cheapest and best route from Rome to Venice? 
In a nutshell, what is the best route and also the cheapest? I can only conclude that this is the train, mainly because of the speed, price, the environment, and the adventure;). 
Check out Rome2rio.com. I am a big fan of this website that clearly shows all routes to and from a particular place. 
Conclusion: While they are about 400 kilometers apart, there are several ways to get from one city to another. Since Venice is a car-free city, the fastest and easiest way to get there is by train. You arrive directly in Venice without having to charge extra. If you plan to travel by plane, bus, or car, you will need additional transport time and transfers to enter Venice.
---
You have read about how to get from Rome to Venice. There is plenty to discover. Discover my site about Venice and receive even more information about this beautiful Italian city.