Home >  Venice Italy Weather
'I want to have nice sunny weather when I visit Venice.' Just a quote when people search about  Venice Italy weather. It's a wish, but aren't you curious when it is the best time to go to Venice? Read more about Venice climate. 
Is the weather the same as in the United States or the United Kingdom? And perhaps more importantly what will be the weather forecast in Venice next week? One thing is sure; the Venice Weather shouldn't be an issue during your visit.   
Ok, here's today's weather:
Didn't find the information? Search within Venice-Information.com
Aug 04, 22 01:02 PM

Book here you Venice Airport Hotel... Take the Convenience of a Venice Airport Hotel Cheaper Rates, Easy Transfers. Read about my own Experience about Airport Hotels around Venice. I have some suggest…
Top 3 Populair Activity to do in Venice

Ready to go? The Venice weather is essential when you're going on holiday to Venice.
Of course you want to have blue skies, not too cold nor too hot and indeed no rain...
I have visited Venice every season. Each season has its charm and magic. On this page, I will tell you more about the weather in Venice.
Venice Italy Weather, best period to go: 
No one can predict Venice weather forecast precisely. Mostly a blue sky in the morning when opening your hotel window foretells enough to have a lovely day in Venice. Here are some Venice weather facts: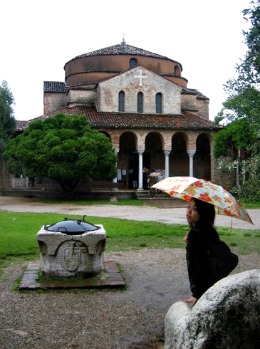 Throughout the year there is an average of 82 inches of rain
August is the warmest month
January is the coldest month
November is the wettest month
February is the driest month
Winter: These are the months of December, January, and February. The temperatures are sometimes below zero, and occasionally it is foggy.
This Venice Italy weather makes it feel colder. The beautiful thing about these cold months is that there are far fewer tourists. The town exudes tranquility, and the silence and steamy channels can be very romantic.
The phenomenon of 'acqua alta' (high water) occurs in these months regularly. When this happens some squares around the San Marco Basilica in Venice will flood.
Are you two lovebirds and want to experience the romance? These winter months could be a perfect fit for you,,,, love will keep you warm. Read more about winter activities in the Venice Winter. During these activities, it will be very crowded with tourists.
Spring: The Venice Italy temperature is rising in the months March, April, and May. For me, this is the best time to go on holiday to Venice. It doesn't rain as often, and the temperature is pleasant. While, in these months you will need to bring a jacket, on sunny days you can quickly take it off. Be warned; during Easter weekend it is one of the busiest weekends with tourism.
Summer: These are the months of June, July, and August. In July and August, it can be uncomfortably hot and stuffy in Venice. This hot weather is particularly true if you walk through the alleys or on the maze of canals with a gondola. The storm that occasionally occurs in the summer provides a refreshing atmosphere. A warm summer afternoon can turn into a thunderstorm... "Sometimes wonderful." 
Also, it is inconvenient busy in Venice. Many tourists make a day trip to the city. A visit in June is still okay, but July and August it is bustling around St. Mark's Square. I've been to Venice several times during the summer. The heat reflected brightly on the stone and water. I recommend exploring the city in a different season.
Autumn: These are the months of September, October, and November. The temperatures can still be delightful. However, there is more wind. November is the wettest month of Venice, so keep this in mind. Just as spring, this is a great time to visit! 
The Public Holidays in Venice Italy

Always handy to know! You should take notice of the public holidays in Venice. The vaporetto service has a different schedule, and some shops are closed. But, mostly the museums are all open.
January 1 : New Year's Day
January 6 : Festival Epifania
April : Easter Monday
April 25 : Liberty day and Saint Mark Day
May 1 : Labor Day
June 2 : Republic Day
August 15 : Assumption of the Virgin Mary ( Ferragosto )
November 1 : All Saints day
December 8 : Immaculate Conception of the Blessed Virgin Mary
December 25 and 26 : Christmas and St. Stephen's Day
Above! Whatever the weather is, Venice loses none of its magic and charm. So choose the season which fits the best! 
You've read about the Venice weather. There is plenty to explore as you see. Discover Venice on my site and get more information about this beautiful Italian city.

Return from 'Venice Italy weather' to my Homepage 'Venice Italy'
Continue reading: