Venice Vaporetto Tickets | How is the transportation in Venice?
It is the city of water, and it plays an enormous

role 
in the way you get around
Discover all kinds of Transportation in Venice. Yes, you finally arrived in the city of romance. But, how is Venice organized? Luckily I have several tips to get around in Venice. 
Well, for me, it is all familiar. But, if you are here for the first time, you'll undoubtedly wonder how Venice, Italy, is organized. So, I will give you the best tips about getting around in Venice. In this article I'll tell you everything you need to know about transportation in Venice.
CONTENT
1. ...Transportation in Venice by Vaporetto boat 24-72 hours Ticket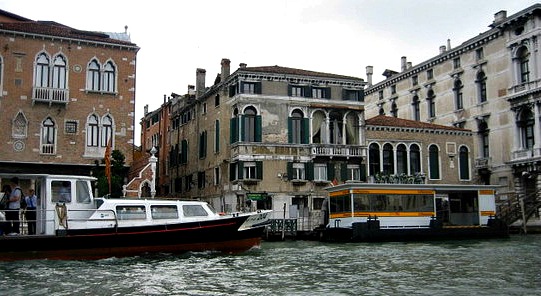 Vaporetto boat stop
Money-saving tip: Venice is compact and walkable. Often I prefer not to use a vaporetto. But, of course, you need a boat when you are going to a nearby island. So my advice is to walk as many as possible.
You will discover small alleys and bridges that make the city romantic. To avoid getting lost, get a guidebook with a good map of Venice...
The vaporetto boat (public transport on water) is the number 1 transportation in Venice. These boats move on the Grand Canal and take you to Lido, Murano, Burano, and Torcello. Vaporetto line 1 is the service on the Canal Grande and stops at every station. This liner is ideal for exploring Venice.
But how is public transport in Venice arranged? Curious? Read on this page which transport you can take into account.
When you need...
The vaporetto is the public transport inside Venice. The water buses go up and down the Grand Canal and the surrounding islands. Perfect transportation in Venice if you need to go from one point to another. Read more in my article about the Waterbus in Venice >
The Vaporetto boat, which stops at every station on the Grand Canal, is line no. 1. The Grand Canal is the main waterway that runs through Venice. It is the most beautiful route in the world on a boat. Taking the vaporetto from Piazzale Roma to Piazza San Marco is about 45 minutes. A total of 20 lines serve you in and out of Venice. A single water bus ticket costs € 9,50 in the ticket machine, including the price of luggage up to 150cm. The ticket is good for 75 minutes. During this time, you can change vaporetto lines.
The popular Travel Cards are the best solution if you want to explore Venice and the surrounding areas. This ACTV service allows unlimited travel, except for Alilaguna and the ACTV routes 16, 19, 21, and Casino routes. Purchase the TravelCard tickets online and use your smartphone. Online tickets are more expensive but it is convenient to have it. 
2. TIP: Venice Vaporetto Tickets | TRAVELCARD PRICES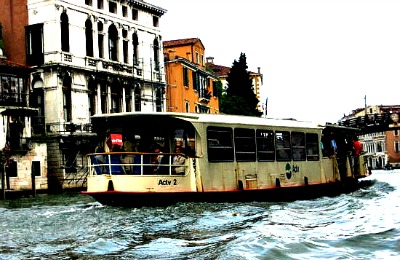 To use public transport in Venice, you can purchase these tickets. 
Tourist Travel Card: 
Price of 1 ticket € 9,50 (75 minutes) in the machine or ACTV desk. Or online via Tiqets.com €12,00.
€25,00 - €35,00 1 DAY TRAVELCARD
€35,00 - €40,00 2 DAYS TRAVELCARD
€45,00 - €50,00 3 DAYS TRAVELCARD
€65,00 - €70,00 7 DAYS TRAVELCARD
Mor information ACTV service >

You can buy the tickets at the Hello Venezia ticket agencies and various self-service ticket machines, e.g., Piazzale Roma, Rialto, Venice Marco Polo Airport, and Punta Sabbioni.
Another option is to buy your tickets online: Buy the vaporetto tickets upfront and use your smartphone to enter the vaporetto boat. 
If you do not have a ticket, buy a card from the conductor to avoid a fine. Are you getting on board the vaporetto boat? Slide the tickets on the white reader on the platform and jump in. Want to do a gondola, which you have seen in guide books, etcetera? Read how to...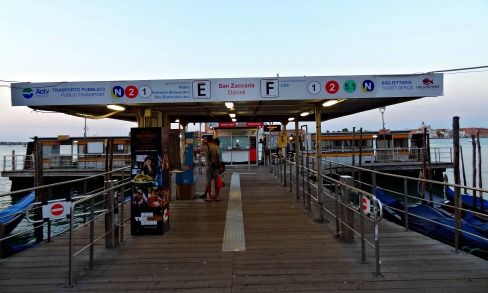 Platform to hop on a Vaporetto boat
Another boat is not a public service but more a Hop-on Hop-off boat. Here you can get tickets for the hop-on Hop-off service. Discovering the city from off the water is ideal!
Regular timetables mean that a boat is never far away. Their comfortable seating and panoramic views ensure you'll always be traveling in style. You'll also enjoy a complimentary walking tour with a 5-language audio guide.
What you can do is a tour of the Grand Canal. Because I have a partnership with Tiqets.com (they have a helpdesk for questions), I have special tickets for a time on the Grand Canal.
A gondola costs about EUR 85 - for a ride of 40 minutes. With a maximum capacity of 6 passengers. In the evening and at night it costs EUR 125 -. This gondola ride does not include a serenade or a tip! But, it is possible.
Cheaper gondola tickets in a shared gondola, including a serenade. Check here if this gondola serenade is still available. 
A Traghetto is a public gondola crossing the Grand Canal. A small pound to crossover. For tourists, it costs approximately EUR 2.00 each time. The Traghetto boarding places are found along with the Grand Canal 7 times.
A water taxi costs EUR 9, - + EUR 1.80 per minute. They charge EUR 6 - extra if they have to pick you up at your hotel at night and luggage. TIP! Before getting in a water taxi, you have to negotiate the price. Choose a shared water taxi >
The bicycle is a means of transport. A bike tour through the city costs EUR 39 - p.p. You have a guide, and you cycle over the island of Lido and some other places. Very lovely and unique!
Venice transportation by car. Is that possible? And what is the best route? Read if it's possible to do this kind of Venice transportation! And I will tell you how. 
Walking: Make Venice an adventure! Do differently than most tourists. Find the unknown streets and explore Venice. The best way to get lost!
You'll always find your way back if you follow the Grand Canal. The architecture, the buildings, and the super cozy traditional restaurants are great if you encounter them unexpectedly!
3. ...Get on the Gondola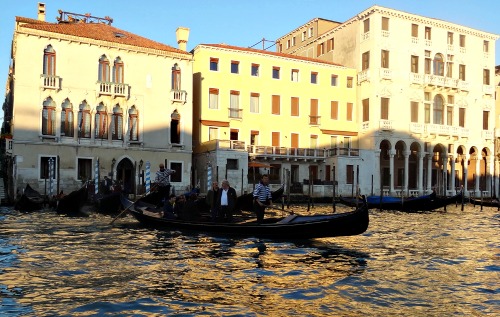 Traghetto Gondela Canal Grande Venice
Venice is a city built on water, and exploring it by boat is an experience like no other. The most iconic boat in Venice is the gondola, which is often used for romantic rides through the city's narrow canals.
However, there are also many other types of boats that you can take to explore Venice and its surrounding areas. In this article, I give a picture of the different Boats in Venice. The boat in Venice is the means of transport, not only for transporting people but also for all kinds of other services.
It is an ideal picture of transportation in Venice. A romantic gondola ride… TIP! If possible, find a quiet area to take on a gondola. These rides are mostly more extended and less expensive.
A ride costs between € 85 and € 125 for 40 minutes, depending on where you start and how busy it is.
I don't like it when it is too busy in Venice, and you collide with another gondola. The canals are narrow. If there is a lot of traffic, your gondola ride goes slowly, and the 40 minutes are over before you know it.
Another possibility is to share a gondola with a discount ticket inclusive a Serenade. This ticket you can purchase online via your smartphone and show it before you enter a gondola. There are even tickets where you will receive a romantic melody. 
Think Venice, think water transportation, think luxury, think about...
4. ...Transportation in Venice by Water Taxi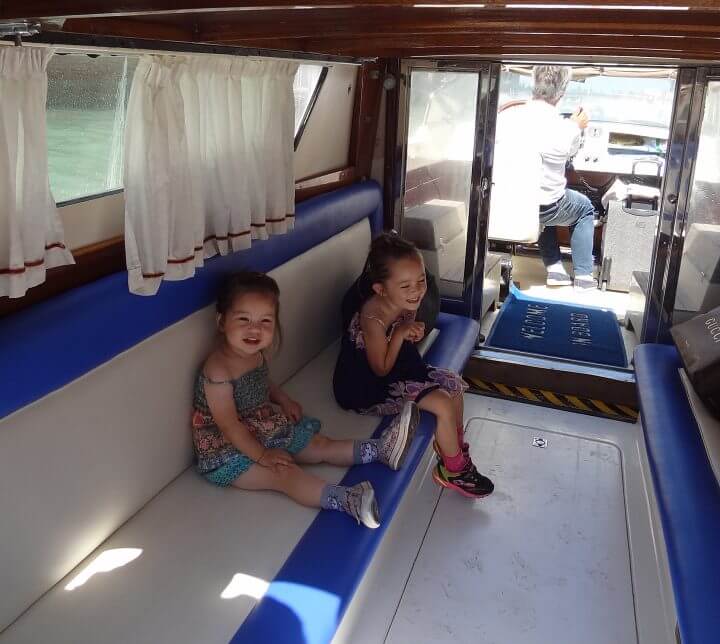 Luxury... But great if you need to be somewhere fast and comfortable. Notably, a Water Taxi is super on hot days and with small children. Often you can order a taxi at your hotel reception desk.
Surprisingly, a lot of people fit in a luxury taxi boat. A group of eight people is possible. But, don't forget this kind of transport is quite expensive. Check if you can book a water taxi >
A water taxi from;
Piazza San Marco - Piazzale Roma will cost you between € 65 - € 100;
Piazza San Marco – San Marco Airport will cost you around € 105 - € 135 (30 minutes).
5. The Venice Connected Card
The Venice Connected Card? Is the "Venice Connected Card" convenient? The Venice Connected Card (formerly the Venice Card) offers an a la carte transport package and other services. However, it is a frustrating pricing scheme bound to a specific time. You can purchase it in advance. 
Buying a Connected Card in advance means that you need to plan all sights. I prefer when I'm in Venice to purchase a Venice Travel Card. For the entrance to a museum, I pay separately.
---
You've read about transportation in Venice. There is plenty to explore. Discover Venice on my site and get more information about this beautiful Italian city.
Home >  Transportation in Venice >
Start looking for a cheap place to sleep in Venice