So, how do you want your Venice holidays?
Home >  Venice Holidays >
Venice holidays are full of cultural history, bridges, beautiful scenery and romance. But be aware, Venice Italy is overloaded with tourist.
I don't like overwhelming touristy places... On my Venice holidays I want to see something new and learn more. Things other people don't do... I will show you how... 
Planning your Venice holidays...
You will meet in Venice a lot of tourists. I think,, more than half is missing the beauty of this wonderful place.
They just wander in the streets without absorbing this gorgeous city. Visiting one highlight and are continuous following other tourist. A Real shame if you ask me. And what are you doing?
Venice is situated in the north of Italy. Venice has the image of a romantic destination. It has many names; the city of water and the city of bridges. It all describes beauty.
The city is gifted with sloshing water, gondola rides and a historical scenery. The lagoon has its own blend of luxury and elegance. You will get entertained like no other place. This is why Venice has still preserved its fame.
So, why wait? Book a Venice holiday and let me know your story...
Book a hotel for your Holiday trip to Venice
Venice is one of the most expensive cities in Europe. And yes ,, the city has many luxury hotels. But I know the best quality accommodations!
The only way to move around in Venice is either by water or foot. There are no cars or any city noise full of traffic. Lovely!
Furthermore, this magic is created by the architecture, History of Venice and the unique waterways instead of roads.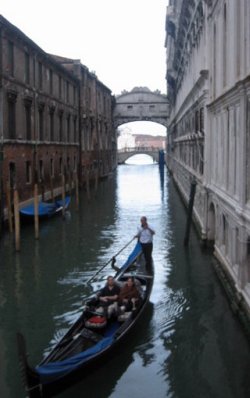 Best time to visit Venice is during the spring and the fall. But, to be honest, there's no such thing as a "bad" time to visit.
Every season has its attractions, like the festivals in winter-period or the Venetian carnival masks in February/March.
Or experience the hot summer-evenings joining Venetian gondola rides.
By the way,,, Did you already decide your Venice travel? How to get there by airplane? And how to get from the airport to Venice? Read more about Venice airports >
What to do during your holiday?
Actually, holidays in Venice Italy are unreal. Sometimes you will think 'this is a world of fantasy and frivolity'. This is Venice! Like all other European cities, Venice is gifted with many churches and museums. As far as I know it has the most museums and churches on its 1,178 square kilometers which is 458 square miles.
I experienced, and I am sure you will too, the taste of authentic Italy as I walked along the canals, many alleys, piazzas and bridges. And,, holidaying in Venice is a perfect base for those who want to spend some quality time.
Read my favorite things to do in Venice Italy >
Include your holiday with the islands of Murano, Burano and Torcello. Fewer tourists! 
Lido Island is another thing. Make your holiday an experience spending time on the beach of Lido. There are also great restaurants, cafes and hotels.
Everything for a top holiday!
---
---

Cheap Parking in Venice Italy
Be smart and get a cheap parking place when you are visiting Venice Italy! Here is an overview and mostly they have shuttle services to Venice... Check it out! 
---
You have read about how I experienced my Venice vacation tips! I have some suggestions, as you will read. Please click on the links to explore my site more.

Return from 'Venice Holidays' to my 'Home page'
Continue reading:
Budget Travel to Venice Italy >
5 ways to enjoy your holiday in Venice >