Seriously? a Budget accommodation Venice Italy?
Home >  Budget Accommodation Venice Italy >
Looking for a budget accommodation Venice Italy? Perfect for a short family holiday near Venice. I will show you my Top 3 favorite campsites. These are complete resorts for a budget stay around Venice Italy. 
On the coast near Venice there are many campsites and resorts. There are mobile homes, chalets and bungalows you can hire/rent for a couple of days or a few weeks! But you can also bring your own tent, camper or caravan. 
The campsites are equipped with the best facilities and the children can enjoy themselves. Swimming pools and activities,, you name it! Now it's up to you to select the perfect budget accommodation. Choose on price, location or facilities. And of course the possibilities to explore the rest of northern Italy..! Read visitors reviews >
Campsite & Resort Union Lido Venice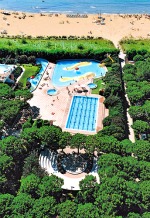 The UNION LIDO PARK & RESORT is located on the Cavallino coastline. A peninsula on the opposite of Venice towards the sea.
A budget accommodation Venice Italy with about 1 km private beach! It has 4 stars and it is modern and very well maintained. A water bus service will bring you from 'Punta di Sabbioni' to Venice and the islands in the lagoon.
Very nice to be here. This is a unique campsite near Venice. Plenty of entertainment, skilled employees and good for a family holiday! The camping has a lot of accommodations to choose from and it's a bit better than campsite Marina di Venezia. 

Holiday Resort Venice Marina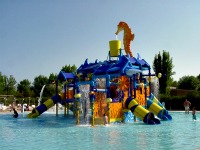 Campsite Marina di Venezia is a fantastic budget accommodation near Venice. The site is on the coastline of Cavallino and almost next to 'Union Lido'. It is a great resort with all the facilities you need on a 4 star holiday. And so close to Venice!
a Very nice budget accommodation Venice Italy for families with kids. I've been here twice... Read about my stay >

The resort is spacious and is fully integrated in the nature. Use your tent, caravan or hire / rent a chalet or bungalow. There is plenty to do and in terms of your budget…. It is really not expensive. A great way to have a better Venice Italy holiday…!
Campsite Fusina - a Budget Accommodation Venice Italy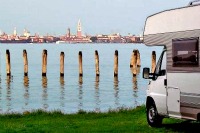 Campsite Fusina Tourist Village is situated at the mouth of the Brenta Canal. It's on the right side from the bridge (Via della Liberta) which you have to cross to reach Venice. The campsite is one of the cheapest accommodations in Venice Italy.
The water bus service takes you to the center of Venice in just 20 minutes. An ideal base for excursions to Venice, Lido, Riviera Del Brenta, Padova and Treviso.
This campsite has a restaurant, supermarket and a children's playground. All facilities and the accommodations are simple and plain. 
Additional camping information:
From Camping Marina di Venezia and the Union Lido Park, Venice in reach within 20 minutes. Choose your best accommodation by price, location or facilities.
The location of these two sites are on the same peninsula across Venice towards the lagoon. They differ only in price, facilities, ambiance and luxury...
The vaporetto stop near these campsites is 'Punta Sabbioni'. From hier you can easily reach Venice, Burano and Murano. Some sites have their own shuttle bus to Punta Sabbioni to move on from there. This is perfect!
---
---

Cheap Parking in Venice Italy
Be smart and get a cheap parking place when you are visiting Venice Italy! Here is an overview and mostly they have shuttle services to Venice... Check it out! 
---
You've read about budget campsites in Venice Italy. There is plenty to explore as you see. Discover Venice on my site and get more information about this beautiful Italian city.
Return from 'Budget Accommodation Venice Italy' to my Home page 'Venice Italy'
Continue reading: