Curious which Venice Airport is yours...?

Check on this Page Where you will Arrive
Tip) No worries. A simple airport transfer? Pre-book a Taxi to get from & to the Airport 
Save yourself Time and Prepare which Transfer to Take. Are you booking a flight to Venice, Italy...? Did you realize there are two Venice Airport? Which airport is yours, and how do you get to the Venice lagoon?
I'll tell you everything you need to know about the airports in this article.
CONTENT
Each airline has its airport. Read this page before you reserve your flight ticket. Let's get started with the most nearby airport...
1. ...Venice Marco Polo Airport (VCE), Tessera

'Marco Polo Airport' (my page about this airport) is located at Tessera, 8 km (5 miles) north of the city. It is on the edge of the Venice lagoon, so arrivals and departures are scenic. Note that you need to have a seat on the right side of the plane when you land... You will have a great view of Venice!
Many European airlines serve this airport, including British Airways and low-cost Easyjet. The flight duration to Marco Polo Airport is approximately 2 hours from London. From New York, it is non-stop for almost 8 hours.
Marco Polo Airport is small and convenient. You walk quickly to the ACTV bus services and the ATVO shuttle buses. Buy your transfer bus tickets online >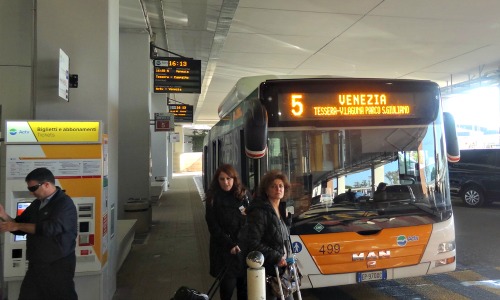 And also the Alilaguna boats and the taxi boats that take you to Venice. These transfer options are apparently on the signs. Buy the Alilaguna transfer tickets online >

Make sure you buy a bottle of water at the airport. Because Venice seems nearby, but on an Alilaguna boat or a water taxi, it can take a long. Busy with tourists, there will be a waiting line to use the boats. And you can not buy a drink until you reach Venice. And on a sweltering day, you must drink enough. Your journey to Venice lasts almost 1 hour.
Sure you will not arrive at this airport but at....
2. ...Treviso Airport
Treviso airport (particular page about this airport) is a smaller airport mainly used for budget European airline flights. For example, Ryanair flies into Treviso airport from the UK.
Because I had prepared our trip well, I knew we would arrive at the smaller Treviso airport. An airport 26 miles from the Venice historical center.
Bus service from this airport transports passengers to and from Venice. This service is a cheap way to reach your destination. Buy your transfer bus tickets online >
Curious how we arrived in Venice? And need more information about the bus services? Check my Treviso Airport page.

That's all set! You know which airport is yours, and you can read about how to get from the airport to Venice. But of course, this is not all. I have...
3. ...More information about Venice Airport & Tips
From these nearby airports, you can rent a car which will get you to Venice in Italy. Be independent and have more freedom to transport yourself.
Explore the Veneto region. The service desks at the airport will assist you. At the airports in Venice, there is a unique desk for hiring a car. And it is efficient to book a car in advance. You only have to sign, and you are ready to go. Read more about Car Rental Venice Italy >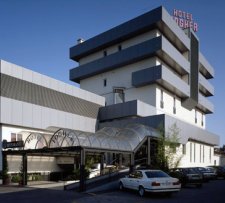 Already tired of your flight? Is it getting late? Or only one day's visit to Venice? Don't worry, there are enough airport hotels nearby. An airport hotel can be much cheaper than a hotel in the lagoon.
So maybe this is the right combination with a budget Venice holiday!! I will describe my favorite airport hotels and some other recommendations. Good quality hotels nearby an airport! There are a lot of advances;
From your Venice airport hotel, you can discover the Veneto area.
Read here more about the Benefits of which Airport Hotels I prefer.
I already know one thing about you. You like to prepare well. Especially when you are from outside Europe, you want to be confident. Moreover, you want to enjoy your best-Venice-holiday...
Hopefully, now you will know which airport will be yours. Now you can prepare for your transfer to Venice. How to get from Venice Italy airport (Marco Polo) to your hotel in Venice? I have more in-depth details about how you will get from Treviso Airport and Marco Polo Airport. Read here for more detailed information about Venice Italy Airport.
The websites of the two airports in Venice are: 

I gave you a good impression about Venice airport. There is enough to explore. Please explore my site and get even more information about the different topics.
Return from 'Venice Airport' to my Homepage
Continue reading:
Start looking for a cheap place to sleep in Venice