Which Venice airport is yours...?
Tip) Compare Taxis from and to Airports in Venice
Home >  Venice Airports >
Booking a flight to Venice Italy...? Did you realize there are 2 Venice Airport? What do you do? Which airport is yours?
And how do you get to the Venice lagoon? Read about it and I will show the airports Venice is using.
Flying with Delta Airlines or from the UK? Each airline has its own airport. Read this before you go booking... Click on the links for details about the airports.
Venice Marco Polo Airport (VCE), Tessera
'Marco Polo Airport' is located at Tessera, 8 km (5 miles) north of the city.
It is on the edge of the Venice lagoon, so arrivals and departures are scenic affairs. Note that you need to have a seat on the right side of the plane when you're going to land... You will have a great view of Venice!
Many European airlines serve this airport including British Airways and low cost Easyjet. The flight duration to Marco Polo Airport is approximately 2 hours from London. From New York it is non-stop approximately 8 hours.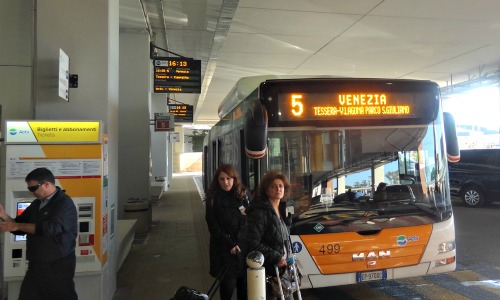 Marco Polo Airport is small and convenient. You walk easily to the ACTV bus services and the ATVO shuttle buses. And also the Allilaguna boats and the taxi boats that take you to Venice. This is clearly indicated on the signs.
Make sure you buy a bottle of water at the airport. Because you can not buy a drink until you reach Venice. And on a very hot day, it is necessary that you drink enough. Your journey to Venice lasts almost 1 hour.

Treviso Airport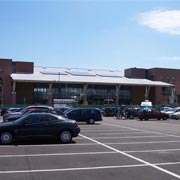 Treviso airport is a smaller airport and mostly used for budget European airline flights. Ryanair flies into Treviso airport from the UK.

Because I prepared our trip very well I knew we would arrive at the smaller airport 'Treviso'. An airport 26 miles from the Venice historical center. From this airport there is a special bus service which is transporting passengers to and from Venice. This service is a cheap way to reach your destination.
Curious how we arrived in Venice? And need more information about the bus services? Check my page Getting from the airport to Venice >
More information Venice Airport
From these nearby airports you can rent a car which is getting you to Venice Italy. Be independent and have more freedom to transport yourself. Explore the Veneto region. The special service desks at the airport will assist you. Read more about Car Rental Venice Italy >
Already tired of your flight? Is it getting late? Or only one day visit to Venice? Don´t worry there are enough airport hotels nearby. An airport hotel can be much cheaper than a hotel in the lagoon. So maybe this is a good combination with a budget Venice holiday!!
Especially when you are from outside Europe. 'I don't want to care anymore about transportation!!! I just want to enjoy my best-Venice-holiday...'
The websites of the two airports in Venice are: 
---

Cheap Parking in Venice Italy
Be smart and get a cheap parking place when you are visiting Venice Italy! Here is an overview and mostly they have shuttle services to Venice... Check it out! 
---
I gave you a good impression about Venice airport. There is enough to explore. Please explore my site and get even more information about the different topics.
Return from 'Venice Airport' to 'Venice Italy' homepage
Continue reading: