Cookie Policy
Home >  Copyright & Disclaimer >  Cookie Policy >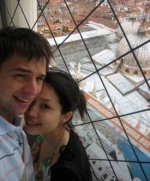 Cookie Policy: During your use of www.best-venice-Italy-Holiday.com third parties can collect information about your internet behavior. For example by use of cookies.
A cookie is a small file containing pages of a website and is transmitted and stored by your browser to your hard drive. The cookie allows your browser to detect your visit to a website if you have visited it before.
The cookies may be collected for the following purposes:
1) For functional purposes: to make navigating and logging into sites more convenient by remembering your settings and / or preferences.
2) For analytical purposes: Example: it can track how many visitors visit a specific web page, so I know which part of my site is popular.
3) For commercial purposes: to track how many and which ads are shown to you (to prevent that you always see the same ad) and to check whether you have clicked on an advertisement.
4) For "targeting" purposes: on the basis of your browsing habits there can appear interests targeted ads. These ads can also be built on the basis of information from your visit to other sites.
www.Best-Venice-Italy-Holiday.com does not use and has no access to information collected by third parties. The use of cookies and other technologies by these third parties, as defined here, is subject to their own privacy policies usually present on their website(s).
Learn about cookie policy
Remove cookies and refuse:
Via the browser settings on your computer, you can delete cookies. If necessary, consult the help function of your browser. After removing and / or reject cookies it is still possible to see ads.
Note: if you refuse cookies my website will be less friendly in using it. For frequent users of the internet cookies are very helpful in remembering passwords or fill-inn forms. You can not always remove all all possibilities of using a website. To refuse or delete cookies will only affect the computer and browser where you perform this operation.
I really like to go to Venice to provide you with more tips about this ancient city. And i'm sure you also love Venice, otherwise you would not have ended up on my site. You don't realize that the computer often knows more about you than you think. She knows by now that you were looking for Venice information.
Please this is not bad... Best-Venice-Italy-Holiday.com needs advertisers to provide you the best information about Venice Italy and they are bringing value to my website. 

---

Cheap Parking in Venice Italy
Be smart and get a cheap parking place when you are visiting Venice Italy! Here is an overview and mostly they have shuttle services to Venice... Check it out! 
---
You have read about my Policy. Please explore my site more and get more information about the different topics.
Return from 'Cookie Policy' to my page about 'Copyright & Disclaimer'
Continue reading: