Apartment with Terrace Venice Italy
Apartment with Terrace Venice Italy

Why Stay in a Hotel Room if you can Share an Apartment with Family or Friends
Book an apartment with terrace Venice Italy. Experience the comfort and safety of a spacious furnished apartment. Why stay in a hotel room if you can share an apartment with family or friends? Venice will hit you, or not. Simple, but many have already loved this magnificent Italian city.
An apartment with a terrace is a unique experience. Watching gondoliers go by on the sparkling canals, you feel Venice intensely. I must say, drinking your cafe macchiato on your apartment terrace is a moment of joy! Can you imagine? Stop dreaming! Make it real and book your comfortable Venice apartments with a terrace.
Okay, please show me your Top 3...
...Apartment with Terrace Venice Italy – San Marco view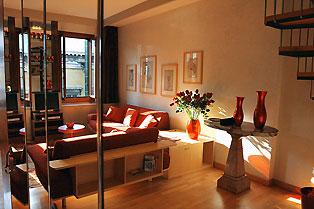 This Apartment has three bedrooms and two bathrooms for up to 5 people. This beautiful Venice accommodation is opposite the Piazza San Marco and offers fantastic views of the basilica from the terrace.
Prices range between EUR 327,00 to EUR 363,00 a night. Very expensive but luxurious and at a great location. The minimum stay is three nights.
If you don't like walking too much, it's the place to stay as you're in reach of all the main palazzos, museums, restaurants and cafes. Check this Apartment if it's still available >
The San Marco area is great but also can be too much hustle. Do you have an...
...Apartment with Terrace Venice Italy in the Area Dorsoduro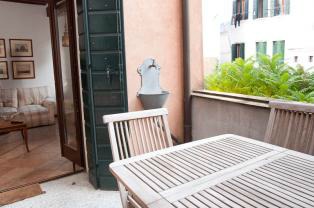 One bedroom and two bathrooms for up to 2 people. My favorite Venice district. In a calm tourism area, Dorsoduro is close to the San Marco and the Peggy Guggenheim Museum.
Meet the locals and wake up next to a quiet square. Buy your local products in the nearby grocery shops. Prices range between EUR 80,00 to EUR 150,00 a night—a low range for an apartment in Venice. The minimum stay is three nights. Check this apartment if it's still available >
This Venice apartment is clean and bright. The location is perfect. The lounge opens onto a terrace ideal for relaxation and has a double sofa bed. Ceilings retain the traditional wooden beams. A beautiful stone fireplace can warm the coldest and most romantic Venetian nights!
I'm dreaming away. But, do you have a more quiet location with...
...An Apartment with terrace – in district Cannaregio
In Cannaregio, you have the feeling of living among the Venetians. It is a centrally located neighborhood where you can find local shops and drink a glass on a terrace. In addition, there are good restaurants within walking distance, such as Anice Stellato, where you can find authentic Venetian dishes.
Two bedrooms and two bathrooms for up to 5 people. Out of the crowded Venice tourism in a nice quiet place in the area of Cannaregio. Very close to a vaporetto stop. Walking to San Marco is around 30 minutes. But, hey, this is a holiday, and you will see Venice how it is during walking. The beautiful apartment patio terrace makes it complete.
Prices range between EUR 201,00 to EUR 298,00 a night—a middle range for a quality apartment in Venice. The minimum stay is three nights—a lovely cozy duplex with modern style and furniture. Cannaregio is the northernmost of the six historic districts of Venice. Check this apartment if it's still available >
Sep 16, 23 01:29 PM

Visit Harry-s Bar Venice: Bellinis, Hemingway, and Venetian Elegance: The Legend of Harry's Bar.



Didn't find the information? Search within Venice-Information.com:



Other things where you have to think about when you are booking an Apartment with a terrace in Venice.
You are renting an apartment in Venice. Especially for Venice-Information.com, I have collected the most beautiful apartments in Venice for you. For example, this article is more about palazzo apartments with a view of the water, where you can still taste the atmosphere of old Venice.
An absolute must are the apartments of Grimaldi. In several areas in Venice, they have entirely furnished apartments. Sometimes with a roof terrace with a view of Venice. On the Booking.com website, you will find Venice's largest selection of apartments. Most of these apartments are suitable for a stay of 4 to 6 people.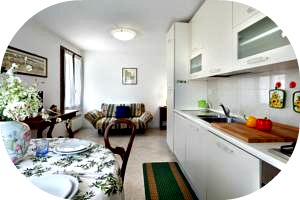 One of the Grimaldi Apartments
But more and more luxury studio apartments in Venice are also being offered for rent. These are often the smaller apartments, suitable for two people, in terms of comfort comparable to the better hotels in Venice. For example, you can rent lovely studio apartments via Grimaldi apartments.
When you make your booking, please check if you have to inform the owner of your expected arrival time. You can use the special requests box when booking or contact the property directly using the contact details on the booking confirmation.
The conditions are also that the apartment with terrace Venice Italy does not accommodate stag/hen parties or similar events. Therefore, a security deposit is mainly required. This deposit the owner or the booking platform collects via credit card. Your deposit is fully refundable via credit card, subject to a damage inspection of the accommodation. Final cleaning costs are primarily inclusive.
You have read about apartments with terrace in Venice Italy. There is enough to explore, as you can see. Please click on the links to explore my site more.  

Return from 'Apartment with terrace Venice Italy' to 'Apartment Venice'
Continue reading:
Start looking for a cheap place to sleep in Venice