The Venice Italy Temperature

Summers are hot, winters cold and bleak.
Which clothes do you bring to Venice? The Venice Italy temperature peaks in July and August with temperatures over 35°C (90°F).
And in the winter, there are almost no temperatures below 0°. Please bring your shoes. Because the weather in Venice remains variable. The most rain falls in November and June.
So comfortable walking shoes are a must. It is cold and bleak in winter, so you must bring your gloves and a warm scarf. The fresh breeze due to the cold water makes it wintry cold.
The best time to visit Venice is in the spring or fall. This is the period when the peak flow of tourists leaves the city. The temperature in Venice is comfortable in these months. While it is excellent at night and along the Grand Canal, it is more relaxed. In the spring/autumn, I recommend bringing a sweater or a light jacket for the evening.
Summer is the peak season with many day-trippers. Hot temperatures. Sun cream is needed. For museum and church attendance, take a scarf or something with long sleeves. Don´t wear a short skirt or shorts. It is the most expensive season, with higher rates for hotels, restaurants, gondolas, and taxis.
Sep 16, 23 01:29 PM

Visit Harry-s Bar Venice: Bellinis, Hemingway, and Venetian Elegance: The Legend of Harry's Bar.



Didn't find the information? Search within Venice-Information.com:



Occasionally there is high water in Venice. Especially in the colder months. They call this Aqua Alta (high water).
I have never taken rain boots with me to Venice, Italy. You also don't have to do this because they prepare unique walkways for over the water.
You can hear a siren if the sea level rises above 110cm. A flood takes 6 hours due to the sea tides. 
Most areas of the city are more than 100cm above sea level. However, some lower areas begin to flood if the sea level rises above 80cm. This is mainly around St. Marc Square. A three-day prediction for the water levels is available on the official site of Venice.
Which period should you visit?
Venice Italy Temperature per Season & Events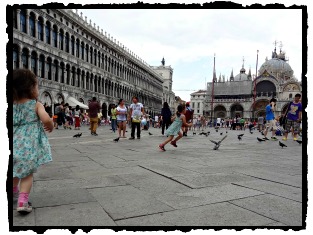 September – November: Fall is getting in and taking control of the city. The hotel fares are cheaper, and the peak tourist crowds have disappeared. The following Venetian occasions will occur:
Regata Storica (September) 
Festa Della Salute (November) 
Marathon in Venice (October) 
Biennale of Venice, Italy (May-October)
December – February: The fantastic Venice Carnival will start in January, February, or March. A big festival with a lot of tourists and a lot of masks…
March-May: Great spring is coming to the city. The city thaws with excellent weather. The following events are in Venice;
June – August: In the summer, it is jam-packed in Venice. The heat is reflected in the water and stones. The expensive and crowded gondolas and Hotels will make it less enjoyable. The following events are in Venice:
Biennale of Venice, Italy (May-October)
But what is cold and what is hot in Venice. What are...
...The average Venice Italy Temperatures?
Extreem weather during summer of 2022.
January: 6° (43°F) during the day and 0° (32°F) at night
February: 9° (48°F) during the day and 2° (36°F) at night
March: 14° (57°F) day and 5° (41°F) at night
April: 18° (64°F) during the day and 9° (48°F) at night
May: 23° (73°F) during the day and 14° (57°F) at night
August: 28° (82°F) during the day and 18° (64°F) at night
September: 24° (75°F) during the day and 14° (57°F) at night
October: 18° (64°F) during the day and 10° (50°F) at night
November: 13° (55°F) during the day and 6° (43°F) at night
December: 8° (46°F) during the day and 1° (34°F) at night
How hot is it in Venice in summer? Venice has a Mediterranean climate. This means the summers have a warm temperature of around 27 to 30 °C during the day. However, this is often somewhat tempered by a beautiful sea breeze, which can be felt when standing on the water's edge.
How hot is it in Venice in February? On average, it is a maximum of 9° in February in Venice and at least 2° degrees. The sea temperature is around 10°C. There are 11 days of rainfall in February with a total of 60 mm. it will be dry 16 days this month in Venice, and on average, it snows 1 day in February.
Is Venice lovely in winter? You might as well visit this beautiful city in Italy in winter. The average temperatures in the winter months of December, January, and February are between 1 and 10 degrees. 
---
You've read about the Venice Italy Temperature. There is plenty to explore, as you see. Read my site on Venice and get information.
Return from 'Venice Italy Temperature' to 'Venice Italy Weather'
Continue to read about the weather:
Start looking for a cheap place to sleep in Venice