What you didn´t know... Climate in Venice Italy...
Home >  Venice Italy Weather >  Climate in Venice Italy

What kind of climate in Venice Italy do you expect? Noooo rain please... Yes, the weather keeps us busy. And especially if we go on holiday. I have visited Venice every season. Each season has its charm and magic. On this page I will tell you more about the climate in Venice.
How is the climate in Venice Italy?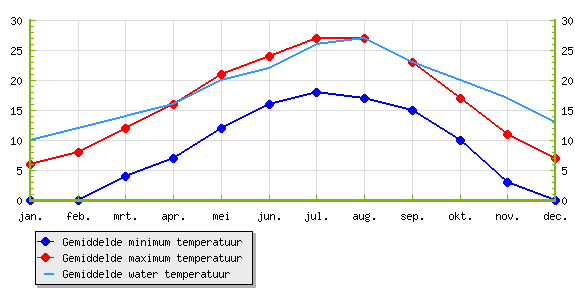 The above table is powered by Weeronline.nl
Venice has a temperate climate. The warm wind and the high humidity rate are making the summer sultry and the winters are damp and cold. But the Venice winter with a crystal clear sky is very beautiful…. And quieter, in terms of tourism... !
The weather in Venice varies and is very unpredictable. The climate, however, has Mediterranean influences. Temperatures in winter rarely go below 0°c (32° f), thanks to the calm sea breeze. The temperatures In summer can run up to approximately 35°c (95° f).
Venice is located in northeastern Italy. The climate is not milder than on the other side of Italy which is connected to the Mediterranean sea. Because Venice is situated in a lagoon the humidity can be very high.

The months of July and August are hot in the daytime and sultry in the evening. In the autumn, the fog brings a nostalgic atmosphere. Throughout the whole year there is a chance it will rain, but November is the wettest month.
Venice is drowning
The climate in Venice also has another well-known phenomenon. This is the "acqua alta" and can best be described as a flood or a sudden tide. When this happens there will be a sound of a siren in advance.
But… don't be scared….. Some plazas will flood. The people of Venice will put ramps on the streets so tourist can continue exploring the city. Boots are really necessary during this "acqua alta"… Well,,,, It can be a kind of romance to carry your loved one,, so she will not get wet feet.
Didn't find the information? Search within Venice-Information.com
Aug 04, 22 01:02 PM

Book here you Venice Airport Hotel... Take the Convenience of a Venice Airport Hotel Cheaper Rates, Easy Transfers. Read about my own Experience about Airport Hotels around Venice. I have some suggest…
Top 3 Populair Activity to do in Venice

Best period to visit Venice Italy
Ideal months to visit Venice Italy are April / May and September / October. These months will provide you the best weather.
But above all! Whatever the weather will be, Venice will not lose its magic and charm. So choose the season which is best for you!

The Public Holidays in Venice Italy

Always handy to know! You should take notice of the public holidays in Venice. The vaporetto service has a different schedule, and some shops are closed. But, mostly the museums are all open.
January 1 : New Year's Day
January 6 : Festival Epifania
April : Easter Monday
April 25 : Liberty day and Saint Mark Day
May 1 : Labor Day
June 2 : Republic Day
August 15 : Assumption of the Virgin Mary ( Ferragosto )
November 1 : All Saints day
December 8 : Immaculate Conception of the Blessed Virgin Mary
December 25 and 26 : Christmas and St. Stephen's Day
You've read about the climate in Venice. There is plenty to explore as you see. Discover Venice on my site and get more information about this beautiful Italian city.

Return from 'Climate in Venice Italy' to my page 'Venice Weather'
Continue reading: