Venice Camping Reviews

How Was Your Experience?
Other Visitors are Thrilled to Read your Story
Home >  Budget Accommodation Venice Italy >  Venice Camping Reviews >

Venice camping reviews are essential! Have you been on a campsite near Venice? I am so curious about your experience... This page is for you! Tell your own story, experience or share your personal opinion... Other visitors are thrilled to read the story of real people who have been there. Take your chance. Your contribution will appear below on this page!
Therefore...
...Write your own Venice Camping Reviews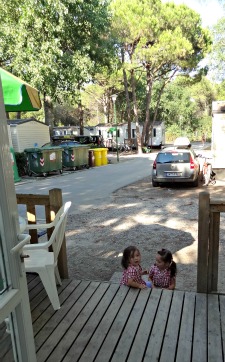 You know, I've been to camping Marina di Venezia with my family? This accommodation campsite is a massive site with absolutely everything you could wish to have during your holiday.
My experience was excellent. But this was because my daughters were able to enjoy their wonderful stay nearby Venice. Many lodges were already taken. But everything was great, and we could enjoy!

Ah, these are memories that I often think back. I can fill two more websites with my experiences at this Venice campsite. Unfortunately, I don't have time to realize these websites...

Now I turn it over. I like to hear from you... What's your experience at a campsite in Venice? Have you been to Venice one day or several days? You were with the caravan, and you slept in a tent. Whether you had a bungalow house?
Didn't find the information? Search within Venice-Information.com:
Mar 30, 23 02:57 PM

Get your Information about Venice here and check this Review Apartment Venice. Write a Review Apartment Venice.
Top 3 Populair Activity to do in Venice

I like to hear it. And I'm sure that the other visitors on my website will be very grateful. And let's face it... Sharing your experience is beautiful.
Or how about the individual lessons at the camp. Or maybe you were not happy with the site and the service you received?

At least enough reasons to fill this page with a story or a review on Venice campsites. Share it here. Other people can take advantage! Just start writing!...

Far over the 500 visitors of my website placed their stories about Venice. Their experience they shared with others. And not only on campsites, but about everything in Venice is. So, are you going to take this on? Tell your story!

Venice Camping Reviews & comments
Write your story & experience here in my comment form about cheap Venice hotels:
Do you want to share your suggestion or question? Tell your story...
Post your question or suggestion here using the form. Your contribution will be part of the site! I and other visitors will give you a response.
You've read about Venice campsite Reviews. And you can share them with other visitors. Ideal to add to my site! Tell your friends and family that you've contributed. They can respond to your contribution, or even appreciate with 5 stars!
Home >  Budget Accommodation Venice Italy > Venice Camping Reviews >
Continue reading:
Start looking for a cheap place to sleep in Venice