Venice Camping Reviews

How Was Your Experience?
Other Visitors are Thrilled to Read your Story
Venice camping reviews are essential! Have you been to a campsite near Venice? I am so curious about your experience... This page is for you! Tell your own story or experience, or share your personal opinion...
Other visitors are thrilled to read the story of real people who have been there. Take your chance. Your contribution will appear below on this page! Write your story from here >
Therefore...
...Write your own Venice Camping Reviews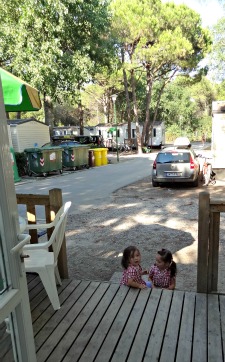 You know, I've been to camping Marina di Venezia with my family? This accommodation campsite is massive with everything you wish to have during your holiday.
My experience was excellent. But this was because my daughters were able to enjoy their wonderful stay near Venice. Many lodges were already taken. But everything was great, and we enjoyed!
Ah, these are memories that I often think back to. I can fill two more websites with my experiences at this Venice campsite. Unfortunately, I don't have time to realize these websites...
Now I turn it over. I'd like to hear from you... What's your experience at a campsite in Venice? Have you been to Venice one day or several days? You were with the caravan, and you slept in a tent. Whether you had a bungalow house?
Venice Camping Reviews: Share Your Enchanting Experience!

Venice, often dubbed the 'Floating City', is renowned for its ancient canals, architectural marvels, and vibrant culture. However, away from the serenades of gondoliers and the grandeur of St. Mark's Square, there lies an experience waiting to be shared.
If you've recently camped in or near Venice, we're eager to hear your story! And if you're considering this unique adventure, our community of seasoned travelers is just as thrilled to share their insights.
Why Share Your Venice Camping Experience?
Every traveler, be it a solo backpacker or a family on vacation, has a unique story to tell. By sharing your experiences, you not only immortalize your own memories but also provide valuable insights for future visitors. Your review could help someone decide on their next campsite, or provide tips to make their experience more enjoyable.

The Magic of Camping in Venice
While Venice itself is predominantly urban, the surrounding regions offer a variety of camping experiences. From coastal spots where you can hear the lapping of the Adriatic Sea to verdant hideaways close to the city, each campsite has its own unique charm.
Were you taken aback by the breathtaking views, or did you discover a hidden gem? Was there a specific spot that felt like a home away from home? These are the tales that other visitors are eager to read about!
Tips for Writing a Captivating Review

Begin with the Highlights: Was there a specific moment or place that took your breath away? Start your review with that unforgettable experience.
Be Descriptive: The more details, the better. Describe the ambiance, the sounds, the smells, and the emotions you felt. Paint a picture with your words.
Share Practical Tips: Did you find a fantastic local eatery nearby? Or perhaps there was a particular route that offered the best views? Sharing these insights can be invaluable to future campers.
Include the Not-So-Great: Every trip has its ups and downs. By being honest about the challenges you faced, you offer a balanced view and help others be prepared.
Photos are Worth a Thousand Words: If possible, attach photos to your review. A snapshot of a sunset or a candid moment can truly bring your story to life.
The Impact of Your Review
Imagine a fellow traveler reading your review and being inspired to embark on a similar adventure. Your insights could be the push they need to experience the magic of camping near Venice. Moreover, local businesses and campsite operators often rely on feedback to improve their services, ensuring that Venice remains a top camping destination.
Your tales of camping in Venice are not just stories; they're resources, inspirations, and guides for a community of like-minded adventurers. We urge you to put pen to paper (or fingers to keyboard) and let the world in on your escapades.
And to those still contemplating a camping trip to Venice: immerse yourself in the experiences shared by our community. Discover the allure, the pitfalls, and the secrets that only those who've ventured before you would know.
Every journey has a story. And in the captivating backdrop of Venice, your camping tale is waiting to be told. So, dear traveler, how was your experience? We, along with countless others, are waiting with bated breath to read your story. Share away!
I like to hear it. And I'm sure the other website visitors will be very grateful. And let's face it... Sharing your experience is beautiful.
Or how about the individual lessons at the camp. Or maybe you were unhappy with the site and the service you received?
There are at least enough reasons to fill this page with a story or a review on Venice campsites. Could you share it here? Other people can take advantage! Just start writing!...
Far over the 5,000 visitors to my website placed their stories about Venice. The experience they shared with others. And not only on campsites but about everything in Venice. So, are you going to take this on? Tell your story!
Venice Camping Reviews & comments
Write your story & experience here in my comment form about cheap Venice hotels:
Do you want to share your suggestion or question? Tell your story...
Post your question or suggestion here using the form. Your contribution will be part of the site! I and other visitors will give you a response.
You've read about Venice campsite Reviews. And you can share them with other visitors. Ideal to add to my site! Tell your friends and family that you've contributed. They can respond to your contribution, or even appreciate with 5 stars!
Home >  Budget Accommodation Venice Italy > Venice Camping Reviews >
Continue reading:
Start looking for a cheap place to sleep in Venice