Marina Di Venezia Camping
Marina Di Venezia Camping

Campsite Great with Kids - Easy Transfer to Get to Venice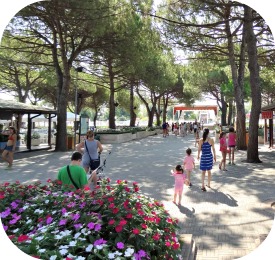 I think now, what is better than staying in Marina DI Venezia Camping? When I went on holiday with my two small daughters.
Not ideal, I would say. But it's not true. This campsite was great with kids, and we could quickly get to Venice...
Book Marina di Venezia in a lodge tent or a luxury mobile home for a week. It is a high-quality 4-star family park near the Punta Di Saboni harbor. This location is very close to Venice.

And for the family a campsite near Venice is suitable! I decided to travel by car. Curious how I arrived? Read more about my road trip >
With the waterbus (vaporetto), you can easily visit Venice, Burano, and Murano. Family park Marina DI Venezia Camping is one of the many resorts in this region. During the holiday season (June-August), it is packed with tourists, caravans, and campers, and possible traffic jams in high season;).

Camping Marina di Venezia is a resort. It is perfect for fun and action. I advise staying in this holiday park for at least one week.
There are many facilities at Marina di Venezia! They have a wide variety of restaurants, shops and a great pool. The sandy beach is within walking distance of the resort.
My children enjoyed the facilities. Above all, everything is clean, modern, and well-organized. The friendly staff welcomes you at the simple check-in.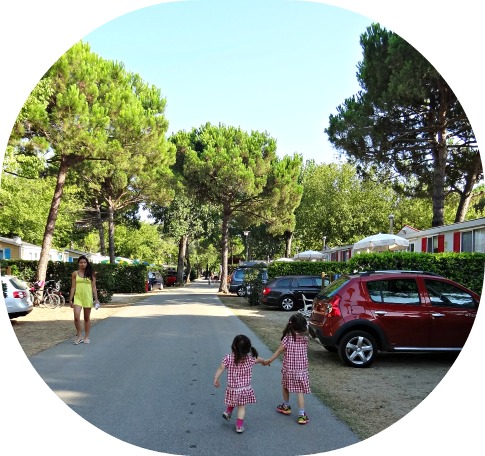 This convinced me to book my vacation in the Marina DI Venezia Camping Resort. You can reserve stylish accommodation with the charm of a tent or cottage without compromising comfort.
I stayed in a cottage. Clean linen and other welcoming packages can be booked in advance. You will have your own kitchen, shower, and barbecue.
The rates for Camping Marina di Venezia vary seasonally. In August, it costs around €223,- per night. Then you have a six-person lodge. But, in low season, you only pay €43,- per night for this mobile home.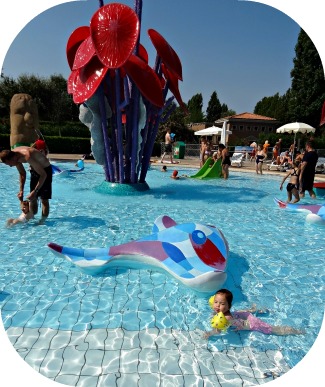 Every day, there was a smile of pleasure with my daughters. I'm sure I made the right choice by booking Marina di Venezia. A Venice campsite is an excellent alternative to visit Venice under budget conditions...
Almost all facilities are free of charge. Swimming is fun, and Marina di Venezia has a large swimming pool with slides and fun features.
There are two separate pools; the water is freezing at the entrance of the pool ground. It was a bit too cold to enjoy. But, when you dive into the second pool (which) also has many features, all the warmth will come back into your body.
Can't wait to go? I will show you the...
...Location: How to reach Marina DI Venezia Camping
The closest airport is Marco Polo Airport, 45 km (28 miles) from the campsite. You can also take a taxi (about 40 minutes). Approximately € 100.00. But via my own booking platform, Venice-information.transferz.com, you can book a cab in advance. And the fare is mostly a lot cheaper. 

Address: Camping Marina di Venezia, Via Montello 6, 30013 Cavallino-Treporti Venezia, Italy, tel: +39 041 530 2511.

MARCO POLO AIRPORT: Buses leave in front of the arrival hall every half hour. Step into Jesolo and catch the bus to Cavallino. Approximately EUR 4.30 and EUR 2.30 p.p. luggage.

Most budget airlines will land at Treviso Airport. So, please show me the...
...Route from Treviso Airport!
From Treviso, you can take the ATVO bus to Lido Di Jesolo. Here, you have to change to the ATVO bus towards Punta Sabbioni. A return ticket costs about €22,- p.p. to Lido di Jesolo. I have no view on the transfer costs to Punta Sabbioni. You have to take into account about 1.5 hours of travel time.
From Punta Sabbioni it is about a 2 km walk to the campsite. This walk is quite a distance. I know in the high season, the camping has shuttle buses. There are also regular taxis here. So I advise you to take a cab with the (small) children to the campsite. Another option is to ask the bus driver to drop you off as close as possible.
Below, I will show you the link to the ATVO website and the bus schedule.
Tickets for the ATVO bus you can purchase at Treviso Airport. The ATVO countersigns are indicated. Or you can pre-book the bus ticket online via GetYourGuide. They are certified to sell these tickets online. Book online here >

Camping Marina di Venezia Enlarge the Marina Di Venezia map

Taxi Treviso Airport Marina di Venezia

You can also take a taxi. You do not have to switch, and it's faster. The costs are approximately €100, - from Treviso Airport. I always book taxis in advance via my own domain, Venice-information.transferz.com.

Transferz.com is an online platform for booking worldwide taxis to and from the airport.

They are an online platform where you can book taxis from and to the airport worldwide.

It works very well, I can say. It can also be cheaper than an ATVO shuttle bus if you have 4 people in one taxi. 

Great! You arrive, and then you want to prepare to visit the city of Venice. How can you get...
...From Marina Di Venezia Camping to Venice?
Punta Sabbioni is the last point of the peninsula, where many campsites exist. From here, every day, Vaporetto boats go to Venice. So once you have checked in at the campground, I think the best way is to go to Punta Sabbioni the next day and purchase a travel card here.
My best advice is to buy a 48-hour Travel Card with the vaporetto boats to and from Venice. For example, suppose you have planned a day in Venice and the next day on the other islands (Burano, Murano, or Torcello). In that case, you buy the two-day travel card. Or the one-day travel card if you do the days separately. Buy your Travel Card online >
---
Start looking for a cheap place to sleep in Venice

You've read about the resort Marina DI Venezia Camping. There is plenty to explore as you see. Discover Venice on my site and get more information about this beautiful Italian city.
Return from 'Marina DI Venezia Camping' to my page 'Budget Accommodation Venice Italy'
Continue reading: