Marina DI Venezia Camping
Home >  Budget Accommodation Venice Italy >  Marina Di Venezia Camping >
What is better than staying in Marina DI Venezia Camping? When I went on holiday with my 2 daughters they were 4 years and the youngest was 2 year old. Not ideal I would say. But it's not true. This campsite was great with kids and we could easily get to Venice...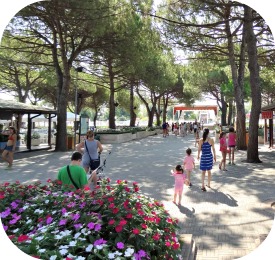 Marina di Venezia is a high quality 4 stars family resort near the vaporetto / ferry port 'Punta Di Saboni'. This is very close to Venice Italy. And a campsite like this is perfect for a holiday with family. 
Because I wanted to avoid the airplane. I decided to travel with my car. Curious how I arrived? Read about my trip in 'What's your Cheap Holiday in Venice?'. 
During the European holiday season (June – August) it can be very busy with tourists, caravans and Motorhomes. Since there is just one main road to reach Punta DI Saboni, a traffic jam is not rare.
Marina DI Venezia is a resort. It's huge and great for Fun & Action. It is one of the nearest resorts to Punta Sabbioni. With the water bus (vaporetti) you can easily visit Venice, Burano and Murano. I advise you to stay here at least 1 week.

I think the facilities of Marina DI Venezia Camping are outstanding. They have a great variety of bars, restaurants, shops and they have a great swimming pool. The sandy beach is in walking distance of the resort.

The kids really enjoyed the facilities. Above all, everything is clean, modern and well organized. The friendly staff are welcoming you and will guide you during the easy check-in.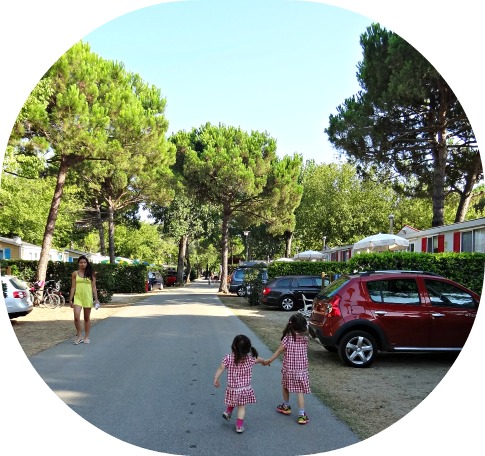 This convinced me to book my vacation in resort Marina DI Venezia. I booked my cottage via Eurocamp.
Eurocamp offers their own cottages on different campsites. I heard only good rumors about them. 
You can reserve a stylish accommodation with the charm of a tent or a cottage, but without the compromise on comfort.
I stayed in a cottage. Clean linen and other welcoming packages can be booked in advanced. You will have your own kitchen, shower and barbecue.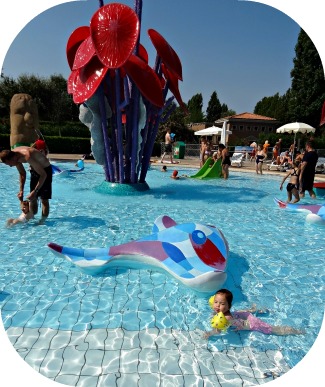 Rates and fares of Marina DI Venezia resort vary with season. In August you will pay around EUR 223, - per night for a 6 person cottage, like me.
But, in May or another off season holiday you only pay EUR 43, - in the same cottage. 
Almost all facilities are free of charge. Another extra service via Eurocamp is; there is always somebody around of this agency. So if you complain, they solve it immediately. 
A good choice for your Venice Italy budget accommodation if you ask me… I made a right choice to reserve and book a cottage at Marina DI Venezia via Eurocamp. Every day there was a smile of pleasure at my daughters face. 
Location: How to reach Marina DI Venezia Camping
Address: Camping Marina di Venezia, Via Montello 6, 30013 Cavallino-Treporti Venezia, Italy, tel: +39 041 530 2511.

MARCO POLO AIRPORT: Buses leave every half hour in front of the arrival hall. Step in Jesolo and catch the bus to Cavallino. Approximately EUR 4.30 and EUR 2.30 p.p. luggage.

This airport is 45 km (28 miles) from the campsite. You can also take a taxi (about 40 min). Approximately EUR 100.00. But via Cheaptaxis you can book a taxi in advanced. And the fare is mostly a lot cheaper. 

Route from Treviso Airport
From Treviso it's best to take the ATVO bus to Lido Di Jesolo. Here you have to change to the ATVO bus to another bus to reach Punta Sabbioni. A return ticket costs about EUR 20, - per person to Lido di Jesolo. I don't know the transfer costs to Punta Sabbioni.
You have to take into account about 1.5 hours travel time. Punta Sabbioni is about 2km walk to the site. This is quite an end. I know in the high season, the campsite uses shuttle vans.

Camping Marina di Venezia Enlarge the Marina Di Venezia map

Here are regulated taxis. So I guess with (small) children it is more comfortable to take a taxi to Marina di Venezia camping.

Another option is to ask to the bus driver to drop you off as close as possible. On www.ATVO.it/en you can see the timetable of this bus service.


Prefer a taxi? Cheaptaxis is an online platform where you can book worldwide taxis to and from the airport.

It works very well I can say. It can also be cheaper than an ATVO shuttle bus if you are with 4 people in one taxi.  
Is it better to use a Tourist Travelcard from Marina di Venezia Camping?
Punta Sabbioni is the last tip of the peninsula where you can find many campgrounds. From here you can go every day with a vaporetto boat to Venice. So if you once checked in at the camp, I think the best way is to go the next day towards Punta Sabbioni and buy a travel card. A one day travel card starts from the moment you check in.
For example, if you planned a day to Venice and the next day visiting the other islands (Burano, Murano and Torcello), then buy your travel card for two days. Or buy an one day travel card if you like to travel separate days.
When you are returning from Marina di Venezia to Treviso Airport, don't worry. It is a small airport. If you arrive 1 hour before departure, this is sufficient. If you can afford it I advise you to take a taxi to the airport. Cheaptaxis for the best offer!
---
---

Cheap Parking in Venice Italy
Be smart and get a cheap parking place when you are visiting Venice Italy! Here is an overview and mostly they have shuttle services to Venice... Check it out! 
---
You've read about the resort Marina DI Venezia Camping. There is plenty to explore as you see. Discover Venice on my site and get more information about this beautiful Italian city.
Return from 'Marina DI Venezia Camping' to my page 'Budget Accommodation Venice Italy'
Continue reading: