Venice Italy Budget Accommodation Near the Sea
Most have Special Facilities for Children
You don't have to Worry and can Relax

Home >  Budget Accommodation Venice Italy >  Venice Italy Budget Accommodation >
A holiday resort near Venice Italy? This resort is Campsite Union Lido Park & Resort! One of my luxury Venice Italy Budget Accommodation... Maybe you are hesitating… Don't worry; this holiday park has won many awards. It has a strong reputation. In the 46 years of its existence, it has been visited by more than 16 million people from all around the world!
On your arrival, the smell of the sea and the warm welcome from the staff will accompany you inside the campsite. Can you imagine...?
Let me tell you more about this resort and...

...How to have a Lodge on Union Lido Park & Resort
A comfortable, decorated lodge during your holiday. It's perfect! For one week, two weeks or three weeks?
There is plenty of space in such a lodge. And perfect for children. So you have a private shower, toilet, air conditioning, and satellite TV.

Rates depend on the season. The average price starts at EUR 76.00 per night and can be up to EUR 166,00 per night.  

Book now directly > Camping Union Lido
When you hurry, you can soon...
...Stay in a Tent at this Venice Italy Budget Accommodation
Camping in Venice at Union Lido!!! Prices in the Union Lido resort vary with the season, but the average cost per adult per night is EUR 9,25. The child prices are lower than the adult. The pitch to settle down with your tent, camper or motor-caravan varies from EUR 12,00 to EUR 43,00 per night, depending on your facilities and the season. 14 modern well-equipped toilet blocks are at the site and are within easy reach of all pitches. Most have special facilities for children.
An excellent choice for your Venice Italy budget accommodation if you ask me… Those without their camping equipment can stay in Bungalows, Tent MV Collection or Camping Homes with all the conveniences. Or sleep in spacious Mobile Homes with shower and WC, air conditioning and satellite television.
What are the...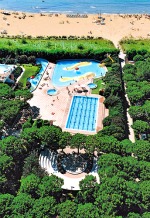 ...Facilities at Union Lido Park & Resort
This 5-star campsite has  a modern and comfortable infrastructure. Almost everything is available in this resort. Campers can find large shady pitches, all with electricity, a lot of them with fresh and waste water connections, as well as motor-caravan pitches.
In the Holiday Park, you can find 8 Restaurants, 11 Buffet Bar, 25 shops, 2 Aqua Park, a Wellness Center a natural park of 70.000 sqm. And a Sports Center.
Didn't find the information? Search within Venice-Information.com:
May 30, 23 03:36 PM

"All GOLD" The Basilica of San Marco. Read its history, the best tours to visit Venice Attraction, the Basilica!
The UNION LIDO PARK & RESORT stretches on to the peninsula of Cavallino.
Every morning the beach is thoroughly cleaned to guarantee a high degree of safety and hygiene for children that play on the beach and the shore during their stay.
Thank you for your information but how to reach this campsite resort. 

Please show me...
... the Route to Union Lido Park & Resort
Adres: Union Lido Park & Resort:

IL Parco dell Vacanze Via Fausta, 258 I - 30013 CAVALLINO - VENEZIA -

By plane: 

MARCO POLO AIRPORT: ATVO Buses depart to the direction JESOLO every half hour in front of the arrival hall.

Change in Jesolo and catch the bus to Cavallino - Punta Sabbioni. Approximately tickets are EUR 4.30 and EUR 2.30 p.p. for luggage. It is 1 hour and 25 minutes by bus, including the change in Jesolo.
Marco Polo Airport is 45 km (28 miles) away from the campsite. You can also take a taxi (about 40 min). It will cost your approximately EUR 100.00.
Reserve a taxi by using my own domain VeniceInformation.Transferz.com. It will only cost between EUR 70, - and EUR 90, -. It's quite pricey but comfortable.
TREVISO AIRPORT: In high season There are regular buses to Jesolo Lido. Here you can change the direction of Cavallino. You can also take a taxi (about 70 minutes). Approximately EUR 120.00.
You've read about the Union Lido Resort. There is plenty to explore as you see. Discover Venice on my site and get more information about this beautiful Italian city.
Return from 'Venice Italy Budget Accommodation' to 'Budget Accommodation Venice Italy' 
Continue reading:
Start looking for a cheap place to sleep in Venice