Cheap Flight from Glasgow to Venice

Best Airlines which Departure from Glasgow
Home >  Flights to Venice Italy >  Flight from Glasgow to Venice >

Are you looking for a flight from Glasgow to Venice? And this isn't easy... You have to transfer at least one time to arrive in this most romantic city in Europe.
On this page, I tell you the most details to find the best Glasgow to Venice airfare. First... From Glasgow, there is no nonstop flight to Venice Italy. Best airlines which departure from Glasgow to Venice:
From Leeds Bradford Airport you can take a direct flight to Venice, Italy with Ryanair. Airfares are starting from 35 GBP. Price (Avg & + Taxes & Fees) April 2019
Flight Duration (Best connection)
5h 17m - one stop at London Gatwick Airport
5h 45m - one stop at Amsterdam Schiphol Airport
7h 00m - one stop at Paris Charles de Gaulle
Duration for my flight to Venice is essential, but do you have more...
...Facts about a Flight from Glasgow to Venice?
Nov 14, 21 08:16 AM

Easy to drive to Venice. But not the last 3 miles. You have to choose which parking garage in Venice you will use? I'm going to help you with that.
Top Activity to do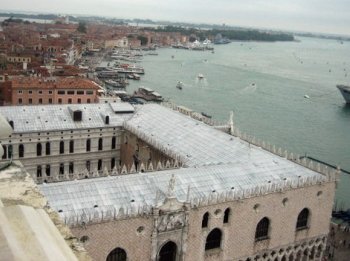 Doge's Palace Secret Tour and Opening Time + Fast Lane. Read more >
Yes, I do! As follow:
Most airlines will arrive at Marco Polo Airport;
The cheapest rate for flying from Glasgow to Venice is mostly British Airways;
A flight from Glasgow to Venice takes between 4h 22m hours and 10h 15m hours;
Historically the cheapest day of this flight is Monday;
Traditionally the most expensive day for this flight is Saturday.
Curious how we arrived in Venice? Check my page on how to get from the airport to Venice. I can tell you all about it! Venice Italy uses two airports nearby. I often use both, so read on to choose your favorite way...
Marco Polo airport is 12km away from Venice. It is Italy's fifth airport in size and traffic. When the plane almost lands, you can see romantic Venice. Breathtaking... Sit on the right side of the aircraft to see the view ;-). Then after landing buy some drink in the airport before you go to the Alilaguna boat or shuttle bus!

Already tired of your flight? Is it getting late? Or only one day visit to Venice? Don't worry there are enough Venice airport hotels.

You've read about getting from Glasgow to Venice. There is plenty to explore as you see. Discover Venice on my site and get more information about this beautiful Italian city.
Home >  Flights to Venice Italy >  Flight from Glasgow to Venice >
Continue Reading: