Book the best Venice Flight Tickets

Don't Arrive late in the Evening
But, I will show you the transfer options
Flying to Venice has a special place in my heart. Every time I enjoy it. This is why I have the best Venice flight tickets, always… Sometimes you can notice Venice from the airplane window. And you will understand...
Sep 16, 23 01:29 PM

Visit Harry-s Bar Venice: Bellinis, Hemingway, and Venetian Elegance: The Legend of Harry's Bar.



Didn't find the information? Search within Venice-Information.com:



Nothing is better than this. Take the boat from Marco Polo Airport (water taxi or the Alilaguna line) to Venice.
The city is on the horizon, getting closer to the lagoon. Lovely...
Curious which...
...Airlines fly to Venice Italy?
Flight from New York JFK to Venice Airport (VCE) with Delta Airlines! Flying from the beginning of April until the end of October 1 time a day.

Flight from Atlanta to Venice Airport (VCE) with Delta Airlines! Flying the mid of June until the end of August 1 time a day.

Flight from Manchester to Venice Airport (VCE) with EasyJet, Jet2.com, Monarch, Thomsonfly, Thomas Cook, or Titan Airways! Flying March until the end of October several times a week.

Flight from London Gatwick to Venice Airport (VCE) with British Airways, EasyJet, Thomsonfly, Monarch, or Titan Airways! Flying every day.

Flight from Amsterdam to Venice Airport (VCE) with KLM Royal Dutch Airlines! Flying multiple times a day. € 129 Book now >

These are the direct flights to Venice. I indexed the prices recently in 2022.
Marco Polo Airport is located in the lagoon of Venice. Try to get a seat on the right side of the aircraft. You will see Venice lying in the lagoon just before landing at the airport. If you fly to Treviso Airport, you can take the shuttle bus or a taxi to Venice. Treviso Airport is approximately 25 miles away. Learn how to get from the airport >
Seems like a lot to explore... But, how do I...
...Compare Venice flight tickets?
Compare the price if you fly to Venice. Play with the days of your departure. Choose back and return days and see if it's cheaper to stay an extra day in Venice. Tour operators and airline companies want to get the plane complete. The more empty seats, the better the price. And for cheap flights to Venice, Italy, you have to book early! Check which opportunities you have with the Airline KLM.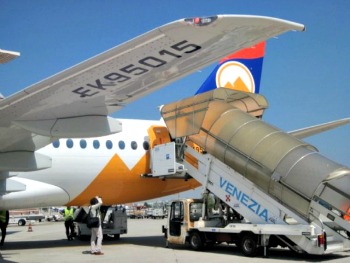 IMPORTANT! There are a lot of visitors questioning how to arrive at their hotel. For example, they ask when they come with a budget airline at 10.30 pm or later in the night.
Make sure that your Venice flight tickets are not too late in the evening. Because an arrival with a low-budget airline at Treviso Airport can bring problems when you arrive later than 10.30 pm. You should actively consider the transport possibilities from and towards the airport.
Another tip is traveling outside the school holidays, which occur in Italy and the rest of Europe. Visiting in May, June or September, or November is an excellent month to fly to Venice for a lower price.
Overall, the best price you have in the autumn, winter, and early spring. During the Venetian carnival, the flights to Venice are expensive. Book your plane ticket to Venice today. Discover how easy it is to book the cheapest.
You've read about Venice tickets. There is plenty to explore. Explore my site on Venice and get more information about this beautiful Italian city.
Home >  Flights to Venice Italy >  Venice Flight Tickets >
Continue reading:
Start looking for a cheap place to sleep in Venice