Arriving at Marco Polo Airport Venice Italy?
The Right Parking Locations, Convenient Airport Transfers
and Above All; Close to Venice

Tip) No worries. A simple airport transfer? Pre-book a Taxi to get from & to the Airport 
If Marco Polo Airport Venice Italy is your airport, you are in the right place to explore more. The airport is near Venice and has some great transfer options. Because this airport is so close, it saves you time! I will tell you the most common information about this airport nearby Venice.
It is just 6 miles from central Venice and located north of the city on the lagoon's edge. The airport has one terminal, and getting yourself from point A to B is easy. The arrival terminal you will find on the ground floor. Departures are from the first floor.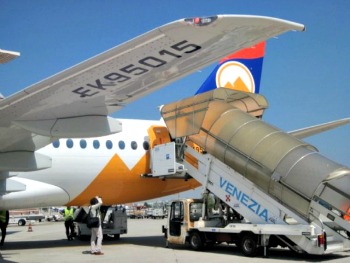 There are Non-stop flights to Venice Airport from New York and Atlanta.
Marco Polo Airport Venice Italy has some shops for Duty-free shopping. Buying souvenirs and gifts would be a good option if you forgot to buy them in Venice. Some of the international airlines at Marco Polo Airport are:
British Airways 

Lufthansa

United Airlines

Delta Airlines

Emirates

Qatar Airways
Next to these airlines, some low-cost carriers connect Venice to cities across Europe, such as London, Manchester, Zurich, and Geneva. Need a cheap flight to Venice, Italy? I will show you my recommendations. Cheap flights to Venice Italy >
First read about the...

...Marco Polo Airport Facilities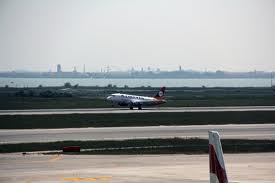 Marco Polo Airport Venice Italy offers all the facilities you need at an airport. In addition, it has a great connection to the romantic city of Venice.
What can you find at this airport? Information points and hospitality desks are all available at the airport. In addition, the staff mostly understands English. So, don't worry about being in Europe for the first time!
ATMs
Currency exchange facilities
Post office
Tax-free custom service
Luggage: Trolleys are available in the terminal
Lost and found is located on the ground floor of the terminal and is open from 8 am until 12:30 am daily
Baby-changing facilities, a family area, a spa, and first-aid facilities
WI-Fi: To stay online, you can go to the 'Schengen' departures area, VIP Lounge, and the check-in area
Conference and business services are available on the second floor at the Marco Polo Club (open 5am-10pm)
Rental car + Convertible Car Hire Marco Polo Airport (link out)
Duty-free shops
Red Cross medical center
Restaurants, bars, cafés and, snack bars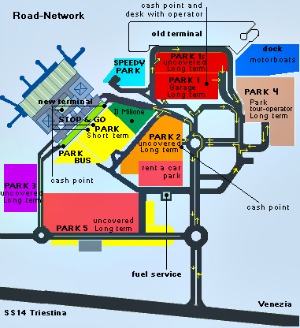 Parking at Marco Polo Airport
Need to park? The parking facilities at Marco Polo Airport Venice Italy are excellent. To drop off or pick up visitors, you can go to the Stop & Go area in front of the terminal, free for the first ten minutes. Car Parks 3, 4, and 5 are long-stay options.
All the car parks are within walking distance of the terminal. However, the long-term car parks are slightly further from the airport than the short-term ones. The difference you will notice in the parking price. Are you able to walk and need the cheapest parking fare? Go to parking 5…
The suitable parking locations, convenient airport transfers, and close to Venice.
Can you tell me more about...
...Marco Polo Airport Venice Italy - Transfers?
Sep 16, 23 01:29 PM

Visit Harry-s Bar Venice: Bellinis, Hemingway, and Venetian Elegance: The Legend of Harry's Bar.



Didn't find the information? Search within Venice-Information.com:



(VCE): www.veniceairport.it is located 6 miles from Venice by land,
To/from the airport: The Alilaguna boats are a fast way into central Venice. The Mestre-Venice and Venice-Santa Lucia rail stations are accessible by bus. Buses travel to the Venice-Santa Lucia railway station via Piazzale Roma. Taxis leave from outside Arrivals.
Telephone +39 (0)4 1260 6111
From the airport to Venice, there are five or six options. For example, you can take the Alilaguna line. This ferry you can use between Marco Polo Airport and Venice. From the Airport to Venice by Alilaguna boat is fun! 10 minutes walk from the terminal to the pier. Read more about how to get from the airport to Venice >
---
You've read about Marco Polo Airport Venice Italy. There is plenty to explore, as you see. Discover Venice on my site and get more information about this beautiful Italian city
Return from 'Marco Polo Airport Venice Italy' to page 'Venice Airports'
Continue reading:
Start looking for a cheap place to sleep in Venice