The Best Tips for Venice Italy Airport

How to get to Venice, Smart, Cheap and Fast
Tip) No worries, but a simple transfer? Pre-book a Taxi to get from & to the Airport 
The nearest airport to Venice is Venice Italy Airport "Marco Polo." Unfortunately, it is a 6 miles distance from the city! But with the most low-budget airlines to Venice, you probably will arrive at another airport. This cheaper landing location is the smaller airport in Treviso. Look at the bottom of my page for more details...
Didn't find the information? Search within Venice-Information.com
Aug 04, 22 01:02 PM

Book here you Venice Airport Hotel... Take the Convenience of a Venice Airport Hotel Cheaper Rates, Easy Transfers. Read about my own Experience about Airport Hotels around Venice. I have some suggest…
Top 3 Populair Activity to do in Venice

Marco Polo Airport has advantages. It is an international airport and has enough facilities. Each year more than two million passengers are served from this airport. Fifty-one airlines are using this main Venice Italy airport.
In Italian, this airport they call Aeroporto di Venezia Marco Polo or Aeroporto di Venezia-Tessera. The airport code is VCE. There are non-stop international flights from the US, Japan, China, and Russia.
But most important: the airport has the best transport conditions to and from the heart of Venice.
How to get from the airport in Venice? Read about...
...How to Get from Venice Italy airport (Marco Polo)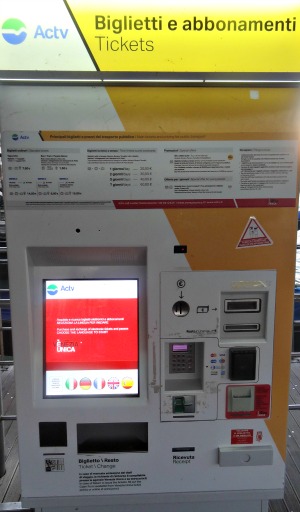 Machine to buy your ACTV tickets
Bus: Nice and smooth, and within 25 minutes in Venice. You can choose the public transport bus line ACTV no.5 (Aerobus). Bus tickets you can purchase at the ticket machine or on the bus (€ 6.50 per ticket). This year, you can also buy the Day Travel Cards of ACTV. Purchase your Travel Card here >
Another option is the ATVO shuttle bus to Venice Piazzale Roma. Conveniently and it includes your suitcases—a return ticket costs € 15 - (within seven days of return). Buy your ATVO tickets here > You can purchase the tickets at the transit counter, near the baggage claim, at the bus stops, and in the ATVO buses. The location of the bus departure platform is in front of the arrivals hall. 
Water Bus: From the airport, you can use the Alilaguna boat. How to find the Alilaguna? You walk from the arrivals hall and turn left. It's a 7-minute walk to get there. You can purchase tickets at the transit counter or near the baggage claim at the desk near the Alilaguna boats. A return ticket on the Alilaguna water bus costs € 27 -. This trip to Venice is 30 minutes.
Water taxi: With your private speedboat from the airport to Venice. It is comfortable and pleasant. The water taxi will drop you off in front of the hotel. Most hotels in Venice are near a dock where the water taxi can stop. Ideal!
Book a water taxi > It's not cheap at around € 90, - and € 110 -. What do you think? But there is a solution. You can share a water taxi with other tourists.
Taxi: By regular car taxi to Piazzale Roma. Please ask about the fare before you are going to take the cab! The fixed rate of Marco Polo Airport is now € 39 -. Or book a taxi via my own platform
VeniceInformation.Transferz.com.
Rental car: A car available from the moment you arrive at the airport. If you want to travel further on a road trip in Italy, having a vehicle is very comfortable. You can park your car at Piazzale Roma, visit Venice one day, and continue moving to the Veneto area! Click here for Venice rental cars >
Ok, please tell me...
...The cheap Venice Airport at Treviso 

This airport is also called Treviso-Sant'Angelo Airport in English. In Italian, this airport they call Aeroporto di Treviso-Sant'Angelo Canova. The airport code is TSF.
This airport in Treviso is cheaper than his big brother 'Marco Polo.' Airline RyanAir has its home here. And from Bristol, East Midlands, Leeds, or London Stansted, you fly for a few bucks to Venice...
Treviso Airport is 25 miles from Venice. And the city of Treviso is also worth a visit. But how do you get from the airport to Venice? And which is the best way?
Bus: Take the ATVO shuttle bus to Venice Piazzale Roma (VENEZIA - MESTRE). The journey to Venice lasts more than one hour, with one stop at the train station in Mestre. In high season the road is busy, and the trip takes longer during the day. A return ticket costs € 22 -. Tickets you can buy on the bus, at the baggage claim, or in the arrival hall.
Train: Yes, Venice also has a train station. You can take the bus or a taxi to the train station in Treviso. Take bus line no. 6 (ACTT), which leaves in front of the airport. From here, it's fifteen minutes from the station of Venice, "Santa Lucia."
When I visited Venice for the first time, I took the train option. It was adventurous, I can tell you, but fun! An advantage of the train is that this route is not busy. Otherwise, you will be sweaty on the bus and stocked in a traffic jam to Venice...
Taxi: Deluxe and ideal for Venice. Costs € 79, -. Or book a cab via my own platform VeniceInformation.Transferz.com
Rental car: Providers of Venice car rental >
---
You've read about the Venice Italy Airport. Read my site and get more information about this beautiful Italian city.
Return from 'Venice Italy Airport' to page 'Venice Airports' 
Continue Reading: