How can you visit Venice by car and park in a Parking Garage in Venice, Italy?
Are you in Italy by car and curious if it is possible to drive to Venice, Italy? Or are you looking for a parking garage in Venice to park your car?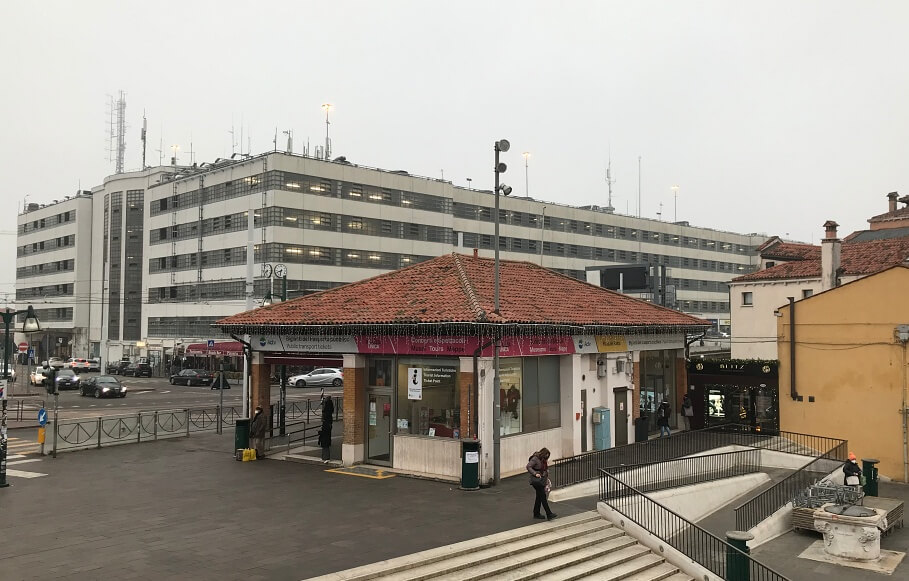 Parking Garage Piazzale Roma
Don't worry. Welcome to the website with a lot of information about Venice Parking. Here you can read everything about the parking garages in Venice. Because by car inside the old city, that is really not possible. That is why all parking garages are outside the city. And some are within walking distance, and some often have a cheap bus or shuttle connections. 
And it is easy to drive to Venice by car. Maybe not the last three kilometers. Because here a choice has to be made which parking garage will be used in Venice. I'm going to help you with that.
Parking garage in Venice on Piazzale Roma and Tronchetto parking

Driving in this part of Italy is easy with wide highways from Milan, Verona, or Austria. If you drive from the Lake Garda area, the toll roads are not expensive and are easy to do. Depending on where you stay at Lake Garda, you can consider a travel time between 90 and 180 minutes.
You drive straight for Venice when you cross the Via Della Libertá bridge. Continue straight ahead, and you will automatically reach the end just before Venice. And this is Piazzale Roma. A busy traffic circle where trams, buses, and taxis depart. It is the gateway to the city of Venice.
The square also has the most comfortable parking garage in Venice. For example, parking garage "San Marco." From there you walk within 2 minutes in Venice.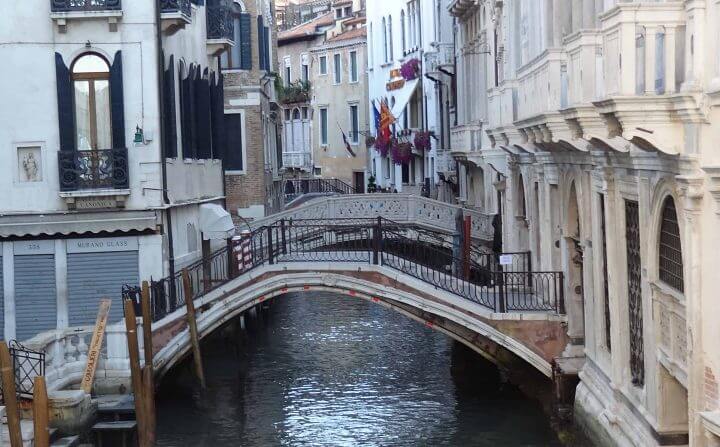 Driving in your car in Venice is not doable. That's why you park your vehicle outside Venice in a parking garage
You can park a little further away on Tronchetto island. Close to where the cruise ships depart, another commercial industry is located.
You can park on Tronchetto island by turning right immediately after the Via Della Libertá bridge. You will encounter many parking spaces here. But if you want to park in a parking garage in Venice, it's best to go to Venice Tronchetto Parking.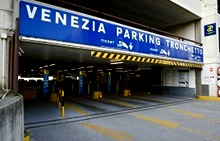 You have alternatives here for shorter parking. For example, 1 to 3 hours. You often pay the daily rate after the third hour.
It is good to know that parking at Tronchetto is not a walking distance to Venice. But there are good connections with Venice. For example, you can take the Vaporetto boat from Tronchetto or the monorail; People Mover to Piazzale Roma.

How to book?

To drive your car in a parking garage in Venice, you only need to complete the booking via the ParClick reservation page.
When booking, consider the date and time of arrival/departure and the choice of whether it really is a parking garage and not an outdoor parking space. Once the booking has been successfully completed, you will receive a confirmation email with directions to get to the car park.
The booking also always states whether:
Shuttle service to and from Venice,
Surveillance 24h/7
Leaving keys behind
We usually park at Piazzale Roma. Just because it is close to Venice. Because of convenient time saving, you don't have to travel another 10 to 40 minutes from the city to get to your car. In the high season and holidays, it is advisable to reserve a parking space in advance.
Leave keys?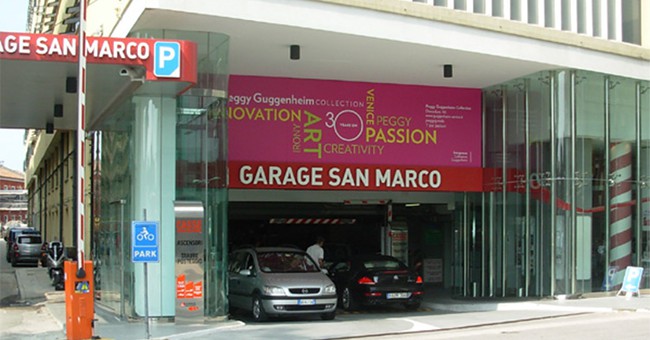 Parking garage San Marco is such a garage where you have to leave the car keys. This must be according to their insurance regulations. Yes, your car is also insured against fire and damage. Included in the price.
Well organized and convenient if your hotel is in Venice. Because this parking garage in Venice is open 24 hours a day. So if you forget something from the car, you can easily walk from Venice to the parking garage. Please note that the multi-story car park has a maximum height of 2.20 m.
Within a few minutes and at no extra cost, it is possible to reach the center of Venice. Garage San Marco is located at Piazza Roma, the starting point for anyone arriving or departing the city.
If you book online, it is necessary to book 12 hours in advance. But you can often still go without a reservation.
Parking garages in Mestre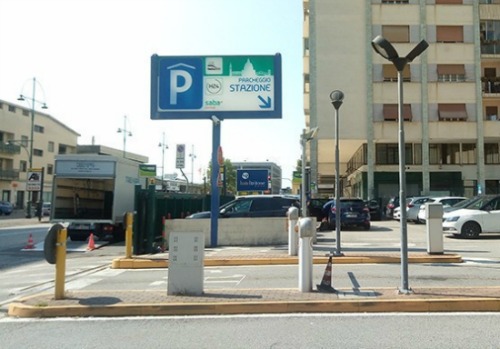 Parking Garage SABA in Mestre
The SABA Venezia Mestre Stazione car park is an excellent alternative for those who want to leave the car before arriving at the lagoon. It is open 365 days a year, 24 hours a day, and is located next to the Venezia-Mestre station, from which it takes its name.
Parking near the train station of Venezia Mestre. One day parking for € 16.00, book the whole week for only € 67.00!
From the SABA car park, you can take the train to Venice. You can reach Venice Santa Lucia train station in just 10 minutes.
Are the car parks in Venice cheaper or more expensive than open-air parking?

Many visitors who want to go to Venice assume that parking is expensive. And that is, of course, true. But we also park at seaside resorts or in other capital cities in Europe. Then we also pay the top prize thereof €30 - €40 per 24 hours.
Venice is similar. Garage San Marco has now been increased to €39 per 24 hours. For more than 10 years, this rate was between €30 and €35. On Tronchetto island, you can often find cheaper places from €22 per 24 hours.
And on the open-air parking spaces in front of the Via Della Libertá bridge, you have a starting rate of €5 per 24 hours. Then you still have to factor the transport to the city, and there are fewer facilities, such as no 24-hour access, no security or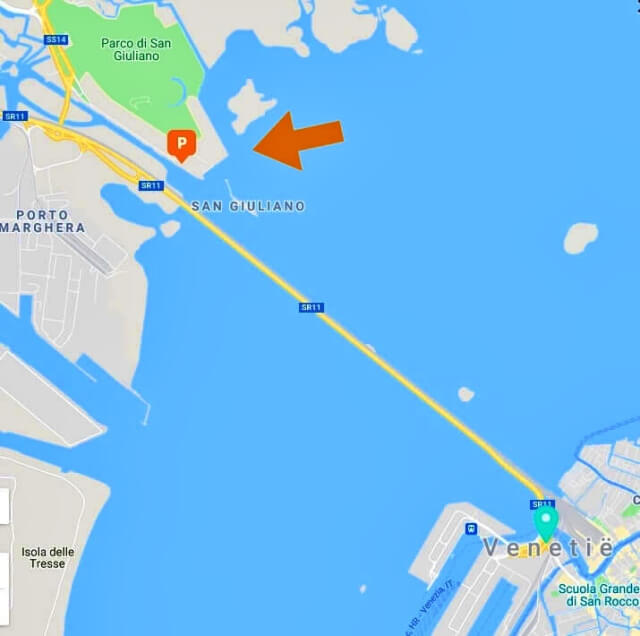 Parking without a garage, but very budget parking starting from €5 - €20
---
You've read about parking garage in Venice. There is plenty to explore. Discover Venice on my site and get more info about this beautiful Italian city.

Start looking for a cheap place to sleep in Venice