Find car parking Venice and book in advance
Car Parking Venice: Driving into Venice by car is not possible. Parking somewhere on the side of the road is also not an option. Almost any attempt to illegally park in Venice is costly and usually ends with a towed car or camper.
Therefore, book a parking space in advance: parking spaces are scarce in Venice. However, large multi-story car parks are full in high season. It is therefore advisable to reserve a parking space.
On this page, you can read where you can make a reservation. Also, find car parking in Venice (including the large parking garages near the old town and parking in front of the Ponte Della Libertá bridge).
Didn't find the information? Search within Venice-Information.com:
May 30, 23 03:36 PM

"All GOLD" The Basilica of San Marco. Read its history, the best tours to visit Venice Attraction, the Basilica!
Find car parking Venice
It rarely happens. But still, some tourists try to drive into Venice by car. They go unsuspectingly (often in the evening/night) over the Ponte di Calatrava (the bridge between Piazzale Roma and Venice train station). They try to get to a parking lot in Venice or get to their hotel by car.
It is then much better to park at Garage San Marco. The parking garage has arguably the best location to get to all the hotels in Venice.
Why Garage San Marco?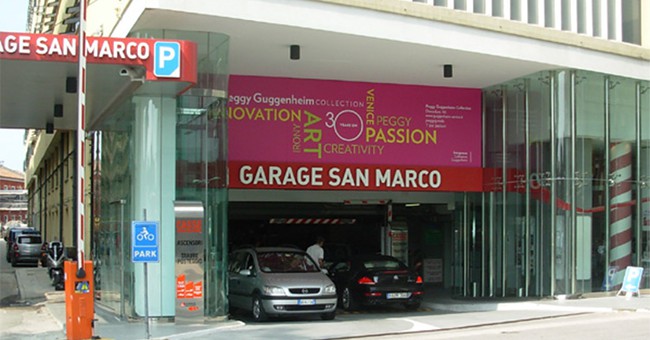 Garage San Marco is located in Piazzale Roma, the entrance square to the historic center of Venice.
>>> You can reserve a parking space in Garage San Marco on this website
It is one of the most expensive garages, but only a few meters from the entrance to Venice. The garage is open all year round, has 900 parking spaces, and is available 24 hours a day.
By booking parking spaces, you have priority, and there are no queues. The rates are €7 per hour (minimum 2 hours) or €35 per 24 hours. Book in advance to receive a discount.
Car parking in Venice after the bridge (Ponte della Libertà) or before the bridge?
After the bridge, you have to drive straight ahead, and you will automatically arrive at Piazzale Roma square. Directly on this square, you can park for free for 30 minutes. But there is rarely room there, and the rates are very high. So you should get a ticket from one of the machines, even if you are standing for less than half an hour to pick someone up.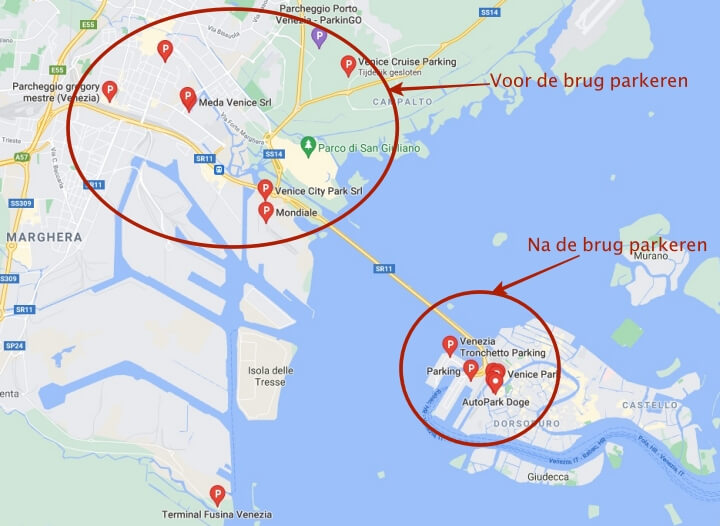 There are four parking garages at the Piazzale Roma square. A few hundred meters further towards Tronchetto, there are three more. If you want to park in front of the bridge, there are several options in Mestre and Marghera to park your car at a car parking Venice.
Some are even free. You will have to use public transport to get to Venice.
I will list some pros and cons:
Parking after the bridge at Venice:
It's easy to get to the hotel or apartment
It is expensive at 25-36 euros per day
Parking in front of the bridge somewhere on the street or in a parking lot in Mestre or Marghera:
Can be completely free
It can be complicated to get to Venice, and it is not very safe.
If you have a foreign car, it is downright unsafe.
Car parking Venice in front of the bridge in a gated parking lot for which you have to pay:
It's safe, and it doesn't have to be very expensive.
Getting to Venice is more complicated than parking at Piazzale Roma. But with buses, shuttles and a tram, that is no longer really difficult.
Parking Venice after the bridge
Autorimessa Comunale: Around Piazzale Roma are a few parking lots; the largest is Autorimessa Comunale,and is almost the nearest you can get to Venice by car. There is room for more than 2000 cars and 300 motorcycles. And it's the cheapest around Piazzale Roma, around €25 (online) / 24 hours. See this car parking Venice on Google Maps. 
It is a government-subsidized parking garage.
Garage San Marco I have already written about above. It is in the right corner of Piazzale Roma, so keep right after Autorimessa Comunale.
>>> On this website, you can reserve a parking space near Venice
You also have some smaller parking garages at Piazzale Roma, such as:
Garage Sant'Andrea, just before Garage San Marco. This is only for short stays as there is no rate for 24 hours. The price is €7 / 2 hours. So you can stay for a maximum of 8 hours.
Autopark Doge, where the price is €35 / 24 hours.
Parcheggio NCC Piazzale Roma is also on Piazzale Square and has outside parking. The price is €20 / 24 hours, but not many places are available.
Another good alternative to park after the bridge near Venice is; Tronchetto Car Parking Venice on Tronchetto Island. The price here is €21 / 24 hours. It is a bit off the tourist track, but there is room for almost 4000 cars.
So in the high season, such as in summer when other car parking Venice is full, it is always possible to find a spot here. After the bridge, you have to keep right immediately, and you will see the signs with tronchetto parking.
Car Parking Venice in front of the bridge in Mestre or Marghera
It's true. You can really park for free in Mestre when you go to Venice.You can read about Free parking here. But keep in mind that it is not safe if you leave the car here at night.
And you lose quite a lot of time to get to Venice. When somewhere outside the center, park the car close to a bus or the tram stop. In most cases, this public transport has a direct connection with Venice.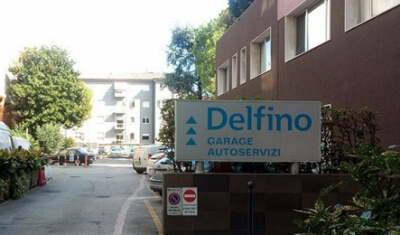 Near the train station in Mestre, there are a few paid parking lots. However, the price is higher than the other parking lots in front of the bridge to Venice.
But if you book in advance, it is cheaper than near Venice after the bridge. And by train, you can be in Venice in no time! Moreover, Delfino AutoRimessa is a garage that offers covered parking and outdoor parking.
>>> On this website, you can reserve a parking space in Mestre Delfino Autorimessa 
In Marghera, next to Mestre, it is slightly more spacious. Here you have various parking options on the road or private parking spaces. If you don't want to pay, you can park further away. It's free, but as said before... Risky. Park close to stops of bus lines 6, 6L, or 66. (Everything with a 6 on it goes to Marghera -> Venezia).
You have, before entering the bridge, 2 good options. 
Venice City Park, where you spend € 5.50 per 24 hours
Parking at Marive is at the San Giuliano Park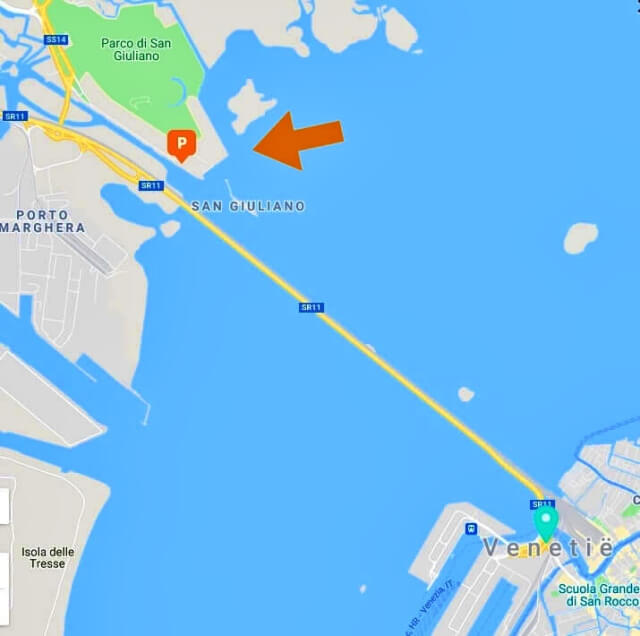 Car Parking Venice at Marive (San Giuliano Park) The boats leave about once an hour from San Giuliano to Venice and vice versa. Only on the way back would I take the bus or tram. Then you are less dependent on the boat times. Each additional adult costs €10.00 for the boat, and it is free for children <12 years. 
And otherwise, you have buses to Venice 50 meters away. And it won't take you more than 5 minutes to get there. So this solution is much better than parking in Marghera or Mestre. Even if you choose a good parking space next to the station or somewhere else.
---
You have read about Car Parking Venice! I have some suggestions, as you will read. Please click on the links to explore my site more.
Other articles about Parking Venice:
Have A Great Story About a Parking Experience?
Do you have a great story about parking around Venice Italy? Did you find a nice parking spot Share it! Other visitors will like it!
Start looking for a cheap place to sleep in Venice