Visiting Venice:
 Where is a good Venice Italy Parking? And what does it cost? 
Venice Italy Parking? I am your guide to help you park the car safely near Venice. You will be surprised that there are many options for parking. This way you have the most time to enjoy the beautiful city.
Venice is easy to do by car. From Lake Garda, your passage in Italy, or simply from your holiday address in Northern Italy.
How much is Venice Italy Parking?
It is, of course, much more pleasant to drive directly to Venice, park the car, walk a bit, and you are there. And you accept if you still have to go by train or bus.
But in Venice, you have to consider parking rates between €5- €35- per 24 hours. So for three days in Venice by car, you will easily spend €100 to park your vehicle.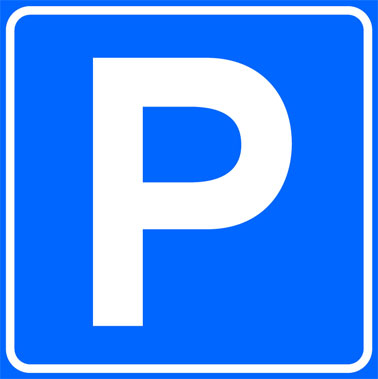 I'll show you where to park the cheapest. Cheap parking is possible if you park further away from the city. Then there are plenty of options to get to Venice by public transport. So continue to read this page...
Keep in mind that I prefer to park the car near Venice. It saves time and extra transport costs if you still have to take the tram, bus or train from your parking spot. I find it more comfortable to park my car close to the city.
Where can you park the car in Venice?
There are four specific locations near Venice where you can park your car.
Near the historic center of Venice is no. 1.

On the Tronchetto island is no. 2.

On the mainland at Marghera and Mestre/ San Guilano is no. 3.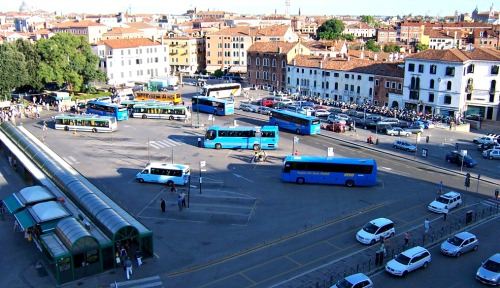 No.1. Venice Italy Parking: The closest parking is at Piazzale Roma. The most expensive with prices between €25 - €35. But most comfortable if you go to Venice and want to enjoy your time in the city.
Around this square, you have several parking garages to park your car in Venice. It can be quite a busy square because all buses, trams, and taxis arrive here with tourists and other day-trippers. But the entrances to the parking garages are clearly marked.
No.2. Car Parking in Venice: Other parking spaces are also close to Venice. That is at the Tronchetto parking. This is on a reclaimed piece of land where cruise boats depart, and a lot of storage/transshipment takes place to transport things further in Venice. With the 'PeopleMover' (Monorail), you can quickly reach Venice from the Tronchetto. Parking at Tronchetto has a fixed rate of €22 per day.
Another area with spacious parking spaces is behind the terminal buildings of the Marittima cruise basin. This is the best option if you will leave the city on a cruise. Here you can park the car for a more extended period.
No. 3. Cheaper parking in Venice: The mainland has a few examples. You can find more affordable parking spaces there. For instance, in Mestre or Marghera there are also hotels where you can park. In addition, you can quickly get to Venice by train or bus.
Are you looking for a hotel with a parking space for your car?
Bit irritating to always pay for parking in Venice. View the hotels where you can park for free:
Also Motors are very Welcome at Hotel Alveri to park
Stay at Hilton Garden Inn Venice Mestre. Private parking is free. You can park at the accommodation. Reservation is not necessary. And you reach Venice easy by bus (about 5 km)
Staying at Hotel Alverì offers free parking and soundproofed rooms. It is 1 km from Venezia Mestre Train Station, and buses to the station stop.
Moreover, in Mestre, there is an excellent free parking space where you can buy tickets for the bus at the tobacconist's shop. Read how to get from this location in Venice and what other visitors are saying about this secret free parking spot >

Also a cheap option is Parcheggi San Giuliano. This is the closest car park on the mainland. On a lot called 'Porta Gialla', translated to 'Yellow Gate.' You can park your car in Venice for only €5 a day and take a bus or boat to historic Venice.
Parking in Venice: Reserve a parking space in the parking garage online in advance. Especially now in Corona time, many people come to Venice by car. There is an excellent website for reserving parking spaces: Click here.
As with any city you visit, I recommend never leaving valuables visible in your car. You will have a great time if you obey the traffic rules and enjoy the journey to beautiful Venice.
---
You have read about Venice Italy Parking! I have some suggestions, as you will read. Please click on the links to explore my site more.
Start looking for a cheap place to sleep in Venice