Rome to Venice flight tickets? The plane is the fastest route, you would say...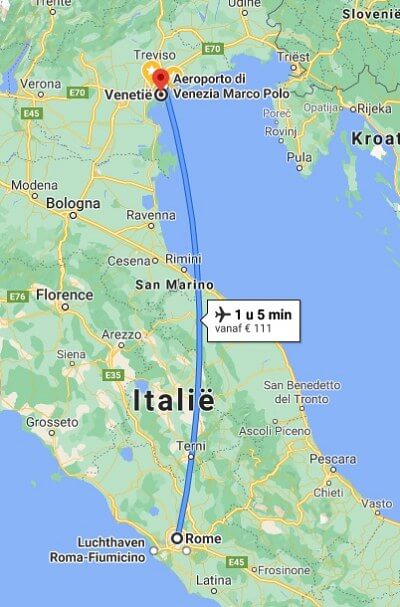 Do you also wonder how much does the Rome to Venice flight tickets cost? 
And is the fastest way to fly from Rome to Venice? Well, that's not entirely true. You can read that in my conclusion at the bottom of this page.
Don't worry, I'll explain it all. I will show you what options you have for the flight tickets from Rome to Venice. Even if you think if your bags could become a problem in Venice.
To start first; There is now one flight a day between Rome and Venice. This is due to the Covid restrictions. Only Alitalia flies on this route.
In better times, Lufthansa, Ryanair, and a few other budget airlines also flew on this route. Usually, you land at Treviso Airport. An airport that is further away than Venice Airport; Marco Polo.
As soon as the rules are released, I advise you to check and compare all possible flight tickets and providers. One options is to check European budget airline Transavia. 
How much do Rome to Venice flight tickets cost?
Dec 28, 21 01:07 AM

Is it Romance? An Unforgettable Experience Venice Italy New Year Eve I Show you How and Where to Celebrate — celebrating Venice Italy New Year eve in the Heart of the lagoon, hugging and watching Fire…
Top Activity to do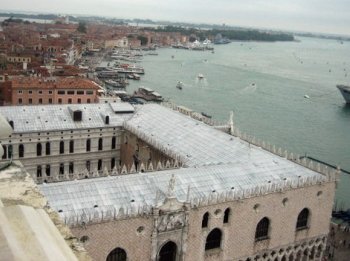 Doge's Palace Secret Tour and Opening Time + Fast Lane. Read more >
The last price I checked amounts to € 108 for a return flight. But you probably know someone who always manages to score the cheapest airline tickets. Well, how do they do that?
This is often the reason: The cheapest Rome to Venice flight tickets are in January and April. I recommend that you book the flight well in advance.
The week's cheapest days to depart from Rome to Venice are Wednesdays, Thursdays, and Sundays. Please note that you have bought the tickets more than 90 days before you fly. Sometimes you also have cheap airline tickets in the period 30 to 60 days before departure, but this is not always certain.
What are the departure and arrival airports from Rome to Venice?
All flights from Rome to Venice depart from Leonardo Da Vinci Airport (FCO) in Fiumicino. It is a bit outside of Rome but easily accessible from the center of the city; trains from Roma Termini station take 32 minutes and usually run every 15 minutes. There are also bus connections to the airport from this station.
Alitalia's Rome to Venice flights tickets land at Marco Polo Airport (VCE) in Venice. From there, you have a few options. Alilaguna water buses run to San Marco and other popular Venetian destinations and take about 50 minutes.
Alternatively, you can take the Aerobus no.5 by road, which is a faster but less scenic route into the city.
How long is the flight from FCO to VCE?
The distance between the two airports is approximately 400 kilometers. At least give yourself a three to four-hour time frame to get from Rome to Venice. Checking in and all the security at the airports will keep you busy for a while.
Alitalia currently has the fastest travel time, with one hour and five minutes. So you would arrive in Venice at 6:35 PM if you left Rome at 5:30 PM. But then I only took into account the travel time in the air.
By the way, it is easy to book your Rome to Venice flight tickets online at Transavia.com! View the current flight schedules. Compare the best route from Rome to Venice and relevant travel information (baggage allowance and onboard amenities).
Do you want to fly back home via Venice?
Let me guess; you have seen an astounding number of sights in Rome, and you really want to visit the city of love.
Which can! But how do you do that with...
...Luggage?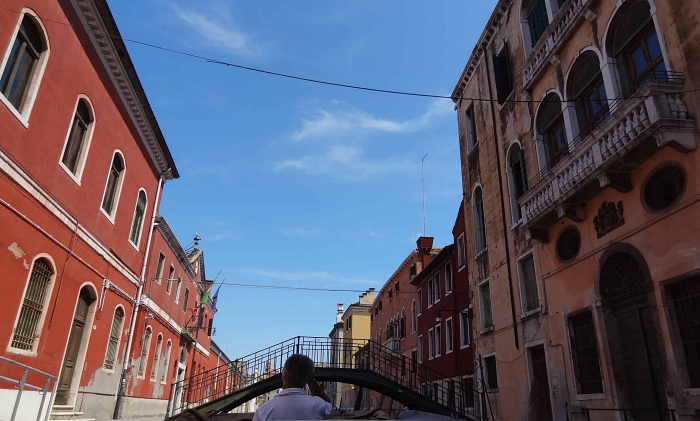 If you opt for a low-budget airline, you can often only take hand luggage with you or, for a fee, also larger suitcases. At Alitalia, you can still take great bags.
The problem is that you are stuck with suitcases. And that is not very nice if you want to stroll through Venice. In Venice, you can walk to most destinations, or you have to take an overcrowded vaporetto. Therefore, limit yourself to a backpack or one suitcase. Or skip Venice.
Or, as I often do, store suitcases that you don't need in the left-luggage office at the train station until you leave... Or book a hotel near Piazzale Roma, so you don't have to go a long way to lug around with the suitcases in Venice.
And by the way... A trolley in Venice is really no longer allowed.
Conclusion: Rome airport is far from the city center. If you are near the airport or stay outside of Rome, then Rome to Venice flight tickets are a good option. If you are currently staying in the center of Rome, I recommend taking the train to Venice.
If you include all the time you need to get from the center of Rome to the airport and the time required for check-in and security checks, the train is faster than the plane. The high-speed train journey takes approximately 3 hours and 55 minutes.
The plane takes about 1 hour and 5 minutes when it is in the air.
However, by plane, you should allow at least 2 hours and 30 minutes to get from the center of Rome to the terminal, check-in, boarding, etc. The collection of checked bags and public transport to Venice takes at least an hour and maybe more.
In Venice, you can hop on a vaporetto boat from the train or walk further through the city. So the train is certainly not slower, less hassle and more comfortable.
Rome to Venice Flight Tickets can be a good option, but the choice is yours. 
---
You have read about Rome to Venice Flight Tickets. There is plenty to discover. Discover my site about Venice and receive even more information about this beautiful Italian city.

Rome to Venice Flight Tickets