Home >  Holidays in Venice >  Train to Venice >
It's time to take a train to Venice! But, how do you get there from nearby train stations and cities around Europe? I will describe it here…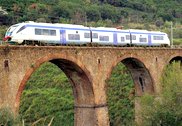 From Munich (Germany) to Venice Italy. Enjoy the view!
The train station in Venice itself is called 'Stazione di Venezia Santa Lucia.' The station is next to the Grand Canal. And yes, it happened to me too. If your train stops at "Mestre," you're going to doubt where to get out the train. Because the station in Mestre is called 'Venezia Mestre.'
But this Mestre station is on the mainland. Venice is more 12 minutes with the train! And when you arrive at the station 'Santa Lucia,' you have to go down the stairs and continue your journey on foot or a vaporetto boat.

Show me how to get...

...From European Cities with the Train to Venice
Didn't find the information? Search within Venice-Information.com
Jul 03, 22 09:57 AM

How to get from Airport to Venice? Cheapest way? Best Transfers Options & Quickest Water, Bus, Taxi Service.
Top 3 Populair Activity to do in Venice

Considering to travel on the train in Europe? With the NSInternational train network, you can buy train tickets up to 2700 destinations.
My favorite connections to get to Venice are; Munich – Venice, Verona – Venice, and Paris – Venice. And, I will make soon an individual page about connections between Rome and Venice. 

By train to Venice, you have the advantage that you do not have to travel by car or plane. The train is an outcome. And you only have to move once or twice from most European cities. Freedom of movement and comfort!

Train from Munich: From Munich, there is a direct train to Venice every day. Buy a single train ticket from Munich to Venice. You can also reach Munich from Utrecht (the Netherlands). The train to Munich Hbf (Hauptbahnhof) departs in Utrecht Central Station from 20:35. The train will arrive at 7:10 am the next morning. 
In this City Night Line, You can reserve sleeping chairs and compartments where you can rest. In Munich, you have to change trains to the direct train to Venice. This train departs at Munich station every day at 11:38. The journey takes six hours and goes along the beautiful scenery in the Austrian and northern Italy mountains.

Train from Verona: Via NSInternational you can choose to book directly from Verona. Via Munich, it is also possible to take a direct EC Train to Verona. From Verona, you need to buy a local ticket to Venice. The advantage is that you can buy Train Tickets via NSInternational. This connection is better than the direct train link between Munich and Venice.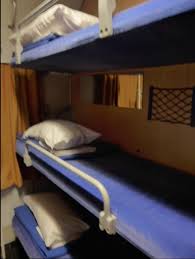 Train from Paris: Book your train ticket from Paris to Venice. Only a 9 hours and 40 minutes trip with beautiful scenery. Travelers often used this train route in the 19th century, and now it is still possible to experience the historic journey. 10 hours on a train feels long, but you can have lunch, dinner and walk around. The price differs, but a one-way train ticket is EUR 95,-.
Ok, what happens when I arrive in Venice? Please, show me...

...More details about Stazione di Venezia Santa Lucia
Many travelers are using the train station or depart from Venice. It is a modern station in a perfect location. Until 21:00 a clock you can purchase train tickets at the counter in the station or the ticket machine 24/7. Do not forget to stamp your ticket. The train station gives direct access to the Grand Canal where you can take a vaporetto boat. This location makes the station very accessible.
Stazione di Venezia Santa Lucia can be reached directly from; Rome, Milan, Florence, Paris, Vienna, Munich, and Zurich. The train station has a great connection with local, regional and express trains.
www.trenitalia.com is a carrier that operates most of the train services in Italy. Their website is in English. It is easy to buy the train tickets online. Tickets for the fast train within Italy (Frecce of Italo) are quite expensive, but generally, the train in Italy is cheap.
Travel time to Verona is 2 hours and 10 minutes. The express train is 1 hour and 27 minutes
Travel time to Milan is 4 hours. The express train is 2 hours 35 minutes
Travel time to Florence is by train Max. 2 hours and 10 minutes
Travel time to Trieste is by train Max. 2 hours and 30 minutes
Travel time to Rome is by train Max 8 hours (there is also a night train)
Get Train Tickets from Rome to Venice or take the train from Venice to Rome
The train to Venice from Mestre
Environmentally friendly and cheap. If you are traveling by car, you can park less expensive in Mestre and continue with the train. Venice is 12 minutes away by train from Mestre train station. Trains depart for 'Stazione di Venezia Santa Lucia' almost every 10 minutes.
You're not the only one. Many travelers save on their costs and stay in Mestre. A nice extra is that some good hotels are on the opposite of the train station in Mestre. 
These are the Best Western Hotel Bologna, Hotel the Plaza and Hotel Tritone. The hotel rates are acceptable, and they have parking spaces for your car. Ideal!
But, how can I get...
...By Train to Venice from Treviso Airport
Yes, I know I should have answered you this way up earlier. Many questions on my site are about how to get the best from Treviso (airport) to Venice. A train is an option. From the airport take the local bus number 6 to Treviso Stazione Fs.
Every 10 minutes there is a direct train to Venice. A train trip costs € 3.30. When you are on the train, please get off at the final destination; Stazione di Venezia Santa Lucia. This station is after you cross the long bridge after 'Venice Mestre.' 
Are there more...
...Tips for taking the train to Venice?
Yes, I have more tips about traveling by train. 
Book your Cheap NS International Train Tickets to Venice >
You've read about my train to this beautiful lagoon city. There is plenty to discover. Discover my site about Venice and get more information.
Home >  Holidays in Venice >  Train to Venice >
Continue Reading: