Which train Rome Venice option is the best? And at what time and where does the train leave?
Don't worry, it's well organized. The train Rome Venice is fun and adventurous. And why wouldn't you do it, because you can be from the south to the north in a few hours? 
You have many questions, and you are often dizzy with information. Finally, you have come to the right place. I'll help you on this page.
Can Rome to Venice be done by local train?
Sep 16, 23 01:29 PM

Visit Harry-s Bar Venice: Bellinis, Hemingway, and Venetian Elegance: The Legend of Harry's Bar.



Didn't find the information? Search within Venice-Information.com:



It is possible! You can take the regular local train Rome Venice. But it will go slowly from station to station and meet many Italian people. That can be wonderful. But I have to say - after an hour, you are fed up. Then you are bored, and the view is not even impressive anymore.
You are on an intercity train for hours, and you have to change a few times. Doing this train trip? Take the train from Rome in any case towards Florence and Bologna. From there, it becomes easier to get to Venice by local train. The Rome Venice train takes about 9 hours. So if you have the time, after all, you have a vacation, enjoy and meet the Italian train passenger. And rest in Venice and admire the calm of the water...
And the fast train Rome Venice?
About 400 kilometers... This is not the train's speed but the distance between Rome and Venice. The train Rome Venice route is 514 kilometers long.

So you are on the road for 3 hours and 55 minutes. But sometimes, it is 40 minutes shorter, and the speed train stops less often. Book your high speed train from Rome to Venice

You have 2 options to choose which train service serves the route. They both have direct connections at different times of the day. Choice: the semi-government service, Trenitalia, or the private NVT Italo.
Trenitalia calls its fastest high-speed line Frecciarossa. The meaning is literally translated; as a Red arrow and runs at a maximum speed of 300 km / h on the Rome - Venice route. It is a lovely comfortable train with enough space for the luggage. Fortunately, air conditioning is available, and you have WiFi. There is also a compartment for a restaurant and catering.
If you have a reserved seat on the train, it is better to be there 15 minutes before departure. Then, you can already sit down on the reserved spot.
Trenitalia also has a slower direct connection; Frecciargento. This train Rome Venice is comparable to the Frecciarossa but lacks luxury and facilities. However, the train stops more often, ensures a later arrival time in Venice, and saves about 40 minutes. Book your train ticket online >
NVT Italo is the competitor on the Rome to Venice route. The train also runs at a maximum of 300 km / h on this long route. NVT Italo is not inferior to that of Trenitalia. The experience has less comfort. You have an "airplane feeling" with the standard ticket "economy class." You also have less space when it comes to luggage. The facilities are otherwise the same. WiFi & Catering.
What is the train route?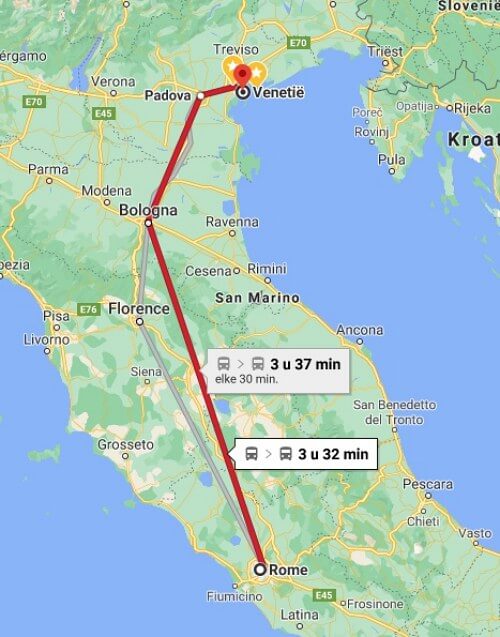 From Rome, you start to enjoy the view in the Tiber Valley to head north. After an hour, you reach the hills of Tuscany, and past Florence, the route goes through long tunnels in the mountains to Bologna.
Coming out of the mountains, the view is flatter again, and this is the last part of your train journey to Venice.
In short: The train Rome Venice high-speed line stops about four times. The route goes via Florence and Bologna to Venice.
Train times from Rome to Venice
Trains leave Roma Termini station once or twice an hour to Venezia Santa Lucia station. The earliest train departs from this train station at 05:35 AM. The last train to Venice leaves at 11:50 PM.
It is the travel schedule at regular times. However, it can vary per season - even if the pandemic persists, times may differ.
Therefore, keep in mind that pandemic time, weekend, and holiday schedules tend to be less frequent and result in longer travel times.
Where and which station in Rome can I board?
Have you bought train tickets and are you departing from the center of Rome? That's great because the ITALO and TRENITALIA services leave Roma Termini. They stop in Roma Tiburtina a little later. So you can use both train stations. Check the booking carefully which departure station you have.
You can also take a direct train to Rome Venice from Rome Fiumicino Aeroporto International Airport. The train station is located opposite Terminal 1. Please note that another station called Fiumicino, which serves a nearby town. Make sure you don't confuse this station with the Fiumicino Aeroporto station.
The trains from Rome all stop in Venice Mestre. Fortunately, most trains continue across the bridge to Venezia Santa Lucia. You must have that train station if you have to be directly in Venice. Otherwise, you will have to change trains in Mestre and take a local train to Venice (10 minutes).
Visit Venice from Rome in one day. Be back in the evening. Buy a return ticket from €223
The Rome Venice train; How much does the faster train cost?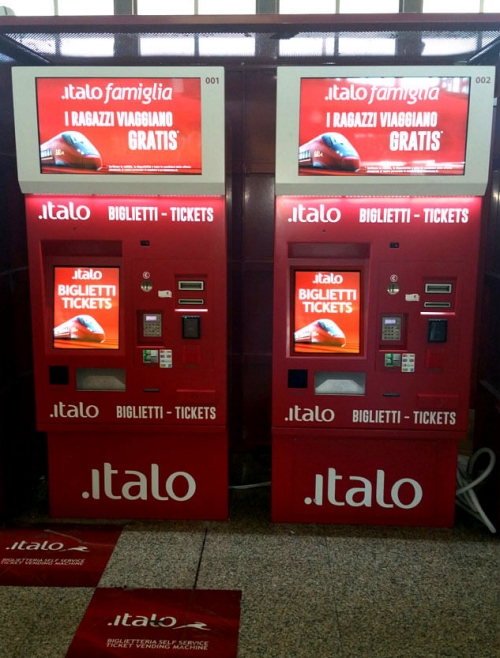 You have to consider an average price of € 60 for a single ticket and € 120 for a return. These prices are then per person. But watch out; You can often buy train tickets no earlier than six months in advance. 
You can book train tickets in different fare classes. Of course, first-class is a waste of money, but if you can afford it... well, why not? You're on vacation, right? 
Conclusion: The train Rome Venice is the best option of transport in Italy, primarily because of the speed, price, the environment, and the adventure;).
Don't forget that the Venezia Santa Lucia train station is the terminus for Venice. Santa Lucia is the main station and the only one on the island of Venice itself. From there, it's an easy walk to the rest of Venice. Or if you want to get on the water directly from the train, you do that on the Vaporetto boat or a water taxi.
Mestre train station is located on the mainland outside Venice. From there, you have to take another train, bus, or tram to cross the water and enter the city of Venice.
Check the following websites to book your ticket directly:
or for a total overview
---
You have read about how to get the train Rome Venice. There is plenty to discover. Discover my site about Venice and receive even more information about this beautiful Italian city.

Start looking for a cheap place to sleep in Venice