Venice vaporetto schedule | Transport with the Vaporetto in Venice, Italy – How does it actually work?
Using the Vaporetto in Venice will save you a lot of time. But, can you quickly access this boat, and what does it cost? Read about this water bus in Venice, Italy. 
The first vaporetto in Venice, which became active in the city, was almost 150 years ago. Then it was a small steamer that competed with the gondoliers. So Vaporetto actually means 'little steamer,' which soon became known as the water bus.
The gondoliers felt superior to the vaporetto because they could take their gondola through the narrow canals, and the steamboat couldn't. And that is still the case.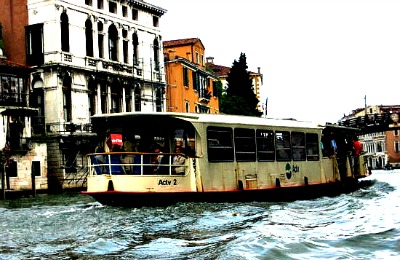 Today, the vaporetto, is often packed with tourists. However, it is the cheapest way to get from point A to point B in Venice.
Don't forget; I still recommend walking a lot in Venice, because you can save a lot of money with it and it's also fun to do.
But I'm almost sure you'll use the Vaporetto if you're in Venice. Even if it would just be to get to the islands of Lido, Murano, or Burano.
Good to know is that the vaporetto service is active almost 24 hours a day. The vaporetto in Venice is the public transport in and around the city. You can reserve 2-day tickets for the vaporetto.
Each route of a vaporetto boat has its own schedule. For example, vaporetto Line 1 is a crucial and busy route. This route goes over the Grand Canal to Lido, stopping at every stop. 
The Vaporetto in Venice Prices & Tickets
You can buy tickets online or at the ticket offices in Piazzale Roma, Ferrovia, Rialto, and San Marco. You can also buy them at tobacconists (tabacchi), kiosks (edicole), or wherever the ACTV logo is displayed.
The carrier of the vaporettos is ACTV (Azienda Consorzio Trasporti Veneziano). They are responsible for public transport in the municipality of Venice. They sell day tickets to use public transport. That is handy because per 75 minutes, you pay € 7.50 - € 8.50 per person for 1 access on a vaporetto boat.
Vaporetto cost. You can buy day tickets online via Tiqets from €8.50: 
24 hours = € 22.00
48 hours = € 34.50
72 hours = €46.00
The online tickets are only active if you activate them and have visited the HelleoVenezia Ticket office. 
Is your hotel on Guidecca or on Lido? Then you will use the vaporetto a lot, and it makes sense to purchase a day ticket. 
The private company Alilaguna also operates a widely used waterbus service. They mainly service to and from the airport. However, their boats (including a new hybrid electric/diesel) are not technically seen as a vaporetto. Alilaguna is a convenient transport service if you go from Marco Polo Airport to Venice or Lido. Buy your Alilaguna tickets online >
- Venice Vaporetto Schedule -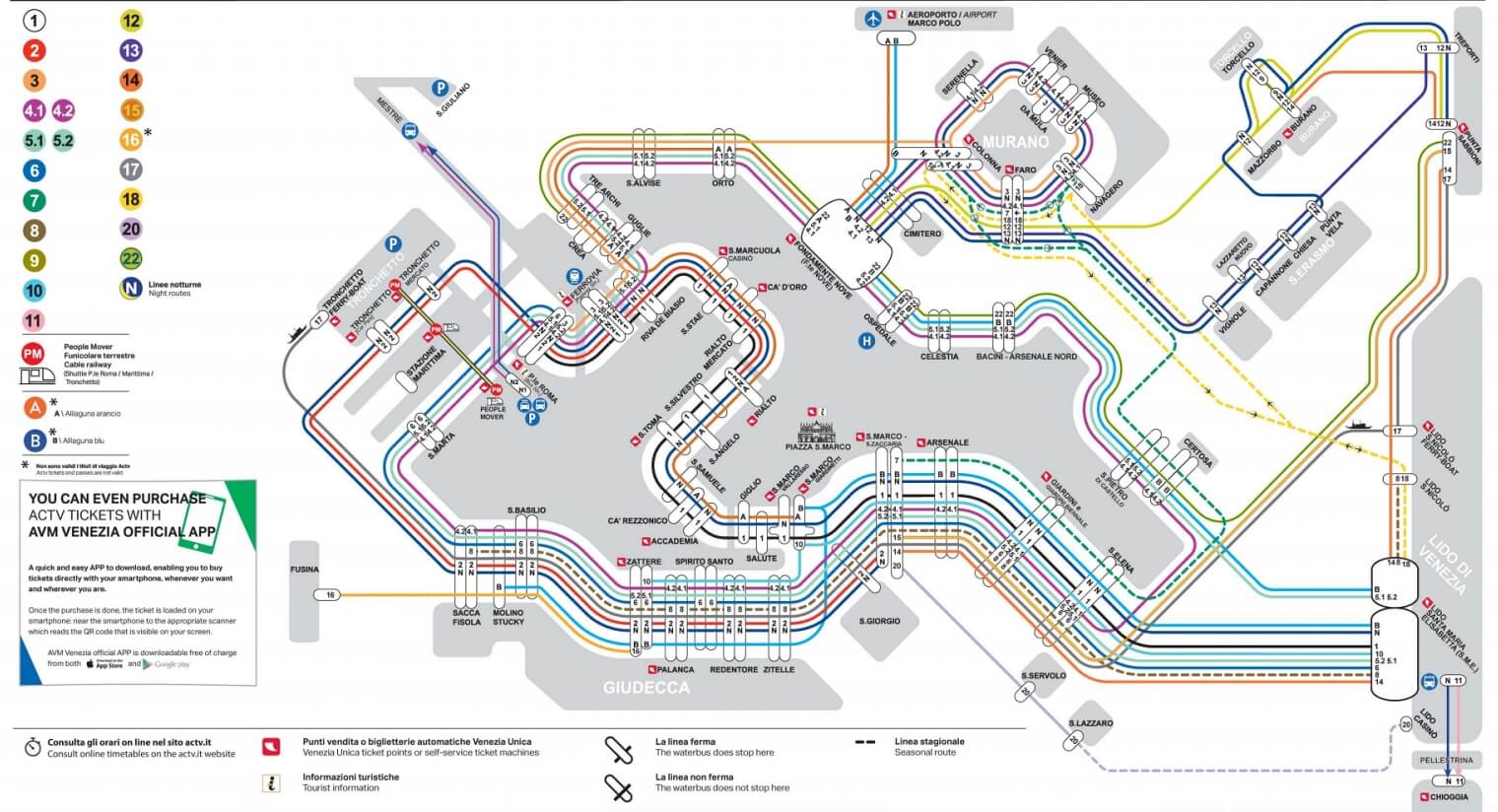 Click to ZOOM in
Sep 16, 23 01:29 PM

Visit Harry-s Bar Venice: Bellinis, Hemingway, and Venetian Elegance: The Legend of Harry's Bar.



Didn't find the information? Search within Venice-Information.com:



Discount on the Vaporetto ticket and how to use...
If you are between 6 and 29 years old, you can get a big discount with the Rolling Venice Discount Card. At half the price you can buy a day ticket. You have to identify yourself at the HelloVenezia Ticket office on Piazzale Roma to purchase this discounted card.
The same applies to 65+ visitors who can also get a discount.
Children under 6 years old can join for free.
Dogs can join for free with a leash (or on your lap) and with a muzzle.
On the vaporetto in Venice, you can only take one luggage or suitcase per person + hand luggage.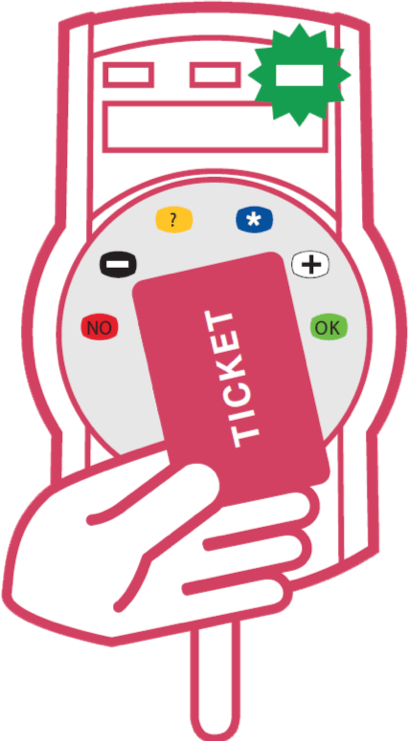 How to use: Validate your ticket by "swiping or tapping" them on machines located at the boarding entrance. Failure to do so may result in a hefty fine.
The green light on the validation machine and the sound signal indicate that the ticket has been validated correctly.
The red or yellow light and a sound signal indicate a failed attempt to validate and deny access. At the same time, the reason for the failed validation appears on display.
Venice Vaporetto Routes and what you need to know
Take a good look at the route of the vaporetto you are taking in advance to know where to get off. 
On the vaporetto, you have a small area, often at the back, where you can sit in the open air. That is an excellent place to enjoy the route. Especially if you cross the Grand Canal with line 1 or line 2.
The vaporetto from Piazzale Roma towards San Marco Square is super busy in the high season in the morning. Again in the afternoon, when the tourists leave the city from San Marco to Piazzale Roma.
Routes for wheelchair users: The vaporetto routes 1 and 2 are wheelchair accessible. A vaporetto ticket costs only €1.50 per 75 minutes. And your companion is even free. Go to Accessible Venice to download the routes for wheelchair users. They provide good information about where and how to get to Venice with a wheelchair.
Always pay attention to which direction the vaporetto is going. Because at more minor vaporetto stops, the water bus comes from two sides.
If you forget to check in with your vaporetto ticket, approach the conductor. Ask for a biglietto. It would be a shame if you were fined for traveling illegally on a vaporetto in Venice.
Savings tip: Venice is a compact and walkable city, and you shouldn't use the vaporetto often unless you have difficulty walking, are short on time, or are heading to an island (like the Lido or Murano).
My advice: walk when you can. And plan well when you will use the cheaper day tickets for the Vaporetto in Venice.
---
You've read about the vaporetto in Venice. There is plenty to explore. Discover Venice on my site and get more information about this beautiful Italian city.
Start looking for a cheap place to sleep in Venice