The waterbus Venice is like the city bus in a municipality center
Venice is magical because every wall with its foundations is underwater. Every city of this size has city buses. But here they have the water bus in Venice. Simply because there are no roads.
Taxis, ambulances, and police cars run on water like the water bus. The water bus in Venice is the means of transport to transport the inhabitants and tourists from A to B. In Venice, water buses replace city buses.
In Italian, you call the water buses "vaporetti" or "vaporetto (one water bus)." Freely translated, this is the steamboat. After the rowing boats, steam-powered boats also appeared in Venice. However, compared to land buses, the vaporetto in Venice is unique.
Using the Waterbus Venice as a means of transport
It is often jam-packed here on the water at the Rialto Bridge
Some water bus lines go in both directions. Other lines float in a kind of circle. As a tourist, you have to be careful not to go the wrong way. Some waterbuses operate in both directions and use the same number. At more significant stops, there are several piers next to each other. And both waterbuses go in opposite directions.
The Venetian water bus operator is ACTV company. The water buses to the airport are done by another company (Alilaguna). You need other tickets to go to and from Marco Polo Airport with the Alilaguna boat.
In the summer period, the water buses are overcrowded with people. They go back and forth on the Grand Canal. In the summer, Venice is busy with day trippers. You often have to wait a long time before you can board a vaporetto. You can also sit outside or stand on the waterbus in Venice.
Fortunately, outside the summer holiday, it is not too busy with the crowds. During the winter, it is pleasant to sit inside the water bus. The vaporetti are heated in winter.
There is no toilet on a vaporetto. The smaller water buses have about 50 seats. The size of the water buses in Venice is comparable to a regular bus but has more places to stand.
High waves are rare in the Venice Lagoon, but other boats sometimes produce waves. So you must be especially careful when standing; my tip is to hold on tight.
>>> Via this link, you can buy tickets for the waterbus in Venice
How much do water buses cost in Venice?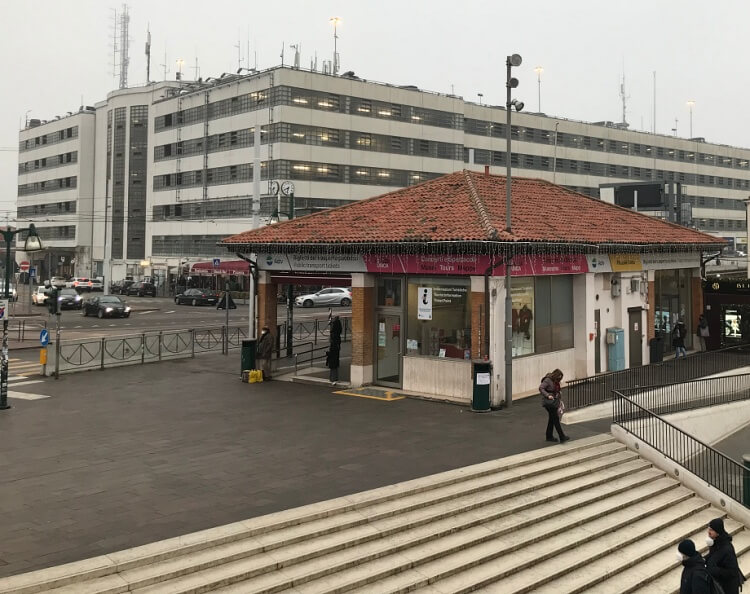 A regular Vaporetto ticket for 75 minutes costs €9.50 in the vending machine on the spot. But if you buy a ticket online through our partner Tiqets, it is €12.00.
You can easily convert this voucher into a valid ticket in an ACTV ticket machine. Do this before boarding!
I recommend buying a day ticket (Travel Card) if you stay two days or more in Venice. You are then cheaper.
Day tickets are valid for the water buses of Venice and Lido, Murano, and Burano islands. In addition, the day pass gives free access to the ACTV buses in Mestre and Marghera—the card you can also use for trams and buses from Piazzale Roma square in Venice.
Note: The day pass does not include ACTV services to/from Marco Polo Airport, routes no. 16, 19, 21, Casinò, and the Alilaguna boat.
Day or multi-day tickets are expensive at first sight. But you get everywhere, and for tourists, buying a two or 3-day ticket is advisable because a single ticket with €9.50 is costly.
How do you pay for water buses in Venice?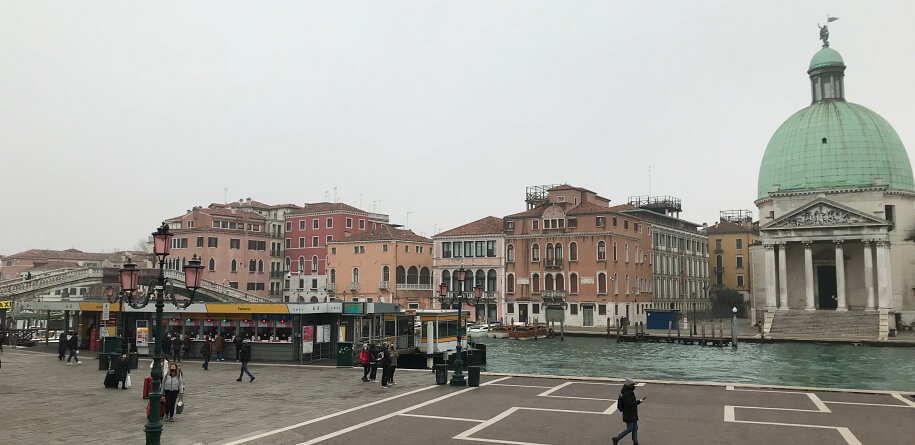 The water bus in Venice is very accessible. There are ticket machines and ticket offices at the main vaporetto stops. But you can also buy the tickets at the Mestre and Venezia Santa Lucia train station, bus station, parking garages in Piazzale Roma, and Venice Marco Polo Airport.
In the machine, you pay with a credit card or debit card. Or pay with your smartphone, for example, via Apple Pay. Many people who encounter such a machine for the first time have problems. Sometimes at the ticket office at the Rialto Bridge or Piazzale Roma, it is easier to buy tickets. You can speak English, and you can pay cash. In addition, many kiosks and tobacconists sell tickets for the vaporetti, buses, and trams.
Do you want it more straightforward? You can also buy tickets for the water bus online. Tickets must be validated before boarding public transport. The validity of ACTV Tickets and Travelcards starts when they are validated for the first time.

Don't want to do everything in Venice on foot? Or would you like a day trip to Murano, Burano, and Torcello? Then it is worth buying a travel card (day pass) for one day.
Walking in Venice is also possible! You can get everywhere on foot with the bridges that are there. But I advise you to buy a day pass from A to B with the water bus in Venice, sometimes just a little faster.
I have listed several advantages:
If you are staying outside the center on an island such as Lido di Venezia or La Giudecca;
When you are going to visit the islands of the lagoon, including Murano;
When you want to spend about 45 minutes on the Grand Canal on the No. 1 vaporetto line;
When you're tired from a day of sightseeing, and you're willing to pay for a ride back to the area where you're staying.
Create a plan that best suits your travel schedule. For example, with an ACTV day pass, you can use the water bus in Venice, Lido, and the other Lagoon Islands (e.g., Murano and Burano).
Other important information about the Waterbus Venice; Vaporetti
In winter, the Waterbus stop 'F.Nove' is deserted, especially in the fog that doesn't seem to disappear.
The waterbus Venice, Italy, is known as the vaporetto. It is a public transport boat that operates on the city's waterways and canals. The vaporetto serves as an essential means of transport for locals and tourists, connecting various parts of the town, including islands like Murano, Burano, and Lido.
The vaporetto has different lines with different routes, and the ticket prices vary depending on the trip's duration and the ticket type. One-way tickets are available, as well as daily, multi-day, and weekly passes for unlimited travel on the vaporetto.
The vaporetto is a convenient way to explore Venice and its various islands, providing scenic views of the city and allowing for
easy access to popular tourist attractions like St. Mark's Square and the Rialto Bridge. However, it can also get quite crowded during peak tourist season, so it's essential to plan and arrive early to avoid long lines and delays.
A trip by water bus from Venice is reliable and entertaining. The line network is enormous, the use is uncomplicated, and all tickets can be booked stress-free at home. The carrier ACTV has organized it well. There are electronic boards everywhere with information about the arrival time of the next boat. Check the route map of the water bus >

It is common for the water buses to be overcrowded during rush hour during summer. You often only get a standing place on longer distances to the islands. It is best to sail to the islands before 10:30 am and return after 5:00 pm.
Opening hours: The main routes operate from 05:00 to midnight. Three-night itineraries run from 11:30 pm to 5 am on the Grand Canal between Piazzale Roma and the Lido. The times are limited if there is a high "acqua alta" (high water).
Many visitors to Venice stay in Mestre or the Marghera area. Therefore, buying a day ticket for public transport in Mestre is smart. Then, when you take the tram or city bus from Mestre to Venice, you save €1.50 - €2.00 per person. And you can continue directly on the water bus in Venice.
If you have purchased a day ticket online, you must first exchange this voucher in an ACTV ticket machine or at the counter. You will then receive a valid day pass.
You must validate the tickets at the entrance of the water bus. This process is just like our public transport in Belgium and the Netherlands. If there is a green light, you can enter. If the red light is on, you have a problem. Then the ticket is expired, empty, or broken.
>>> On this link, you can buy tickets for the water buses (vaporetto)
Physically disabled persons - Wheelchair: Do you use a wheelchair? The vaporetto tickets are cheaper at €1.50 per ticket (valid for 75 min.).
Pets on board Waterbus Venice; Vaporetto: Dogs are allowed on board the waterbus. It would be best to keep the dog on a leash, and a muzzle is mandatory.
Cats, birds, and other small animals can be taken on board in a portable enclosed cage with a maximum size of 120 cm (height + width + depth).
Please note that the captain may refuse you to board the Waterbus Venice with the pet during rush hours.
---
You have read about the water bus in Venice. There is plenty to discover. Discover my site about Venice and receive even more information about this beautiful Italian city.
Start looking for a cheap place to sleep in Venice