Water taxi in Venice, why would you do it?
Have you ever felt that? Wind through your hair in a Water taxi in Venice, Italy. I have taken the water taxi from Venice to the airport several times. Just because you can, and so conveniently.
It was also just surreal. I mean, evening sun and Venice below the horizon. A lovely end to your city trip.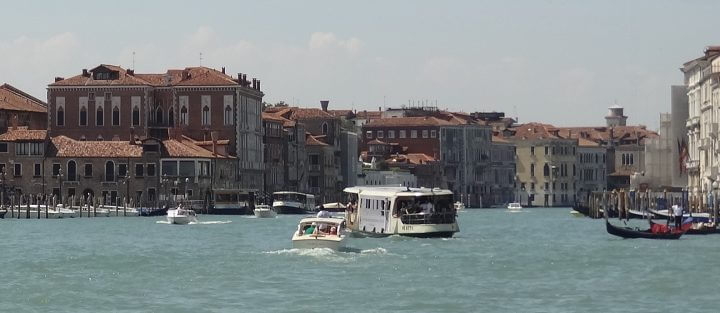 Water Taxi - VS - Vaporetto - VS - Traghetto
And now say for yourself. Do you also dream, just like photogenic film stars, during the film festival? Traveling romanticly through Venice in a water taxi? Then, reach out to your great love to get on board because...

...How much does a private Water taxi in Venice cost?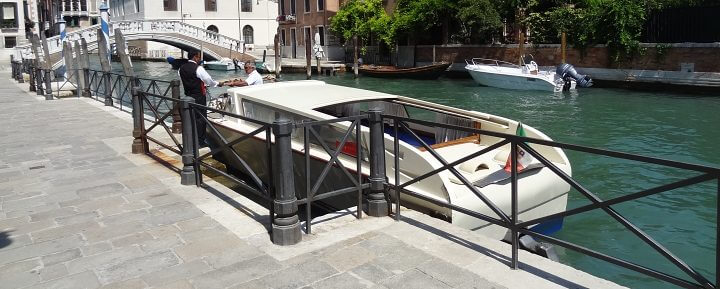 A Water Taxi Reserved by our Hotel
Yes, directly with the facts on the table. Like the rest of the public transport in Venice, the water taxis are relatively expensive.
A water taxi from Marco Polo Airport to Venice will cost you approximately between €105 and €135. It is cheaper to use a water taxi in Venice to the train station or Piazzale Roma. The rates are then between €65 and €100. If you want clarity, pre-booking is an option. For example, via GetYourGuide, you can book a private water taxi.
The price depends on the night shift, the number of people, and the extra service requested. For transfers at night (from 22:00 to 07:00), a surcharge of €10.00 will be charged. For 5 persons, a surcharge of € 10.00 per person also applies.
Tip: It is wise to bring cash for water and land taxis, as many taxis in Italy still do not accept debit or credit cards.
How do I book a water taxi in Venice?

Venice is the city of water. The only transport options for getting from A to B quickly over water are between the vaporetto boat (similar to a busy city bus) or a water taxi in Venice.
You can get a water taxi in Venice by calling the central Consorzio Motoscafi Venezia*. Call 041 522 2303 (24 hours a day) or send an email to info@motoscafivenezia.it. Your hotel where you are staying can also help you arrange a water taxi. Please ask for a quote when booking.
* The Consorzio is a partnership of water taxi companies with a fleet of over 100 boats.
This taxi exchange also participates in GetYourGuide. Where you can book the taxi online in advance at an agreed place. Check online whether a private water taxi is what is for you.
In fact, water taxis in Venice are the ideal solution for comfortable and fast transport. Moreover, you have no waiting times, and you can take a lot of luggage with you if you want. However, more than 1 suitcase in a vaporetto boat is not allowed.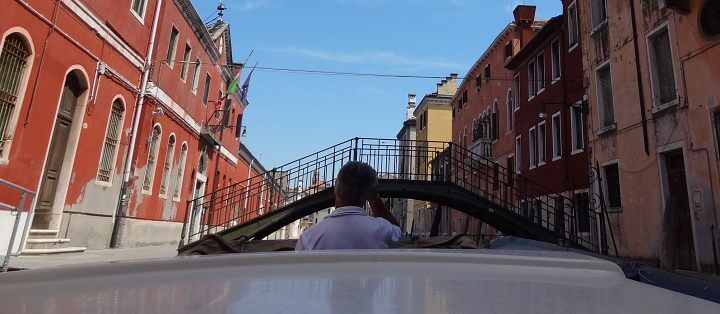 We are behind the captain. Just moving under the bridge...
It is possible to transport 12 suitcases in a water taxi. The price remains unchanged for up to 4 bags; from 5 suitcases, a surcharge of € 5.00 per suitcase will be charged.
The water taxi driver will choose the fastest route, but you can also choose the route yourself. For example, the most fascinating waterway (Canal Grande) with the Rialto Bridge, the Church Della Salute, and the Peggy Guggenheim Museum. You can also travel across the Grand Canal with an elegant motorboat. This is a tour that you can book directly.
How long does the water taxi take from Marco Polo Airport to Venice? 30 minutes approx.
A water taxi in Venice is elegant. The elegance of authentic mahogany Venetian water taxis makes the boat attract attention all over Venice. They are boats that you don't see anywhere else on the water. The crafts are often handmade and with a luxurious interior.
Is such a shared water taxi an option?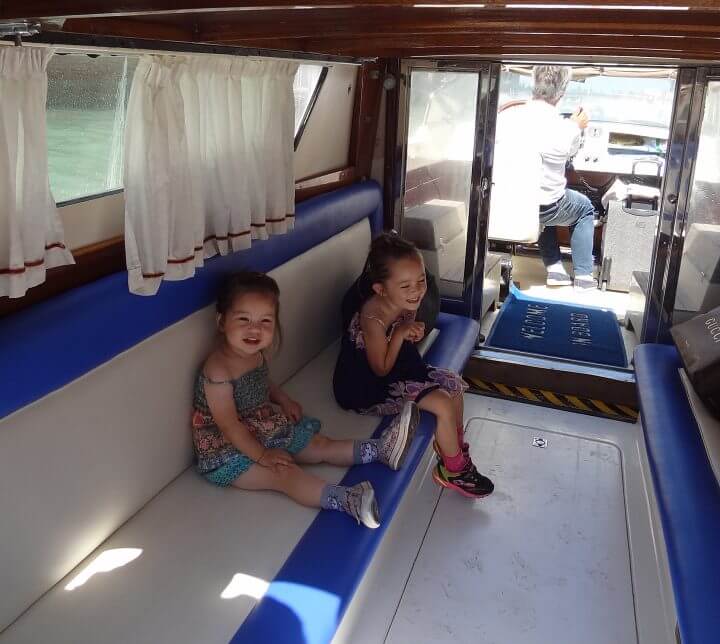 A Water Taxi in Venice with my kids
It can help because it will save time. You don't have to bother with public transport to or from the airport. With an exclusive shared boat service, you will be brought in style.
Such a shared taxi leaves from Piazzale Roma. Sharing a water taxi is only possible based on 2 people.
The advantage is that the taxi can pick you up at your desired hotel and/or pier on the water. Along the way, the water taxi stops for more passengers sharing the same taxi to the airport. Up to 10 people are allowed on the water taxi.
Shared water taxis in Venice can be booked in advance via GetYourGuide. You buy a ticket online. This must be done at least 48 hours in advance.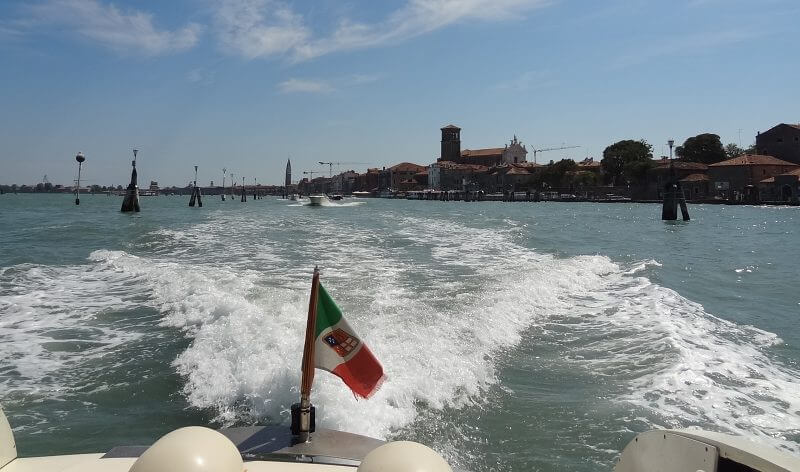 Goodbye Venice! See you later again!
---
You have read about the Water taxi in Venice. There is plenty to discover, as you can see. Discover my site about Venice and receive more information about this beautiful Italian city.

Start looking for a cheap place to sleep in Venice