Tip) No worries, but a simple transfer? Pre-book a Taxi to get from & to the Airport 
Home >  From Airport to Venice >  Treviso Airport to Venice >

Budget airlines are using the Airport near Treviso. A city which is 26 miles from Venice. How do you get from Treviso Airport to Venice? I will explain...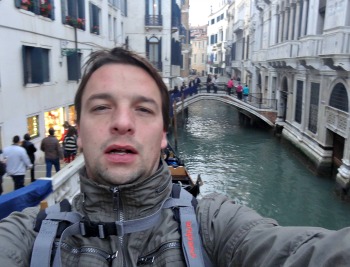 Venice airport 'Treviso' is an airport 26 miles from the Venice historical center. The airport has ATVO shuttle buses that leave every 45 minutes to Venice. 
It's a cheap way to get to your destination. A return costs EUR 22, -. A single ticket costs EUR 12, -. The prices include baggage. The journey takes about 70 minutes.
The bus departs at the front of Treviso Airport. You can not miss it . Bus tickets are available in the bus or at the ticket machine / desk at the side of terminal 1. Note; The shuttle-bus takes more than one hour to reach Venice. On my contact page I often get questions about how to get from the Airport in the beautiful city of Venice; 
We will arrive at Treviso Airport and would be happy if you can tell us how to get to our hotel. What is the fastest and cheapest way to get to Venice? And until what time is the bus service from the airport to the city?
I can inform you exactly what to do if you have these kind of questions.
3 options from Treviso Airport to Venice

Option 1: The cheapest is still the ATVO shuttle bus service from Treviso Airport. The shuttlebus leaves until 22:25 pm to MESTRE-VENEZIA. One return ticket costs € 22, -. If you buy more than one ticket, you can get a discount. You can pre-order easily online at www.atvo.it. The tickets are also for sale at the airport and you don't have to book in advance.
Nov 14, 21 08:16 AM

Easy to drive to Venice. But not the last 3 miles. You have to choose which parking garage in Venice you will use? I'm going to help you with that.
Top Activity to do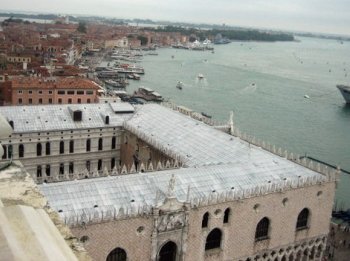 Doge's Palace Secret Tour and Opening Time + Fast Lane. Read more >
With the shuttlebus, you will arrive at Piazzale Roma in Venice. From here take the vaporetto boat to your hotel in Venice.
If you want to go directly to Piazza san Marco, you should take the vaporetto boat no. 1 or no. 2. You will go over the Grand Canal and get off at the vaporetto stop S. Marco Valleresso.
Option 2: It is also possible to take a taxi from Treviso Airport to Venice. Taxis are comfortable. You can book a taxi in advance. I use always platform TaxiTender. This is a worldwide service and they are a mediator between taxi companies and you. You can immediately see the cheapest rate. From Treviso to Venice it is about € 65, -. And this is cheaper than I expected when you compare it to the fare of the ATVO-shuttlebuses.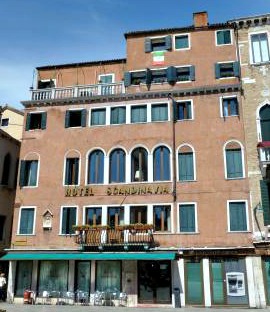 Book Hotel Scandinavia in Venice >
Option 3: Bus + Train. The costs are about the same as the shuttle bus... What I did my first time at Treviso Airport?
Most tourists will take this bus service from airport to Venice. But I took a more adventurous way. I took a train from Treviso to Venice railway station Santa Lucia.
Therefore take the local bus (no 6 ACTT) to the Treviso Railway station. Though this route takes 15 minutes longer, I took the train.
I didn't want to sit all sweaty and bumpy in the bus. I loved the train!!! See the timetable of bus no. 6
Don't make mistakes many train visitors do,,,they take off at the wrong Station "Venezia Mestre". Wait until the train has crossed the lagoon and arrives at "Venezia Santa Lucia" and get out!!! Venice begins! From here there will be a water bus service who will drop you off near your Venice hotel. Total cost to arrive from Treviso airport to Venice? About € 15, - per person.
From Treviso Airport to Mestre Hotels
From Treviso Airport you can take the ATVO shuttle bus to MESTRE - VENEZIA, as previously described. Get off at Mestre FS bus station. 1 return ticket has the same fare as going all along to Venice (€ 22, -).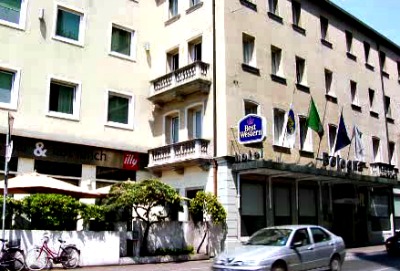 Book your hotel in Mestre easily to reach from airport >
If your hotel is not near the railway station in Mestre, probably you can use bus 2, bus 5, bus 42, bus 15 or take the T1 tram to get to the center of Mestre.
This is sufficient choice to reach your hotel! And there is always a bus stop near the hotel which goes towards Venice or the Mestre Railway Station. These connections are leaving almost every 10 minutes.

If your hotel seems to be unreachable from Mestre station, you can always use a taxi. Especially with kids, this is the most ideal solution.
From Treviso to Hotel La Meridiana, Mogliano Veneto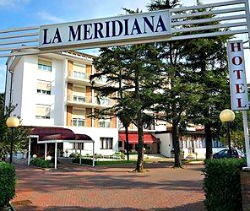 Details about this quality hotel which is in easy reach of airport and Venice
This hotel is outside Venice but very cheap with great quality. The hotel is accessible from Treviso Airport by bus no. 6 ACTT. This bus goes to Treviso Train Station (Stazione FS).
Here you take the train to Venice and get off at Mogliano Veneto train station. From here it is a 500 meter walk to the hotel. This is the cheapest way to get to Hotel La Meridiana.
To take a taxi to Hotel La Meridiana from Treviso Airport it costs at least € 35, -. On www.TaxiTender.com you can order a taxi in advance with an agreed price.Furthermore, from Hotel Meridiana it is easy to reach the city of Venice. By train you will arrive in 20 minutes. Do not forget to validate the ticket before you board the train. The village of Mogliano is also picturesque and has a supermarket, several restaurants / pizzerias, some shops and coffee bars.
Have A Great Story About How to go from Airport to Venice?
Write about it here! Display your own great story how you got from the airport into Venice Italy. Share it! Writing skills? Your comment will appear on a new webpage. Make it as long as you want with photo's and your story.

---
You've read about how to get from Treviso to Venice. There is plenty to explore. Read my site and get more information about this beautiful Italian city.
Go from 'Airport to Venice' to 'From Airport to Venice'
Continue Reading: