How do you Travel from Airport to Mestre?

I Recommend the Options and the Best Transfers
Home >  From Airport to Venice >  Airport to Mestre >

Tip) No worries, but a simple transfer? Pre-book a Taxi to get from & to the Airport 
It is part of your trip to Venice, but it can be such a frustrated thing! You booked your flight and hotel in Mestre and now you noticed you have to arrange a transfer from Airport to Mestre. 
I can recommend you two options from Marco Polo Airport. Thanks to a visitor on my site 'Susan'! She had booked the Mercure hotel in the suburb of Mestre, near Venice. And Susan was very helped with my information. I will show you how to get from airport to Mestre.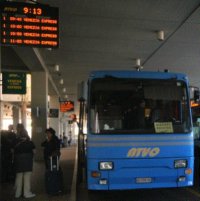 The fastest one! Every half an hour an ATVO bus departures from Marco Polo Airport to the Mestre Railway Station (FS). A total trip of 17 minutes and costs about EUR 8, - p.p. Short bus trip, comfortable and with airco. Buy your ATVO ticket here >
If you booked the same Mercure Hotel as Susan, I advice you to take the ATVO bus to Mestre Railway station. 
From here it is a 30 minutes walk to arrive at the Mercure hotel. But, please take from the station in Mestre a Taxi to the Hotel. It's only a ride of 10 minutes. This is what Susan did... I use a good website where you can pre-book a taxi. Click here for this special Taxi website. A good thing about this is that the driver picks you up and you now upfront the agreed price. 
Book your room at Mercure Hotel in Mestre >
Another option from the airport to Mestre is to take bus number 15 with public transport from company ACTV. The bus stops at different places in Mestre and also near the Mercure Hotel. You can ask the bus driver who usually can indicate where to get off.
Tip! When you arrive early in the morning at the airport, you don't want to go straight to the hotel. You can go immediatly explore Venice and go from Venice to your hotel in the evening. From the airport go to the Alilaguna boat service to Venice. When you go to Mestre take the train towards Mestre from Venice station 'Santa Lucia'. 

From Treviso Airport to Mestre there is only one best option. Take the ATVO-shuttle bus to Mestre-Venezia and continue the route from Mestre railway station. Buy your ATVO ticket from Treviso Airport. 
People always ask for the cheap public transport in Venice. How can you...
...Buy a day-ticket for Public Transport?
Didn't find the information? Search within Venice-Information.com
Jul 03, 22 09:57 AM

How to get from Airport to Venice? Cheapest way? Best Transfers Options & Quickest Water, Bus, Taxi Service.
Top 3 Populair Activity to do in Venice

It is good to know that ACTV organizes the public transport in Mestre and around Venice, including the water bus (vaporetto) and buses on land in Mestre (also on Lido).
With a Tourist Travel Card you are saving money if you use al lot of these transports. The bus fare is  € 1,50 and € 3,00 on board, but the vaporetto boat costs € 7,50 (valid 75 minutes and is per person). 
Buying the Tourist Travel Card can be done at the airport at an ACTV counter. But you cannot use the tickets yet.
If you buy the card at the airport, it can not be used by the ATVO shuttle buses nor ACTV buses that go to and from Marco Polo Airport. Additionally, you cannot use the Tourist Travel Card on the ferry Alilaguna lines.
1 Ticket to use the vaporetto boat € 7.50 (75 minutes).
The ticket machine you can find on Treviso Airport, Marco Polo Airport, in Mestre and in Venice!
20,00 € - 1 DAY TRAVELCARD
30,00 € - 2 DAYS TRAVELCARD
40,00 € - 3 DAYS TRAVELCARD
60,00 € - 7 DAYS TRAVELCARD
Go for more information and tickets online to Tiqets >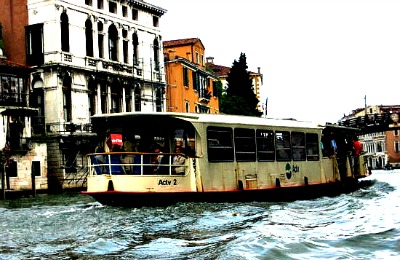 I advised Susan that it is better to buy the tourist travel card when you are in Venice. Remember that Venice is amazing beautiful. You will walk a lot. 
It's romantic to stroll through the narrow streets and over the small bridges. To take a vaporetto boat is mostly to arrive somewhere faster or a specific destination. Therefore, with the day card Tourist Travel Card it is convenient to travel in Mestre and in Venice.
How to get to your hotel in Mestre? Read about how to get to the...
...Airport to Mestre & from Mestre to Venice...
Book your room at Mercure Hotel in Mestre >
Your hotel is in Mestre. This means you still have to go from Mestre to Venice. Many large hotels (including Mercure) own a shuttle bus.
They bring their guests to Piazzale Roma in Venice. To be sure, you can ask it in advance by email to the hotel.
Not all hotel outside Venice have a shuttle bus. Therefore, it is good to know that Piazzale Roma is the starting point. It's the place where people park their car, get out a bus or a tram. From this square you can continue your way into Venice with a water bus (vaporetto).
You can use the Tourist Travel Card or buy a separate ticket (EUR 7.50). Please don't forget to check-inn with your ticket before entering the vaporetto boat. Since 2014 there is also a tram connecting Mestre and Venice. The Travel Card is also applicable for this tram. 
Other options to reach Venice from Mestre is by using the train. Every 10 minutes there is a train from Mestre to Venice. From the Mercure hotel you can take bus no. 6 to Mestre train station. It's just one station to Venezia Santa Lucia and a train ticket is a few Euro.
From the Venice train station 'Santa Lucia' it is easy to hop on a vaporetto boat! Taking a boat on the Grand Canal is one of the first amazing things when you arrive in Venice. Consider it as your first sightseeing tour and enjoy, be curious and make pictures. When you get off the vaporetto boat, try to walk through the small streets, crossing squares and bridges…

Buy a good map or guidebook! And get lost…
---
You've read about how to get from Airport to Mestre. There is plenty to explore. Read my site and get more information about this beautiful Italian city.
Go from 'Airport to Mestre' to 'From Airport to Venice'
Continue reading:
Have A Great Story About How to go from Airport to Venice?
Write about it here! Display your own great story how you got from the airport into Venice Italy. Share it! Writing skills? Your comment will appear on a new webpage. Make it as long as you want with photo's and your story.