Tip) No worries, but a simple transfer? Pre-book a Taxi to get from & to the Airport 
Home >  From Airport to Venice >  From Airport to Lido >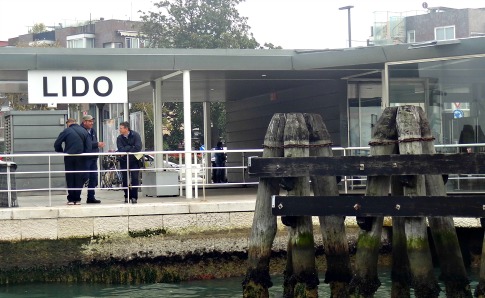 This is Lido S.M.E. where you arrive with the Alilaguna or Vaporreto boat
Nearby Venice there is the Lido island. With the vaporetto boat, it takes 15 minutes to reach. On my contact page I often receive questions about how to get from Airport to Lido;
"Rudmer, can you please help me? I go to Venice with my husband. How do we get from the airport to the island Lido? We have a hotel on Lido (Hotel Le Boulevard)". 
I can inform you exactly what to do. 

Didn't find the information? Search within Venice-Information.com
Jul 03, 22 09:57 AM

How to get from Airport to Venice? Cheapest way? Best Transfers Options & Quickest Water, Bus, Taxi Service.
Top 3 Populair Activity to do in Venice

From Treviso: The best and easiest option is from Treviso Airport with the ATVO-shuttle bus to Venice (Piazzale Roma).There are almost no alternatives.

From Piazzale Roma, you take the boat (vaporetto) no. 5.1 to Lido S.M.E. It leaves every 30 minutes. To get to Lido from Treviso Airport it will cost you at least € 25, - p.p. for the bus and the vaporetto.
From Marco Polo Airport: You can take the Alilaguna boat (blue line) towards Lido. At the airport, there are adequate directions on how to get from the terminal to the Alilaguna boat.
But what to do when your flight schedule is in the evening? Arriving between 9pm and 1am? Read more about...
...Arriving Late in the Evening or Early in the Morning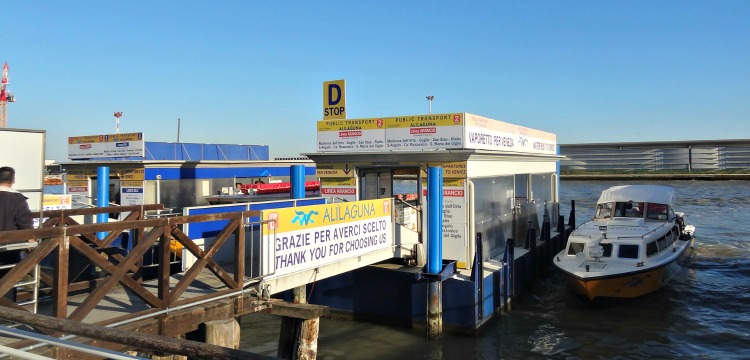 I advise people to prepare for their trip to Venice. Especially if you are landing at Treviso Airport with cheaper airlines, such as Ryanair. Tourists are surprised when they have to travel over 26 miles to get from the airport to Venice.
Fortunately, public transport is well organized and Treviso Airport adjusted their service for tourists to Venice. However, when you return from Lido to Treviso, it is difficult to arrive on time for your early flight.

Take into account a two-hour journey from Lido to Treviso Airport. So, if your flight is before 9.00 am it is the best option to take a water taxi from Lido which takes you to Piazzale Roma. Vaporetto boats on Lido are active from 6:00 am, but water taxis are present.

From Piazzale Roma, you take the ATVO shuttle bus to Treviso Airport. This service leaves from 5:30 am. The next one is at 6:00 am. In the morning you need to calculate around 45 minutes by bus to Treviso.
Arrival late in the evening: From Treviso Airport to Lido the shuttle buses ATVO departure until 22.25 pm to VENEZIA. One return ticket costs EUR 22, -. If you buy more, you have a discount. A return ticket for the ATVO bus, you can pre-order online ATVO tickets >
After midnight the vaporetto boats are still scheduled to transfer people to their destination. You can take vaporetto boat 1 or 5.1 (which is faster).
Another option is to take a taxi from Treviso Airport to Venice (Piazzale Roma). The costs are approximately € 90-100 per taxi. You can book a cab through TaxiTender website. These taxis can also be booked the other way around from Venice to Treviso Airport.
Your journey to Lido is of course because of the...
...Hotels in Lido
If I chose a hotel outside Venice, I would prefer a hotel on Lido. After all, it is the best experience because you are in the lagoon and with the vaporetto boat it is easy to reach St. Mark's Square. Hotels in Lido are relatively cheaper...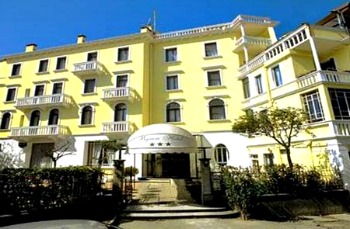 Starting at € 79, -. Check the availability of Hotel Byron in Lido >
The hotel that I recommend regarding price and quality is Byron Hotel on Lido. But you can also feel free to take another hotel. From Hotel Byron You walk in 10 minutes from the vaporetto stop 'Lido S.M.E.'.
Another place to sleep on the island is Hotel Residence Venezia 2000. From the vaporetto stop in Lido, it is a 10 to 15 minutes' walk. You can also take the bus. The buses are driving on the main roads.
You can take bus line 'A' direction P.le Rava - Ospedale al Mare take. You have to get off at the bus stop 'D'Annunzio Fronte Civico 1. It is about 3 minutes by bus. Otherwise, you can ask help from the bus driver… The driver knows your hotel for sure…
One major drawback with a hotel on Lido is the transportation from Airport to Lido. But as you read on this page, there are enough possibilities. Take into account it is two hours from Treviso Airport to Lido. 
From Treviso airport, it is hard to reach Lido, but it is doable. So, what about...
...From Marco Polo airport to Lido?
From Marco Polo Airport to Lido, it is preferable to take the Alilaguna boat. This boat is the fastest option from the airport.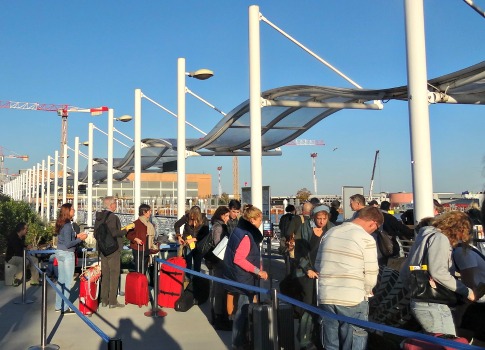 Departure Alilaguna from airport to Lido waiting for next boat...
It takes about 55 minutes to Lido island. Every hour there is an Alilaguna boat. You should take the blue route.
A return ticket for the Alilaguna costs about EUR 27, -. A single ticket costs EUR 15, -. These can be purchased in the arrival hall at Marco Polo Airport, but also at the place of departure Alilaguna.
Tip) You can buy a single ticket for Alilaguna when you return to the airport by using vaporetto no. 1 to Piazzale Roma (more than 1-hour journey). Then depart from Piazzale Roma (shuttle) buses to Marco Polo Airport. Note that a single ticket for the vaporetto costs € 7.50 and is valid on all vaporetto lines in and around Venice.
Another option is to take a water taxi from Lido to Piazzale Roma and then take the bus to the airport. The water taxi will cost between EUR 75, - and 90, - for one ride. So quite pricey. But you can use the water taxi up to 8 people and makes it cheaper, isn't it?
To get around on Lido is easy peasy. The transport is well organized to get from A to B or the Vaporetto station to reach Venice by boat. Therefore, I advise to...
...Use the Tourist Travel Card in Lido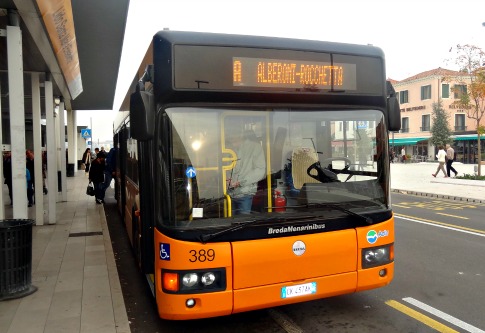 Buses on the island of Lido
When your stay is on the island of Lido, it is convenient to buy a travel card. Tickets for ACTV 24 - 72-Hour Transport. Easy public transport around Venice including vaporetto and bus.
You have unlimited use, and this is perfect since you have to cross the lagoon from Lido to Venice. And the card is also applicable on local buses in Lido.
I recommend buying the travel card after you checked into the hotel. At that time, you have a reasonable sense of how big Venice is and how to get exactly everywhere. And that's fine, you get lost, and that's the most fun. 
Tourist Travel Card:
20,00 € - 1 DAY TRAVELCARD 
30,00 € - 2 DAYS TRAVELCARD 
40,00 € - 3 DAYS TRAVELCARD 
60,00 € - 7 DAYS TRAVELCARD
You cannot use the travel card for the ATVO shuttle bus or the Alilaguna lines. 
Have A Great Story About How to go from Airport to Venice?
Write about it here! Display your own great story how you got from the airport into Venice Italy. Share it! Writing skills? Your comment will appear on a new webpage. Make it as long as you want with photo's and your story.

I have shown you how we get from the airport to Lido. I have some suggestions, as you will read. Please explore my site more and get even more information about the different topics.
Go from 'Airport to Lido' to 'From Airport to Venice'
Continue reading: