How to reach Venice from the Airport?
Tip) No worries. A simple airport transfer? Pre-book a Taxi to get from & to the Airport 
This page is about you. How did you reach Venice from the Airport? My site is about experiences, and we must learn from each other. Therefore, this page is for you. Tell your own story, your experience, or share your own opinion...
Other visitors are thrilled to read the story of real people who have been there. So take your chance and share! Your contribution will appear below on this page!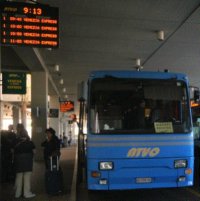 Get from the Airport in Venice with the ATVO shuttle bus
And I? I've tried everything to arrive in Venice, except on my bicycle to Venice ;)... So please share with me your bicycle experience in Venice.
What is also very helpful to do is to book a Bicycle Tour. I was surprised that it was possible, but you can schedule a bike tour in Venice. You go with a guide to Lido and much more. Maybe it doesn't help you to go from Mestre to Venice, but it is indeed an excellent activity in Venice. Decide for yourself >
I'm well experienced, but I can imagine you have doubts about your hotel transfer. Public transport and flight schedules are mostly connected. Even when you arrive late in the evening, there is a solution with the ATVO or ACTV services. Buy your ATVO tickets from Treviso Airport here. And yes, I used this bus quite often. Relax though. Air conditioning and you can store much luggage. It is still a long drive but comfortable.
From Treviso airport, you have the opportunity to hire a taxi, take a (shuttle) bus, or a car. But, I went with a bus service no. 6 to Treviso train station, and I took the train to Venice, Italy. This train trip was a pleasant experience and slightly different from most tourism transfers.
How to reach Venice from the Airport?
Sep 16, 23 01:29 PM

Visit Harry-s Bar Venice: Bellinis, Hemingway, and Venetian Elegance: The Legend of Harry's Bar.



Didn't find the information? Search within Venice-Information.com:



Is arrival at Marco Polo Airport the most convenient? At this airport, there are accessible opportunities to reach Venice. For example, you are using a taxi boat, the Alilaguna boat, the (shuttle) ATVO buses, ACTV buses, and rental cars.
ACTV Aerobus is the cheapest solution,,, I take it often by myself...
Did you know I drove from the Netherlands to Venice in my car? A journey of 14 hours… Sorry, I suddenly remember this trip... It was such a long ride to reach Venice. Read more about my story.
Now, I would like to turn it around. I will pass it on to you... Please share your story with me. Did you fly to Venice? How was your experience? Do you have tips or other ways to get from the airport? And what is the fastest and most comfortable way?
I like to read it from you. And I'm sure that other visitors to my site will be very grateful. And let's face it... Is it fun to talk about your best experiences in such a romantic city?
And maybe you've had a terrible experience with how to reach Venice. Or perhaps you think the fare of using a taxi boat is too high. If I had enough money, I knew it... Indeed, taking a water taxi is comfortable.
Enough reasons to fill this page with reviews on your experience from the airport to Venice. Do you have a good story or tip for getting to Venice Airport? Could you share it with other visitors here?
---
Have A Great Story About How to go from Airport to Venice?
Write about it here! Display your own great story how you got from the airport into Venice Italy. Share it! Writing skills? Your comment will appear on a new webpage. Make it as long as you want with photo's and your story.

What are the tips and experiences of other visitors?
Topics about transportation from Treviso to Mestre, Transfer Airport to Venice, From airport to Lido, From airport to hotel in Venice. And what's more? Share it!
---
You've read that you can post reviews about how to get from Airport to Venice. You can share your experience with other visitors to my site. Ideal for contributing to the site! Tell your friends and family that you've contributed. They can respond to your contribution or the rate with five stars!
Return from Venice from the Airport to From Airport to Venice
Continue reading:
Start looking for a cheap place to sleep in Venice