Venice Ponte di Calatrava
Bridge Venice Ponte di Calatrava is flawed!

Made of glass & steel. Connects Piazzale Roma & Train Station Venezia Santa Lucia 
It's a disaster... This opinion is what the people in Venice say about the Venice Ponte di Calatrava. The bridge over the Grand Canal since 2008.
I also don't like this 'modern' design compared to the ancient buildings in Venice. And what do you think? A model that doesn't fit with my view of Venice, Italy.
The glass and steel bridge is the fourth bridge over the Grand Canal. The bridge is characterized by its modern and sleek design, with a glass and steel structure contrasting Venice's historic architecture. The Ponte di Calatrava is approximately 94 meters (308 feet) long.
It connects Piazzale Roma and the train station Venezia Santa Lucia. For many of you, the starting point of your journey in Venice. Don't worry; Venice has 400 other (hidden) bridges if you want a more romantic bridge.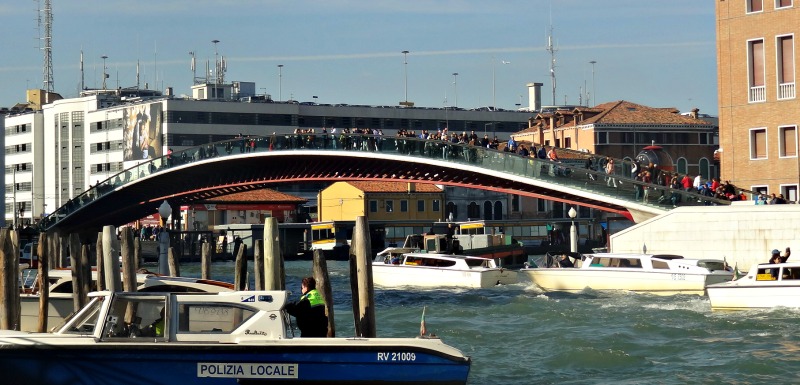 When the bridge was inaugurated, people on it slipped. But there were also other concerns. The bridge turned out to be not accessible for wheelchair users. Now, there is a design with a cable where you can attach your wheelchair. Only, this doesn't work very well. 
The Ponte di Calatrava or Ponte Della Costituzione - as the official name - was designed by the famous architect Santiago Calatrava.
The Spanish architect and engineer Santiago Calatrava is known for designing several iconic bridges worldwide. Some of his notable bridge designs include:
Alameda Bridge (Puente de la Alameda) - Valencia, Spain: This bridge is part of Valencia's City of Arts and Sciences complex. It features a futuristic and sculptural design.
Alamillo Bridge (Puente del Alamillo) - Seville, Spain: This bridge is characterized by its striking single pylon and cable-stayed design. It's one of Calatrava's early bridge projects.
Bach de Roda Bridge - Barcelona, Spain: This cable-stayed bridge is part of the infrastructure improvements for the 1992 Summer Olympics in Barcelona.
Campo Volantin Footbridge - Bilbao, Spain: This pedestrian bridge is known for its sleek design and elegant arch. It crosses the Nervión River.
Quarto Ponte sul Canal Grande - Venice, Italy: Also known as the Ponte della Costituzione, this bridge connects the Piazzale Roma to the Santa Lucia railway station in Venice.
Samuel Beckett Bridge - Dublin, Ireland: This bridge has a distinctive asymmetrical cable-stayed design and can rotate to allow ships to pass through.
Alfredo Harp Helú Stadium Pedestrian Bridge - Mexico City, Mexico: This bridge is part of a sports complex and features Calatrava's signature curving and cable-stayed design.
Peace Bridge - Calgary, Canada: This pedestrian bridge has a unique spiral design and provides a connection across the Bow River.
Hoover Dam Bypass Bridge (Mike O'Callaghan–Pat Tillman Memorial Bridge) - Between Nevada and Arizona, USA: While not entirely designed by Calatrava, his firm was involved in redesigning the bridge's arches and towers.
These are just a few examples of bridges designed by Santiago Calatrava. His bridges are known for their innovative and artistic designs, often incorporating elements of both engineering and sculpture. 
Some of his projects have faced criticism for being expensive, structurally complex, or challenging to maintain. Additionally, there have been instances where the aesthetic contrast between his modern designs and the historical surroundings has led to debates about architectural harmony.

Calatrava's designs often spark discussions about the balance between modern architecture and preserving historical contexts.
Sep 16, 23 01:29 PM

Visit Harry-s Bar Venice: Bellinis, Hemingway, and Venetian Elegance: The Legend of Harry's Bar.



Didn't find the information? Search within Venice-Information.com:



There were many protests against constructing the ultramodern bridge, which would fit in its environment.
Meanwhile, Venice Ponte DI Calatrava has even become an attraction. It turns out that there are severe structural defects. The Arcata (bow) would be too low, and there would be too much pressure on the foundations. The bridge shifts, and both banks push each other apart.
A lot of things went wrong,,, but don't...
Criticize Venice Ponte di Calatrava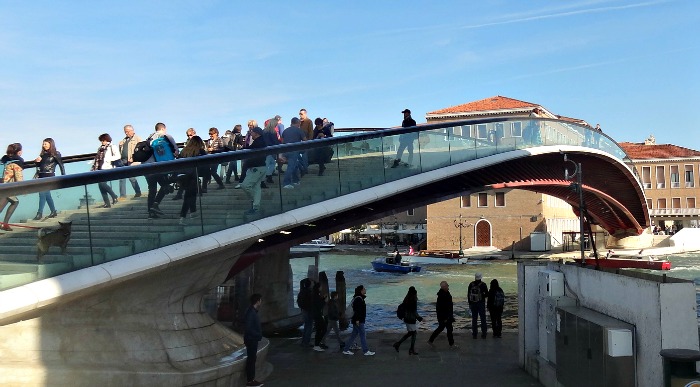 Research has revealed that the design is irreparable (irrimediabili errori di Progettazione). All to blame on the world-famous Calatrava! Residents say that the designer had paid too much attention to the look and feel of the structure. He is mistaken or forgot to pay attention to technical design and critical architecture.
What do you think? Should the architect have to pay by himself for the repairs and maintenance? Interesting detail: Calatrava gave the bridge design as a present to the city of Venice.
But... what was it again? Never look a gift horse in the mouth / Venice Beggars cannot be choosers (A caval Donato non si guarda in bocca). Meaning: If you get something for free, you should not criticize it.
Opinions about the Ponte della Costituzione are mixed. Some people appreciate its contemporary design and its practical connection between important transportation hubs. Others have criticized the bridge for its cost and design aesthetics not fitting with the city's historic ambiance.
Some practical issues, such as the steepness of the ramps, can make it challenging for people with mobility issues.
Given its location and connection between two essential transportation points, Ponte della Costituzione likely experiences significant foot traffic, including locals and tourists.
Start looking for a cheap place to sleep in Venice

---
You've read about the Venice Ponte DI Calatrava. There is plenty to explore as you see. Discover Venice on my site and get more information about this beautiful Italian city.
Home >  Facts about Venice >  Ponte di Calatrava >
Continue Reading: