Bridge Venice Ponte di Calatrava is flawed!

Made of glass & steel. 
Connects Piazzale Roma &
Train Station Venezia Santa Lucia 
Home >  Facts about Venice >  Venice Ponte di Calatrava >
It's a disaster... This opinion is what the people in Venice say about the Venice Ponte di Calatrava. The bridge over the Grand Canal since 2008. 
I also don't like this 'modern' design compared to the ancient buildings in Venice. And what do you think? A model that doesn't fit with my view of Venice Italy.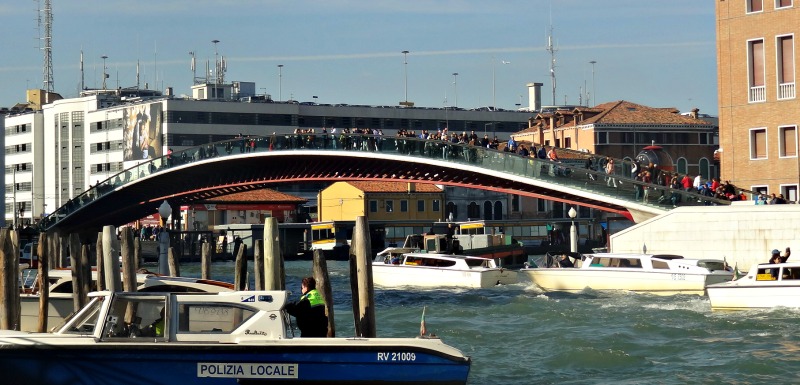 Didn't find the information? Search within Venice-Information.com:
Mar 30, 23 02:57 PM

Get your Information about Venice here and check this Review Apartment Venice. Write a Review Apartment Venice.
Top 3 Populair Activity to do in Venice

When the bridge was inaugurated people on it slipped. But, there were also other concerns. The bridge turned out to be not accessible for wheelchair users. Now, there is a design with a cable where you can attach your wheelchair. Only, this doesn't work very well. 
The Ponte di Calatrava or Ponte Della Costituzione - as the official name - was designed by the famous architect Santiago Calatrava. This fourth bridge over the Grand Canal is made of glass and steel. 
It connects Piazzale Roma and the train station Venezia Santa Lucia. For many of you the starting point of your journey in Venice. There are 400 other (hidden) bridges in Venice. So, don't worry if you are looking for a more romantic bridge.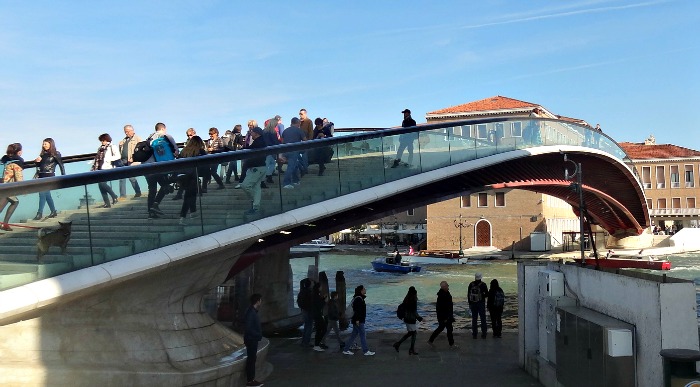 There were many protests against the construction of the ultramodern bridge, which would fit in its environment. 
Meanwhile, Venice Ponte DI Calatrava has even become an attraction. It turns out that there are severe structural defects. The Arcata (bow) would be too low, and there would be too much pressure on the foundations. The bridge shifts and both banks is pushing each other apart.
A lot of things went wrong,,, but don't....
Criticize Venice Ponte di Calatrava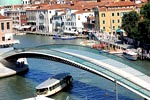 Research has revealed that the design is irreparable (irrimediabili errori di Progettazione). All to blame to the world famous Calatrava! Residents say that the designer had paid too much attention to the look and feel of the structure. He is mistaken or forgot to pay attention to technical design and critical architecture.
What do you think? Should the architect have to pay by himself for the repairs and maintenance? Interesting detail: Calatrava gave the design of the bridge as a present to the city of Venice.

But... what was it again? Never look a gift horse in the mouth / Venice Beggars cannot be choosers (A caval Donato non si guarda in bocca). Meaning: If you get something for free, you should not criticize it.

Start looking for a cheap place to sleep in Venice

You've read about the Venice Ponte DI Calatrava. There is plenty to explore as you see. Discover Venice on my site and get more information about this beautiful Italian city.
Home >  Facts about Venice >  Ponte di Calatrava >
Continue Reading: