Latest News about Venice Italy. 


So you can enjoy the city even better!



Special for you, I collect news about Venice Italy. Because without the News about Venice, you have insufficient knowledge of this beautiful city. Every trip you make must be well prepared.
Read all about the news. Get the facts you need to know:

---
I am passionate about telling you more about the background and all the facts and news about Venice. Knowing what the current water level is in Venice? How does the city deal with water?
Many news facts are happening in Venice. The local Venice government is discussing putting an entrance gate. So visitors have to pay an entrance fee. Venice is struggling to finance its beautiful city. Residents are afraid Venice will turn into a theme park. Venice has to continue its struggle against water. How will they finance this....?
Read, therefore, about the latest...
...News about Venice Italy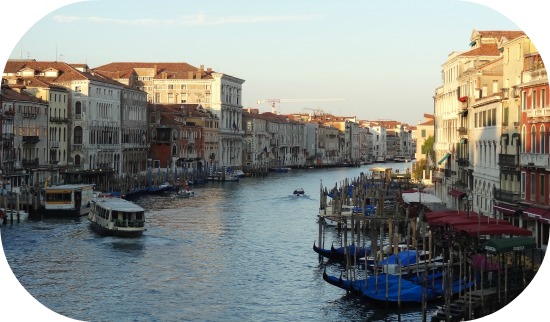 Want to know what the current water level in Venice is? How does the city deal with this? NaarVenetie.com is up to date. The latest news, the best tips, and the most beautiful videos about Venice. There is a lot to tell you about this beautiful city. And there is a lot of news. The best part is that you can share your story about Venice with me...
Since 2008 I have collected Venice news. If it fits my subject, I will post it on my site. This is important because you need to know more about the facts and Venice tips! My website is your information about Venice.
I will tell you about the facts of Venice. And how often do you hear in the news about the high water in Venice? Is this still happening? I wonder if you can share photos with me here...
Like myself, I write my own opinion about the news article. And I express it at my own discretion. Please feel free to give your personal idea or experience in Venice.
Local Events and Festivals: 
Highlight upcoming events, festivals, and cultural celebrations happening in Venice. Including details about dates, locations, and what visitors can expect to experience.
Venice, Italy, is known for its rich cultural heritage and vibrant festivals. Here are some of the best local events and festivals that take place in Venice:
Carnival of Venice (Carnevale di Venezia): One of the most famous and iconic events in Venice, the Carnival features elaborate masks, costumes, and a festive atmosphere. It typically takes place in February, leading up to Lent, and includes parades, masquerade balls, and artistic performances.
Venice Biennale: Held every two years (odd-numbered years), the Venice Biennale is a prestigious international art exhibition that showcases contemporary art, architecture, dance, cinema, and music. It draws artists, critics, and art enthusiasts from around the world.
Festa della Sensa: This historic event celebrates the Marriage of the Sea and Venice's maritime heritage. It usually takes place in May and includes a traditional boat parade, regatta, and various festivities.
Redentore Festival: Celebrated in July, the Redentore Festival commemorates the end of the plague in Venice in the 16th century. A temporary bridge is built across the Giudecca Canal, and people gather to watch a spectacular fireworks display over St. Mark's Basin.
Venice Film Festival (Mostra Internazionale d'Arte Cinematografica): One of the oldest film festivals in the world, the Venice Film Festival takes place annually in late August or early September. It showcases many international films and attracts filmmakers, actors, and industry professionals.
Historical Regatta (Regata Storica): Held on the first Sunday of September, this regatta is a lively boat race along the Grand Canal. It includes a procession of historic boats and reenactments of historic events.
Venice Marathon: Typically held in October, the Venice Marathon attracts runners from all over the world. The race route takes participants through the city, offering a unique perspective of Venice's landmarks.
La Salute Festival (Festa della Salute): Celebrated on November 21st, this festival commemorates the end of a plague in the 17th century. A temporary bridge is built to connect the city to the church of Santa Maria della Salute, and people participate in religious processions and ceremonies.
Christmas and New Year's Celebrations: Venice becomes even more enchanting during the holiday season, with festive decorations, markets, and special events. The Piazza San Marco is often adorned with lights and decorations.
Vogalonga: This non-competitive rowing event takes place on the Sunday of Pentecost and attracts rowers from all over. Participants row through the canals and lagoon of Venice, promoting the city's rowing heritage.
These events offer unique opportunities to experience Venice's culture, history, and traditions. Remember that event dates and details may vary yearly, so it's good to check official websites and local sources for the most up-to-date information before planning your visit.
* The Venice news is retrieved and displayed by a news site. Because of this, I have no influence on the display. Sometimes there is a news fact that is not relevant. However, there is 100% certainty that you will find the most recent information.
I wish you a happy holiday in Venice!
The Public Holidays in Venice Italy

Always handy to know! It would be best if you took notice of the public holidays in Venice. The vaporetto service has a different schedule, and some shops are closed. But, mostly, the museums are all open.
January 1: New Year's Day
January 6: Festival Epifania
April: Easter Monday
April 25: Liberty day and Saint Mark's Day
May 1: Labor Day
June 2: Republic Day
August 15: Assumption of the Virgin Mary ( Ferragosto )
November 1: All Saints day
December 8: Immaculate Conception of the Blessed Virgin Mary
December 25 and 26: Christmas and St. Stephen's Day
Sep 16, 23 01:29 PM

Visit Harry-s Bar Venice: Bellinis, Hemingway, and Venetian Elegance: The Legend of Harry's Bar.



Didn't find the information? Search within Venice-Information.com:



---
Please click on the links to explore my site more and get even more information about the different topics about Venice Italy. News about the city is the feed we need to prepare our self. 

From 'News about Venice Italy' to page 'Facts about Venice' >
Continue to Read:
Start looking for a cheap place to sleep in Venice