Restaurant Punta Sabbioni, nearby Venice
Restaurant Outside the Crowded City of Venice
Good and Tasty Food

Home >  Venice Restaurants >  Restaurant Punta Sabbioni >
By Robin Stratman, (Netherlands Lelystad)
Hi Venice-Information.com,
I know Venice Italy a little bit, that's why I want to show you this lovely place. 
Didn't find the information? Search within Venice-Information.com:
Mar 30, 23 02:57 PM

Get your Information about Venice here and check this Review Apartment Venice. Write a Review Apartment Venice.
Top 3 Populair Activity to do in Venice

I have a Best restaurant tip in the area of Punta Sabbioni named 'Albergo Villa Gentile.' An excellent haven for Venice lovers, in my favorite village 'Ca Savio.'
This village is situated at the end of Punta Sabbioni in the region Cavallino-Treporti.
The place where many campsites are. It is outside the crowded city of Venice, but it is worth it when your accommodation is at Punta Sabbioni. 

Here's a map:
The restaurant which I want to let you know is; 'Albergo Villa Gentile,' a restaurant and hotel. The service in the hotel I didn't experience myself, but it seems fine.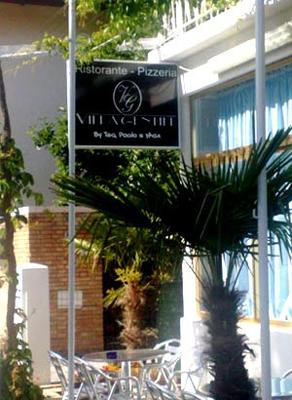 Since a couple of years when I'm visiting this area I'm going to eat here, and ...... the food is delicious, my favorite!
They have an excellent service, and they have a super appetizer with various fish species. Perfectly prepared by the chef, a real pleasure. 
The pizzas are like a painting. Really a restaurant where you can eat a variety of food with tasty seafood and shellfish without worrying that you're going to be sick.
With my wife, I always share the plate with fish, for an entree, it is plenty. 'Teo' is a great owner.
Really a beautiful place in 10 min walk from Punta Sabbioni and 2 minutes to the bus stop. Parking at Punta Sabbioni costs 5, - per day.
I am going there back again to enjoy it. I hope this is an excellent review of your Venice Restaurant page.
Address:

Albergo Villa Gentile
Via di Ca 'Savio, 25, 
Cavallino-Treporti Venezia
Telephone: +39 041 530 1342
Top Rated at 

 

'TripAdvisor' >

 
Regards Robin Stratman
Curious what other say about this restaurant at Punta Sabbioni? Read the...
...Comments on Venice Restaurant Punta Sabbioni
Great Restaurant Tip
by: Rudmer 
Dear Robin,

Great tip about this Restaurant. I didn't visit this Restaurant yet, but I'm admittedly will do that after your fantastic Restaurant, Venice tip!

How to reach Restaurant 'Albergo Villa Gentile'? From Venice, you go with the vaporetto boat to Punta Sabbioni. Then it is indeed about 10-20 minutes walk. Take vaporetto line 14 from Piazza San Marco' S. Zaccaria" (about 35min). Or take from F. Nove the Laguna line no. 12. Then you will pass the islands Murano, Burano, Treporti and this boat trip is about 80 min. 
Thanks, Robin, 

Ciao, Rudmer
How to cook the delights of Venetian cuisine by your self
Have you also enjoyed those delicious authentic dishes from Venice? Order the book and follow the courses of the Italian meal and recipes from the Veneto.
The local Aperol Spritz, of polenta and shrimps, or ravioli with artichoke, grilled monkfish, but of course also classics such as tiramisu, risotto, and bellini. In A taste of Venice (order now), you will discover the richness of the Venetian cuisine. Buon appetito !!

---
You have read about Restaurant 'Albergo Villa Gentile' nearby Venice. There is enough Italian cuisine to explore, as you can see. Please click on the links to explore my site more.
Return from 'Restaurant Punta Sabbioni' to page 'Venice Restaurants'
Continue Reading
Start looking for a cheap place to sleep in Venice