"Beyond the Tourist Path: Restaurant Vini da Gigio Venetian Culinary Magic"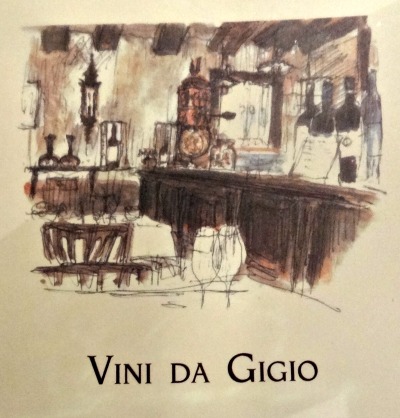 " Food is Authentic. Real Venetian Food. a Quiet Location in Venice." 
This Restaurant Vini da Gigio in Venice, is for several years my favorite restaurant when it comes to food.
The location of this restaurant is on a side street of the busy 'Str. Nuova' a passway from the Railway Station to the Rialto. It is a restaurant run by brother and sister Paolo and Laura Lazzari.
The restaurant is small and cozy with a good reputation. As the name suggests, they specialize in wine.
The beautiful thing is that the food is authentic. You can enjoy authentic Venetian food in a quiet location in Venice. The local produce and seasonal dishes make this a TOP Venetian restaurant.
And yes, I, too, studied the best travel guides. In the past, this restaurant was touted, for example, in the 'Lonely Planet.' I became a fan and regularly visited because I know it's excellent! Do you have any tips?
It is logical; brother and sister run the restaurant Vini da Gigio since 1981. The dishes are always made with passion and served with care.
The menu includes fish and crabs caught in the local lagoon. It is served fresh, well-grilled, baked, and fried. Besides fish, there are meat dishes. Everything is seasonal, and the ingredients, rice, polenta, legumes, grains, and cheese - are locally sourced. Even the wine list reveals the passion: at least 500 wine labels are always available.
How to cook the delights of Venetian cuisine by yourself
Have you also enjoyed those delicious authentic dishes from Venice? Order the book and follow the courses of the Italian meal and recipes from the Veneto.
The local Aperol Spritz, of polenta and shrimp, or ravioli with artichoke grilled monkfish, but also classics such as tiramisu, risotto, and bellini. In A Taste of Venice (order now), you will discover the richness of Venetian cuisine. Buon appetito !!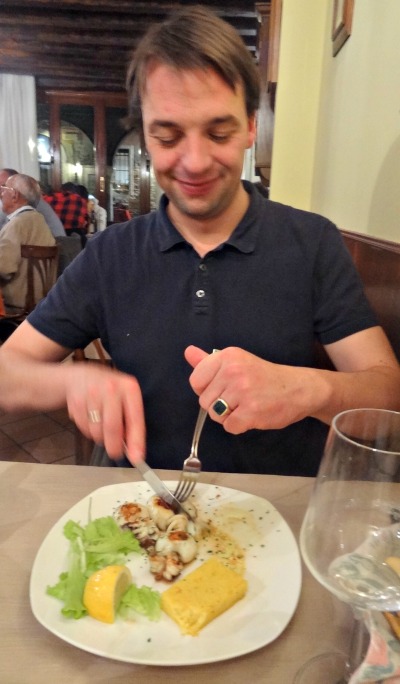 The scenic table is better to book in advance. I could only go after 21:00 a couple of times. But it is worth it.
The last time I went to eat at the best place, "Vini da Gigio," my wife had again taken Spaghetti with squid ink (black).
This lovely black ink sauce meal is her favorite. On the menu, this is the "Spaghetti con le seppie" and costs EUR 14.00.
I had the fried squid. Which are very tasty, crispy outside, and so fresh it is not robust. As a pre-starter, we had a bowl of local fresh fish and shellfish.
I took the creme brulee with the dessert, which had flames when the waitress put it on the table. The senior waiter was a woman and was well-known for ingredients and spices. She was friendly and helpful, as always.
Including a good wine, we had an evening with a total cost of EUR 130, -. This dinner has a perfect price, and the quantity is in good shape, an authentic culinary Venetian cuisine.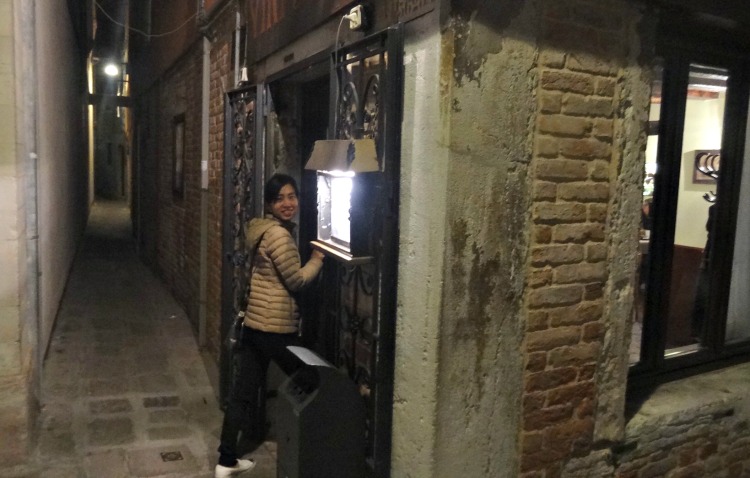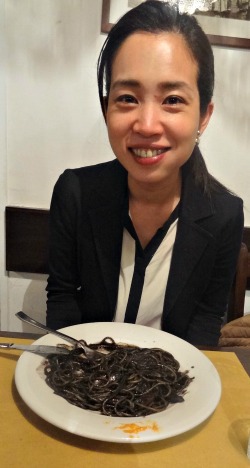 The restaurant is convincing. So, you need further details and...

Review Restaurant Vini da Gigio
Vini da Gigio is another gem in Venice's culinary scene, known for its authentic Venetian dishes, warm ambiance, and extensive wine list. It's situated in the Cannaregio district, a bit away from the central tourist paths, often making it a haven for those seeking a quieter, more local dining experience.
What is my review about the restaurant:
Location: Located in the Cannaregio district, Vini da Gigio offers a break from the bustling tourist centers. It's in a quieter part of Venice, which often enhances the authentic experience many visitors seek.
Ambiance: Vini da Gigio has a cozy atmosphere with a mix of rustic and elegant touches. The wooden interiors, complemented by warm lighting, create a welcoming environment that is both intimate and genuine.
Cuisine: The restaurant is renowned for its traditional Venetian dishes, emphasizing fresh, seasonal ingredients. Their seafood dishes often stand out due to their freshness and variety. Their wine list is also worth mentioning, with a curated selection from the region and beyond.
Would I advise you to go there? Absolutely. For those seeking an authentic Venetian dining experience away from the typical tourist spots, Vini da Gigio is a must-visit. However, as with many famous restaurants in Venice, making a reservation is recommended, especially if they've recently reopened after being closed for several months.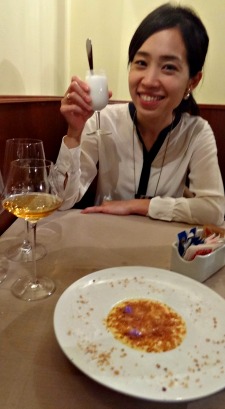 What to eat?
Antipasti: Given Venice's lagoon setting, start with a seafood antipasto. They often have various fresh, marinated seafood options that showcase the region's flavors.
Risottos: Venetian risottos are a delight, and Vini da Gigio often has seasonal specials worth trying. Depending on their menu at the time, you might find options like risotto with artichokes or seafood.
Grilled or Baked Fish: Reflecting the bounty of the surrounding waters, a simple grilled or baked fish dish prepared with local herbs and olive oil can be an exquisite choice.
Venetian Liver (Fegato alla Veneziana): If you're looking to try a classic Venetian dish, this liver dish cooked with onions is flavorful and rich.
Desserts: Ending with a traditional Italian dessert, be it tiramisu, panna cotta, or another regional special, is always a good idea.
Wine: Given the restaurant's name and reputation, it would be amiss not to try one of their recommended wines, ideally paired with your chosen dish.
Always check the daily specials or ask the staff for recommendations, as the local restaurant Vini da Gigio often adjust their menu based on the freshest ingredients available.
...Information about Restaurant Vini da Gigio
The restaurant is closed on Mondays and Tuesdays
They are open from 19:00
The average price per person is EUR 45,- (exclusive drinks)
All credit cards are accepted
How do you get there?
Take vaporetto line 1 and get off at Ca 'D'Oro
Address: Fondamenta San Felice 3628, Venice
Phone: +39 041 528 5140
Website: www.vinidagigio.com
Book in advance
Having Tips About a Venice Restaurant?
Write about it here!
Enjoyed a restaurant or disliked it? Share your story or do a review of the restaurant! It's free, and you don't have to subscribe!!!

Writer skills? Your comment will appear on a new webpage. Make it as long as you want with photo's and your story.
Start looking for a cheap place to sleep in Venice

You've read about Vini da Gigio in Venice. There is plenty to explore, as you see. Read my site on Venice and get information about this wonderful place.
Home >  Venice Restaurants >  Restaurant Vini da Giglio >
Continue reading