Review Restaurant Trattoria alla Madonna
I've never Eaten such Tasty Risotto


This Real Venetian Restaurant is Excellent!



Home >  Venice Restaurants > Trattoria alla Madonna >
I was not planning to eat at Trattoria Alla Madonna. But it still attracted to me, and I had read good reviews about this Venice restaurant. Also less sweet reviews, but I have to try it by myself…
I was surprised. The restaurant was full. At the entrance, I noticed that the restaurant is quite large with lots of tables. The first thing you notice is also the buffet bar, where all kinds of shellfish, salads, and fish are ready to serve the guests.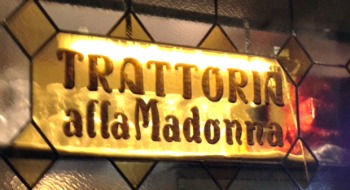 We only had to wait for five minutes before we were assigned a table. Well, table...
A small table and you're dining close to your fellow guests. It is cozy because you have to share the vinegar and olive oil. And we could easily see what the other guests ate (this makes it easy to order ;-).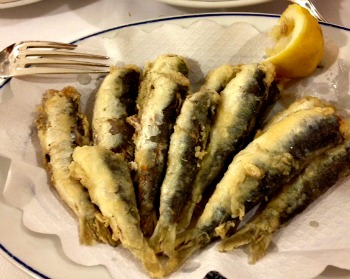 Venetian fried sardines
As an appetizer, we ordered the famous Venetian fried sardines with salad. I had read that the fried eel (Anguilla fritta) is delicious.
And of course, the spritz that goes with it. My wife had the unusual stuffed crab as a real high fusion. So delicious we've never eaten.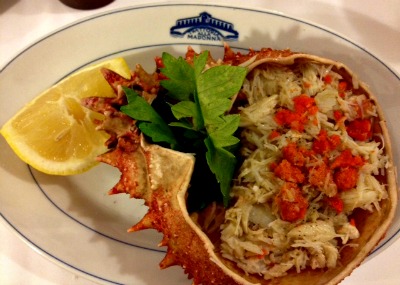 Unusual stuffed crab
After a tip from our fellow table neighbors, we ordered the extra 'Risotto.' Ooooh, this is incredible, I've never eaten such tasty risotto. Along with the spritz and other wine it was a top diner.
The service of this Venetian restaurant is excellent! The senior waiters are taking their time to cheer you up, making you comfortable. They are focused on their guests to give them an enjoyable evening. You only hold your finger up, and they are at your table.

Anguilla fritta
Ultimately, the menu is quite varied with also lasagna, spaghettis, and soup. But the fish dishes predominate.
And the bill? I think it was cheap with a full menu and unique dishes I paid EUR 80, - (2 people). We left Trattoria Alla Madonna with many sweet gestures towards the waiters.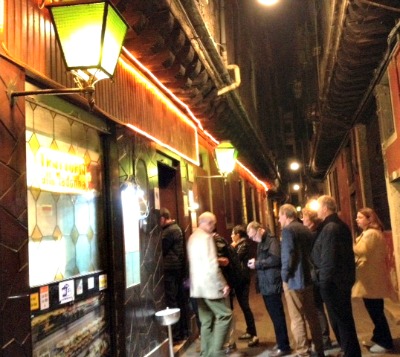 Once outside it seemed as if the night had just begun. It was about 8:30 p.m. when we finished eating, and there was a long line-up to eat at the restaurant.
And the feeling when you see that, you know you've been lucky. We were pleased that the waiter got us ceded immediately. This dinner was a fantastic experience at Restaurant Trattoria Alla Madonna.
Are you also looking for this eating establishment? Here you can read all the...

...Information about Trattoria alla Madonna
The restaurant is closing on Wednesdays
They are open from 19:00
The average price is EUR 35, - per person (excluding wine and drinks)
All credit cards are accepted
How do you get there?

Take vaporetto line 1 and get off at "Rialto Mercato." It is a narrow street along the Rialto market street. You can reach it to walk from the feet of the Rialto Bridge a little bit along the Grand Canal
Address: Calle della Madonna 594, San Polo, Venice
Phone: +39 041 522 3824
Website: www.ristoranteallamadonna.com
Didn't find the information? Search within Venice-Information.com:
Mar 30, 23 02:57 PM

Get your Information about Venice here and check this Review Apartment Venice. Write a Review Apartment Venice.
Top 3 Populair Activity to do in Venice

You cannot book in advance. Make sure you get there around 19:00!  

You've been in a restaurant in Venice?
Share it here... Do you have a great story about a restaurant in Venice? The food in Venice is a great experience? Which restaurant is TOP? And which restaurant you would never go? 
How to cook the delights of Venetian cuisine by your self
Have you also enjoyed those delicious authentic dishes from Venice? Order the book and follow the courses of the Italian meal and recipes from the Veneto.
The local Aperol Spritz, of polenta and shrimps, or ravioli with artichoke, grilled monkfish, but of course also classics such as tiramisu, risotto, and bellini. In A taste of Venice (order now), you will discover the richness of the Venetian cuisine. Buon appetito !!

---
You've read about Restaurant alla Madonna in Venice. There is plenty to explore, as you see. Read my site on Venice more and get information about this wonderful place. 
Home >  Venice Restaurants >  Trattoria alla Madonna >
Continue reading:
Start looking for a cheap place to sleep in Venice