Find a supermarket or a grocery shop in Venice
Does Venice have a supermarket? I was thinking no... I didn't see any convenience stores. But, hey, there is! I will show you where...
The city, renowned for its romantic canals, historic architecture, and cultural richness, is a city that captivates the hearts of tourists and locals alike. Amidst its picturesque beauty, the practicalities of daily life continue, including grocery shopping. Supermarkets in Venice offer a fascinating blend of tradition and modern convenience, but finding them amidst the labyrinthine streets and waterways can be an adventure.
Maybe going shopping at a local super is not the first thing you come up with when staying in a hotel. But, sometimes, you don't have breakfast at your hotel or hostel.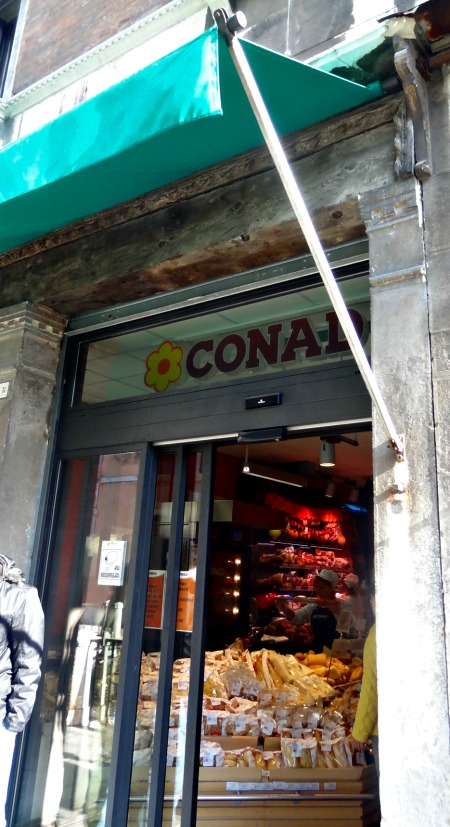 And time by time, buying the necessary needs at a grocery shop can be convenient. And above all, when you are staying at an apartment, your refrigerator should be filled for home cooking…
It is comfortable and cheap to buy your snacks for the day.
So,, where to find the supermarkets in Venice, Italy?
Unlike most cities where supermarkets are easily accessible on foot or by car, in Venice, they are spread across the islands and are typically smaller in size.
The largest super is on Strada Nuova (the route between the train station and the Rialto Bridge).
This 'Conad' market you will find in more locations. For example, in 'Dorsoduro,' 'Santa Croce/San Palo, and on the island Lido.
During my stay in Venice, I searched for grocery shops but couldn't find them. Nowadays, looking them up on your smartphone or IPad is best.
Just do a simple search on 'supermarkets in Venice' and choose your nearest shop. The GPS on a smartphone is convenient for navigating in Venice. You can rely on it, even walking in the narrow alleys of Venice, Italy. 
You have Conad and also COOP supermarkets.
These are the addresses of Conad:
Conad: Str. Nuova, 3660 = Open until 23:30 hours
Conad City (small): Sestiere Dorsoduro, 1491 = Open until 23:00 hours
Conad: Fondamenta Garzotti, 891 = Open until 21:00 hours
These are the addresses of the chain shop COOP in Venice: 
COOP: Piazzale Roma, 499 = Open until 20:30 hours
COOP: Cannaregio, 1976 = Open until 20:30 hours
COOP: on Lido near the Vaporetto's = Open until 20:30 hours
COOP: Via Giuseppe Garibaldi, 1798 = Open until 20:30 hours
One of my favorite markets is the Punto Super on the Westside of Campo Santa Margherita in Santa Croce. The entrance of this grocery shop is hard to find. Look out for a gelato ice cream shop and many shopping carts; you will find it! This super has been there for years, and they just had a significant upgrade since the last time I visited.
Not so long ago, there were no convenience stores in Venice. The city always had an independent bakery, butcher, and other specialized shops. Now you can find a super in every area in Venice, Italy. It is too simple… Even tourists can buy groceries without speaking Italian, and they eat instant food in their hotel rooms.
Venice Supermarket | Hidden Gems and Local Delights

This Supermarket can be reached from the water.
How and when do the locals do their daily shopping? I do agree that Venice is full of supermarkets and convenience stores? In my opinion, it is a trend you see in every major city. It is all about fully servicing the customer/tourist.
But, I want to do local quality for Venice and try to speak Italian. Maybe, only visit the Rialto market... 
Finding a supermarket in Venice might not be as straightforward as in other cities. Still, this challenge often leads to delightful discoveries. As you wander the narrow streets, you might stumble upon a small family-run alimentari (a small grocery store) tucked away in a quiet corner.
These hidden gems often offer a delightful assortment of local and regional products, from fresh produce to artisanal cheeses and wines. Engaging with local shopkeepers can also provide insights into traditional Venetian cuisine and culinary tips.

Supermarkets in Venice often adhere to the city's unique rhythm. It's important to note that opening hours might differ from what you're accustomed to in more urban settings. Many supermarkets close for the traditional Italian siesta during the afternoon and observe a shorter opening schedule on Sundays. However, this slower pace aligns with the relaxed lifestyle that defines Venice.
Other facts:
Some large supers in Venice are open on Sundays;
Not all markets are available in the evening;
Fresh vegetables are limited in supermarkets;
Meat and fish, you buy at the Rialto market, which is open weekdays until 14:00.
Have A Great Story About Shopping in Venice?
Have A Great Story About Shopping in Venice? Share it! Write about it here! Display your own story about your Shopping Experience. Writing skills? Your comment will appear on a new webpage. Make it as long as you want with photo's and your story.
---
You've read about markets in Venice. There is plenty to explore, as you see. Read my site more and find out what you want to know about Venice Italy.
Return from 'Supermarket' to my page 'Venice Italy Shopping'
Continue Reading:
Start looking for a cheap place to sleep in Venice