A Taste of the Venice Rialto Market

Planning to Go There? Venice-Information Saves Money
The Venice Rialto Market is unique in the world. An opinion I share with guidebooks and visitors. Are you planning to go there? Venice Information will save you money.
I provide personal answers, and others can give tips about their Travel Experiences at the Rialto. 
Let me be clear: You will get the best tips, do's & don'ts. I'm your guide, and you will admire the place! This daily Venice Rialto market is full of Venetian specialties. Above all, local people from around Venice still buy fresh products daily at this market. So get involved and smell the atmosphere of this market. The fresh Mediterranean products are delicious!
Learn more about the opening times. It's history and how to... 
Visit the Market
A treat for the senses, with artistic piles of peaches and cherries, artichokes, and red chicory from Treviso.
Fruit, vegetables, and fish tend to be strictly seasonal. It is a lively place with many local people and tourists!
The location of the Rialto market is northwest of the Rialto Bridge in the district of San Polo.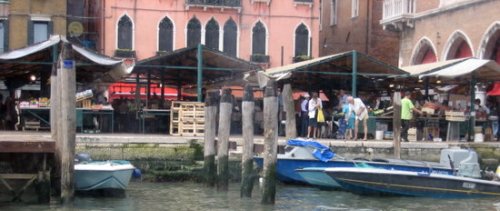 The place is alongside the Grand Canal to the right, behind the souvenir stalls. In this area, you can spend without knowing 2-4 hours... A must-visit!
Opening hours:
Fresh produce market (7:30am-1pm Mon-Sat)
Pescheria market (7:30am-1pm Tue-Sat)
It depends on the season if all products are available, so there is no day the same at this fresh market... 
The Rialto Market in Venice is still used by local restaurants and residents to source fresh produce and seafood. The market has a historic significance as one of the oldest markets in Venice and has been a hub for local food trade for centuries.
However, please note that specific details such as opening times can vary and might have changed since my last update. Markets in Venice often have different sections, with the fish market usually opening very early in the morning, while the fruit and vegetable market might have slightly different hours.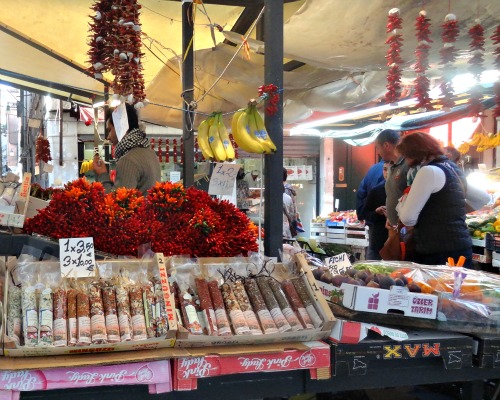 Do more than hit the tourist areas, museums, and squares. Purchase a map of Venice or a handy travel guide during your stay in Venice, Italy. 
Go on an adventure and discover the tiny streets. But, be different and don't go with the flow, like all other tourists... Because otherwise, you wouldn't know...
There is also a Fish market, the Pescheria.
Next to the fresh market, there is the Pescheria. A Neo-Gothic fish market hall barely out of reach because of the seagulls.
You find this fish market along the Grand Canal. This part of the Rialto Market contains writhing eels, soft-shelled crabs, giant swordfish, and crimson-fleshed fresh tuna.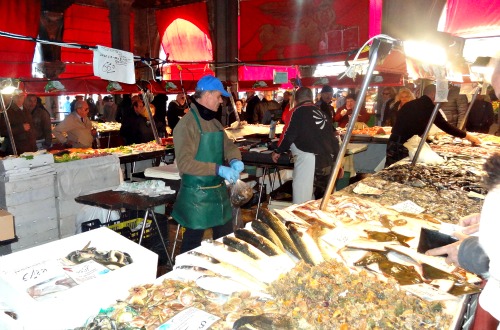 The local fisherman is bringing their fresh fish just after the catch in the local Laguna! So watch this unique performance you don't see so often!
I made a picture of the fisherman who just got out of his boat. He parked next to the Pescheria. And he was going straight to his salespeople...
He was shouting 'fresh fish, fresh fish, and the fish they directly prepared, so locals and restaurants could buy the fish immediately. This fish is the freshest you can ever get... And above all, it is fun to watch!
To experience all this, it is better to...
Learn the History of the Venice Rialto Market
An area which is the city's historical heart. The trading city has its origin with the early settlers over here.
Nowadays, it's still the commercial hub of Venice. Records tell us the Venice Market took place in 1097. 
However, the line of buildings dates from the 16th century due to a fire that swept through Rialto in 1514. 
The only thing that has changed is the new awnings and electronic cash registers.
Rialto market's narrow alleyways carry names with the categories of the same type of shops.
These shops, like bakeries, eateries, and other market traders, stood together a long time ago. You can read this on my page about the Rialto Bridge >
Top 10 Souvenirs Venice Italy:
1. Glassware: Impress your friends at home with a Murano chandelier.
2. Gourmet Food: For something authentically Italian, try virgin olive oil flavored with chili peppers or pasta in the shape of gondolas and masks.
3. T-shirts: The essential guaranteed souvenir of Venice, sold at the street stalls.
4. Masks: A mind-boggling array of masks, traditionally made for Carnival in paper-maché ceramic and leather.
5. Marbled Paper: You can buy swirls of pastel hues for covering books or simple as beautiful wrapping paper for gifts.
6. Beads: Beads from frosted glass, ceramic, or the traditional murrhine mosaic.
7. Italian Wine: Take advantage of lower prices and taxes by stocking up on locally produced wines from Veneto.
8. Fabric: Lace is the most Venetian of materials, but beautiful linens and velvets are also valuable.
9. Silverwork: Photo frames, letter openers, and teaspoons make lovely gifts for friends.
10. Clothes: You can find all the top fashion names in Venice, Italy.
---
Have A Great Story About this beautiful market?
Have A Great Story About the Rialto Market? Share it! Write about it here! Display your own story about your Experience. Writing skills? Your comment will appear on a new webpage. Make it as long as you want with photo's and your story.
What Other Visitors Have Said
Click below to see contributions from other visitors to this page...

You have read about the Rialto Market. There is enough to explore, as you can see. Please click on the links to explore my site more.
 Home >  Venice Shopping >  Venice Rialto Market >
Continue reading:
Start looking for a cheap place to sleep in Venice