An Unforgettable Experience 


Venice Italy New Year Eve



I Show you How and Where to Celebrate
Home >  Venice Italy Carnival >  Venice Italy New Year >
What a great experience! The event of Venice Italy New Year eve is for a significant part on the Piazza San Marco in Venice's heart. Here is the city's countdown.
BUT THERE WILL BE NO FIREWORK THIS YEAR 2021 / 2022 DUE COVID-19 RESTRICTIONS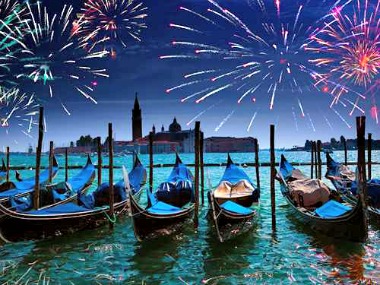 The entire square packed with people and at 0.00 pm across the dock of Piazza San Marco, you can see beautiful fireworks.
Be on time; It is better to arrive at this square around 9 p.m. This is on time to get a sweet spot in the crowd standing with your friends.

My tip for celebrating New Year's eve is to bring your bottle of wine or some drinks! And don't forget to give each other after 0:00 an unforgettable hug and kiss!

On the St. Mark's Campanile tower you can see the countdown clock. A great tip is also that you can watch the fireworks from many other places in Venice. The fireworks are in front of the Doge's Palace in the lagoon. A quieter place perhaps more romantic...
You can join an event during the days around New Year. There are several festivals, mostly in the larger (more luxurious) hotels.
But these events are quite pricey, and most are already fully booked. I recommend to wander around Piazza San Marco.
Or go after midnight to Campo Santa Margherita where you'll see hilarious drunk people... But during these holidays you can also do a unique Pub Tour through Venice. Just because it's possible. Book a real Carnival Pub Crawl >
What about more special events during this new year? Get... 

...an Unforgettable Experience during New Years Eve
Sep 16, 23 01:29 PM

Visit Harry-s Bar Venice: Bellinis, Hemingway, and Venetian Elegance: The Legend of Harry's Bar.



Didn't find the information? Search within Venice-Information.com:



Visit the opera house La Fenice. This event is exceptional when you manage to get a ticket here. But, I know you are not all opera lovers... 
Instead, there are plenty of places where is a party, on the street, on a square or maybe you can still find a friendly pub or club site.
Also, note if you want to dine in a restaurant. Reserve this evening in early advanced. Most restaurants have special menus for New Year's Eve, but the price is expensive, and most places are already fully booked. You can also do a simple pizza or another simple dinner.

There is a website which tells you all the essential and beautiful events during Venice Italy new year. They give tips for parties. Go to there website and find out new year's eve parties in Venice >
Start refreshed a new year? Enjoy...
...Venice Italy New Year with a New Year's Dive!!!
Another remarkable thing in Venice is their New Year's dive on New Year's Day. This event is on the Lido island at the beach. You go here by vaporetto and walk straight ahead towards the beach and the Blue Moon Beach Bar. The dive is about 12:00 in the afternoon. Bring your towel, and when you've done it, you will have a memorable experience.
And you will be immediately rid of your hangover... Good luck! Let me know how it was! My www.facebook.com/NaarVenetie.nl
---
You've read about the Venice new year. There is plenty to explore, as you will read. Search my site on Venice and get inspired.

Home >  Venice Italy Carnival >  Venice Italy New year >
Continue Reading:
Start looking for a cheap place to sleep in Venice