Read my story about how to decide a hotel outside Venice or in the city center?

Why Venice Winter?
More Time to Explore 


And in Winter, Venice has Great Festivals



Home >  Venice Italy Carnival >  Venice Winter >
The beauty of a Venice Winter I can't describe with words. Above all, the events during the winter are a pleasant experience...
During my visits in the winter, I have more time to wander around in the almost empty streets, the houses, museums, churches, and grand canals. It's the time of the year when most Venice tourism has returned. Meaning, you have more time to explore, and you will see winter in Venice isn't bad at all! Search which hotels are available during the Winter.

In the coldest month's a fog is coming up from the water and is given an extra dimension. Experience the real beauty of Venice and get lost. But, what are the things to do during the winter period in Venice?
I will show you the...
...Events during Venice Winter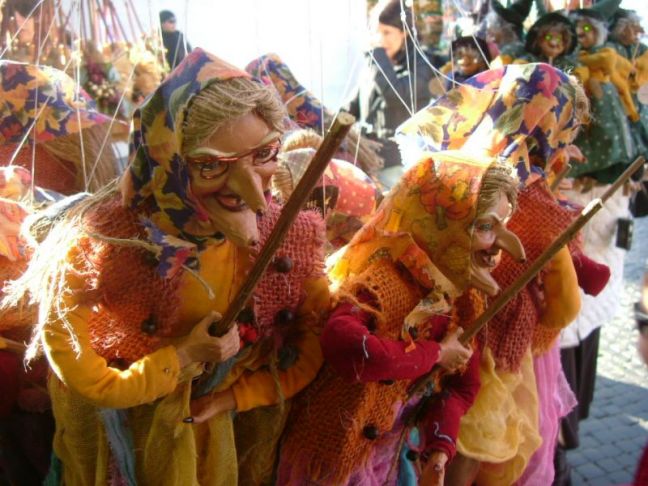 In winter there are many festivals in Venice. I will tell you about the most important events.
6th January: Festival Epifania: The festival represents a significant part of the Italian Christmas. This whole celebration of Epiphany is a typical annual event only in Venice Italy.

This event is celebrating the twelfth day after Christmas. On this day the three kings came to the baby Jesus to worship him.

During Epifania, the kind witch "La Befana" is playing a significant role. The story goes that the witch on the night of January 5 is flying around on her broomstick. She is climbing chimneys to give candy and gifts to children. And La Befana leaves for naughty children coal in their socks behind.

The legend says; the three kings stopped the night before they came to baby Jesus at the home of an old woman to ask directions. They invited her to join their journey, but she refused because she was too busy. Then a shepherd asked the old woman to accompany him on his trip, but again she rejected the offer.
Later that evening the old woman saw a bright light in the sky and took this as a sign. She decided to follow the three kings and the shepherds on their way. She carried gifts and some items that belonged to her deceased child. But unfortunately, the old woman got lost on her way to the baby Jesus. She is now still flying around on her broomstick. With bringing gifts to children, she hopes to find baby Jesus.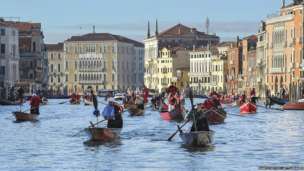 La Befana Regatta: Traditionally during this "Regatta" festival, there is also a boat race on the Grand Canal.
This race is between San Toma and Rialto. The Venetians who join are dressed as women or witches, fighting to win.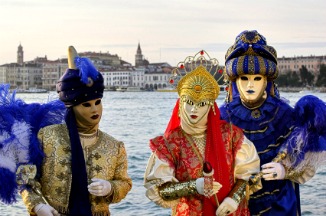 Venetian Carnival: From mid-January until Shrove Tuesday the traditional carnival with Commedia dell 'arte and the Venetian ​masks.
Ash Wednesday: End of the carnival with the symbolic burning of Pantalone. Then a mask parade on the Riva Degli Schiavoni.

October: First Sunday a wine festival at Sant'Erasmo with music, dancing, drinking and rowing competitions. End of October: Venice Marathon starts in Stra. In 2015 I joined this marathon. Read more >

November: 21st November: Festa Della Salute - the celebration of the ending of the plaque with a procession of barges to the Santa Maria Della Salute. Afterward; wine and donuts.

New Year's Eve: Experience new years eve in Venice Italy with fireworks on the St. Marks Square and hugging with all Italian people around you. The atmosphere and mystique make it a wonderful experience. Read my tips for New Year's Eve in Venice >

Surprisingly discover Venice Winter!

The Public Holidays in Venice Italy

Always handy to know! You should take notice of the public holidays in Venice. The vaporetto service has a different schedule, and some shops are closed. But, mostly the museums are all open.
January 1 : New Year's Day
January 6 : Festival Epifania
April : Easter Monday
April 25 : Liberty day and Saint Mark Day
May 1 : Labor Day
June 2 : Republic Day
August 15 : Assumption of the Virgin Mary ( Ferragosto )
November 1 : All Saints day
December 8 : Immaculate Conception of the Blessed Virgin Mary
December 25 and 26 : Christmas and St. Stephen's Day
---

Cheap Parking in Venice Italy
Be smart and get a cheap parking place when you are visiting Venice Italy! Here is an overview and mostly they have shuttle services to Venice... Check it out! 
---
You have read about how I experienced Venice at winter time. There is enough to explore, as you can see. Please click on the links to explore my site more.
Return from 'Venice Winter' to 'Venice Italy Carnival'
Continue Reading:
Venetian Carnival masks >
Venice Italy Biënnale >
Venice Marathon >