Cheap Hotels Venice Italy
Cheap Hotels Venice Italy? Impossible!

But I have the Secrets to sleep cheaply. 
Trying to find cheap hotels Venice Italy? Then, I will show you how! I stayed in 8 Cheap Hotels. So, let me Guide you...
It sounds like an impossible task for many of you.

And you are right? Right...
The Italian city of Venice is one of the most expensive cities in Europe. They mention Venice often when it comes to the high costs of hotels.
But,
Admittedly, it's possible to visit Venice and sleep cheap...! But, yes, you just got to prepare well.
The hotel's location is essential for cheap hotels in Venice, Italy. Hotel Lisbona enjoys the privilege of a central location. Near the main tourist attractions, monuments and landmarks are within easy reach. Staying here was convenient, and I had a room at a meager rate. 
Another option is to find hotels outside of Venice. It could ultimately save money considerably. Preferable on the island of Lido. Let's see if there are still available rooms for a cheap sleep.
Another option is to sleep in a hostel. A nice hostel is an excellent alternative to an expensive hotel. Most hostels also have double rooms with private bathrooms, so you do not have to compromise on privacy.
Hostels in Venice often have a central location, and you can use a kitchen where you can prepare your breakfast, lunch, or dinner. Especially in a large, expensive city that is a godsend. Hostels are also increasingly nicely dressed and equipped with good beds. For the most extensive and complete selection, you can look at Hostelworld.com.
And have you ever heard of a 'poshtel'? These are luxury hostels with a strong focus on design and experience, but where you can sleep for a reasonable price. A good example is the hip Generator Hostel in Venice.
Of course, these above tips are already a start to help you find a way to get cheap accommodation. But I think you need more...
...TRICKS FOR FINDING CHEAP HOTELS VENICE ITALY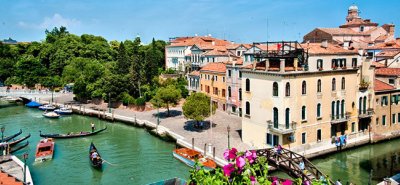 When planning a trip and looking for accommodation in Venice, I always use the Booking.com website. The site is well-organized, so you immediately see which hotel best suits your needs and budget.
The significant advantage of Booking.com is, in my opinion, the smooth FREE cancellation policy. Mostly, you can cancel the booking days before your arrival. This is very helpful if you have made other travel plans or have found cheaper accommodation. In addition, you often only pay on location.
Sep 16, 23 01:29 PM

Visit Harry-s Bar Venice: Bellinis, Hemingway, and Venetian Elegance: The Legend of Harry's Bar.



Didn't find the information? Search within Venice-Information.com:



Booking.com also works with a loyalty program: Genius. Suppose you make more than seven bookings in a year. In that case, you are automatically a Genius member and receive a 10 percent discount on selected hotels. Sometimes Genius members also receive extras such as free Wi-Fi or free rental bikes. These bonuses are quickly earned.
My first time in Venice, I went looking for a cheap hotel in Venice. Ultimately it comes down to comparing the price and quality of the hotel.
A clean hotel is, for me, significant. Therefore, you can leave a review about a hotel in Venice on my site Hotel Review Page > 

My reviews and advice are independent. However, it would help if you also had a good review about a cheap hotel in Venice. 

In my articles, I try to give you great information to make a good choice. Your choice also depends on the hotel rate, of course. That's why you need to know how much money you spend per night. 

And hotel prices depend on the period when you travel. In high season (May-Sept), the hotels are more expensive. During the Carnival period (Jan-Feb), hotel owners are raising prices immediately. So go in a period when it's low season in Venice. For example, in November. 

I think in all periods of the year Venice is lovely with its charm. Maybe you can enjoy it even better since Venice has less tourism.

When finding cheap hotels in Venice Italy try to search for special offers. Think about last-minute deals or deals where you will get the third night for free. These special offers can save money and make your stay in Venice much cheaper.

But, maybe the biggest question is...
...How to Spend my Day Cheap in Venice?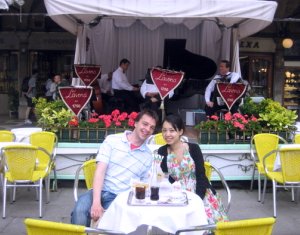 In Venice, there are several water fountains where you can refill bottles with fresh drinking water. Actually, I'm sponsoring an organization to try to make Venice a better sustainable city. So please help fill your bottle instead of buying plastic bottles with water.
But if you buy, do not buy a bottle of water or soda directly at the main tourist attractions, including the Rialto Bridge and St. Mark's Square. Sometimes it saves 1 EURO if you go a couple of streets away to buy a bottle.
Another lead to having a Venice experience is to choose the right restaurants. But, of course, you can pay for quality (see my articles on Venice Restaurants). Still, around the prominent landmarks, restaurants are more expensive. And the quality is mostly tourist menus with easy pasta, everyday pizzas, and more.
Be careful where you will have a cup of coffee or cappuccino. On the square and the promenade from St. Mark's Square to the Venice Biennale, it is costly for a cup of coffee or something else. So watch where you use your wallet...
Start looking for a cheap place to sleep in Venice

You have read about how I suggest finding cheap hotels in Venice Italy. Please click on the links to explore my site more and get information about the different topics. 
Return from 'Cheap Hotels Venice Italy' to 'Cheap Venice Hotels'
Continue reading: