Have a Choice between a Hotel Mestre or Lido? 
I will Tell you Differences & Tips of Each Location
So you can Make a Choice with Better Options
Home >  Cheap Venice Hotels >  Hotel Mestre or Lido >
A cheap Hotel Mestre or Lido? Staying in a hotel nearby Venice Italy is ideal, but there are also some disadvances. I will tell you more about these locations outside the historic center of Venice. 
First, it is good to know that Mestre is the city where you can quickly catch the train or bus to Venice, just 15 minutes. And Lido is the island where you can reach the heart of Venice by a vaporetto boat within minutes.

I prefer a hotel on Lido because you can already breathe the atmosphere of Venice when you wake up each morning. You are already in the lagoon, and you can go smoothly with the vaporetto boat to st. Marc Square. Hotels in Lido are relatively cheaper and romantic...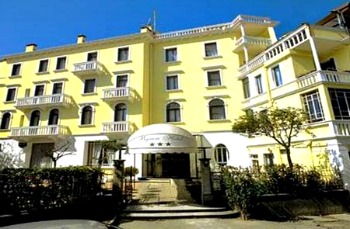 Hotel Byron on Lido Venice Italy
The hotel that I recommend regarding price/quality is Hotel Byron on Lido. But you can feel free to take another hotel that is available on the island. From Hotel Byron you walk in 10 minutes to the vaporetto stop to go to Venice (15 minutes with the vaporetto boat). 
It is good to buy a tourist travel card for a few days when you stay on Lido. You can travel unlimited between Venice and Lido by vaporetto boat, but also in the rest of the lagoon, this card is valid. 

One major drawback with a hotel on Lido is that the transport from the airport to Lido is complicated and lengthy in duration... But as you read on this website, there are plenty of alternatives. And transportation from and to Marco Polo Airport is comfortable with the Alilaguna boat. You have to take the red or the blue line.
Okay, thanks for this advice. But, my biggest desire is...
...Which Location is Cheaper; a Hotel Mestre or Lido?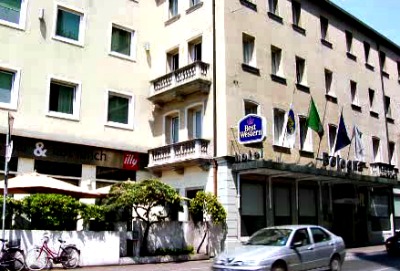 Hotel Bologna in Mestre near Venice
A hotel in the town of Mestre is convenient if you have booked a hotel near the railway station of Mestre. To reach Venice the fastest and most accessible way is by train or bus. The train is cheap and good.
But the hotels at the station in Mestre are quite expensive. If your hotel is not within walking distance of the train station, you need a local bus or a private hotel shuttle bus to Venice that often costs money.
Your hotel in Mestre doesn't have the peaceful setting as it is on the island of Lido. Mestre has a city environment and hotels are sometimes nearby industrial places.

Didn't find the information? Search within Venice-Information.com
Jul 03, 22 09:57 AM

How to get from Airport to Venice? Cheapest way? Best Transfers Options & Quickest Water, Bus, Taxi Service.
Top 3 Populair Activity to do in Venice

Lido has cheaper hotels, but it can be uncomfortable when you travel from Airport to Lido. Mestre is convenient when your hotel is near the trainstation, but the hotel rates are higher.
Mestre also has cheaper hotels in the outskirts of Mestre or Marghera. But, you have to transport by bus or a shuttle bus. 
I prefer and recommend a hotel on the island of Lido. Tips for sightseeing in Venice you can read it on my site ;-)... But my biggest advice is above all; go wandering around in Venice, stop at a pretty square and drink your favorite drink and search in advance for a good restaurant for in the evening...
Take pictures in deserted alleys and posing on bridges, and maybe a gondola ride. Visit on a non-busy time the Basilica San Marco and the Doge's Palace. If you have time visit the islands of Murano, Burano, and Torcello.

I wish you lots of fun and let me know how it was...
You read about a hotel on Lido or in Mestre. There is plenty to explore. Read my site about Venice and get more information about this beautiful Italian city.
Return from 'Hotel Mestre or Lido' to 'Cheap Venice Hotels' >
Continue reading: