Stay at Hotel Lisbona Venice

Great Location 3-star hotel
Location, location, location! Hotel Lisbona Venice is located 100 meters from Saint Mark's Square.
This 3-star 18th-century Venetian-style hotel was my first choice when I visited Venice long ago.
A great hotel when you are visiting Venice. Hotel Lisbona enjoys the privilege of a central location with a fare night rate. Convinced? Check rates & availability >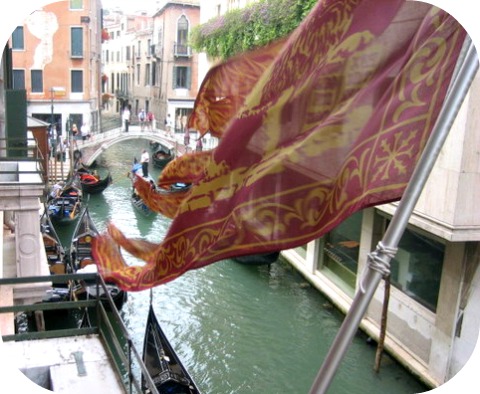 Venice's main tourist attractions, monuments, and landmarks are within easy reach. And the whole area around the hotel is a fashionable shopping district!
Almost all the rooms overlook the romantic San Moisè canal and are decorated with brocade walls and baroque furniture. Of course, this is the traditional Venetian style, but it is pretty outdated. All hotel rooms feature a private bathroom, bath or shower, hairdryer, and toiletries.
Tip: Small and cozy hotel rooms are standard in Venice, Italy. When I entered my room after climbing the steep stairs, I thought, 'this is quite a small room....' But it was spotless and comfortable.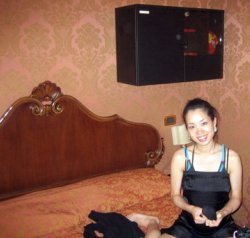 The bad point is; that the small room makes it difficult to move around. When you have more than one suitcase, it might be a problem. On the other hand, the bathroom has just enough space to take a shower. Check Lisbona Hotel >
When opening the windows, I could see the famous San Moise canal. Watching and hearing the gondoliers chatting and singing. They prepare the day early in the morning by cleaning their gondolas.
Hearing Venice's hustle and bustle made it a fantastic experience for me. So, the noise might be a problem if you prefer silence. For a quieter place, I suggest you have your hotel in another district of Venice.
WiFi is available, but it's not free of charge;
Check-in is from 14:00;
Checkout is until noon; Payment can be made by: American Express, Diners, Visa, Euro/Mastercard, and JCB;
Price: EUR 80 – 195 per night per room, depending on the season.
Convinced? Check rates & availability >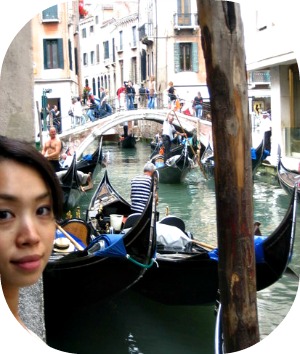 The staff is accommodating and friendly. Hotel Lisbona Venice has 15 rooms. All rooms have air conditioning. The long stairs to move up to the 3rd floor are steep, which is not lovely with heavy suitcases. If you are not able to do this, please ask the staff. There is no lift/elevator.
Expect no fresh fruit or fried eggs for breakfast. Instead, there are croissants, bread, cold meats, cheese, cereal, fruit juices, etc. It is a simple continental breakfast and good enough to start the day.
There are a few amenities at the Hotel. Still, it is excellent if you're just looking for a place to stay and experience Venice.
My thinking was that I only needed to sleep. For the rest of the day, I will be wandering through Venice. Nevertheless, the Venice hotel must be comfortable when I return from my day in Venice, Italy.
Location of Hotel Lisbona Venice
Ideal location: Easy to find, but remember, the streets of Venice are like a maze. So prepare your way to the hotel Lisbona. First, you take vaporetto line 1 or 2. Get off at the stop S. Marco Valaresso.
Then on the quay, take the street 'Calle Vallaresso.' You will pass the famous Harry's Bar. You definitely should have a drink and snack over here.
At the end of this street, take a left. You are now walking in the Venice brand Shopping district. Finally, you will arrive at a small square facing the Chiesa DI San Moise Cathedral.
When crossing the bridge, take an immediate left towards the gondoliers. The quay is getting narrower, but in the end, you will find the hotel entrance, which is lovely. Fascinating to watch. It's next to a gondola station.
Address: Hotel Lisbona Venice, San Marco 2153, 30124 Venezia.
Convinced? Check rates & availability >
"I advise people to visit Venice. And when they stay long, they should have their hotel in Venice one day. 3-star Hotel Lisbona Venice is the kind of cozy hotel you want. The location is exceptional, and a gondola place nearby gives you the Venetian feeling you expected to experience when you booked your holiday in Venice.
Hotel Lisbona is easy to find. Take the ATVO transfer bus from Treviso and take vaporetto boat no. 1 or no.2. Take out at S. Marco Valaresso. I mean, how easy it can be. The hotel's location is in a vibrant part of Venice, and it's great!" 
Have A Great Story About a Venice Hotel?
Do you have a great story about this? Share it! Write about it here! Display your own story about your Venice Italy Hotel. Writing skills? Your comment will appear on a new webpage. Make it as long as you want with photo's and your story.
Didn't find the information? Search within Venice-Information.com:
Mar 30, 23 02:57 PM

Get your Information about Venice here and check this Review Apartment Venice. Write a Review Apartment Venice.
Top 3 Populair Activity to do in Venice

Start looking for a cheap place to sleep in Venice

You've read about Hotel Lisbona. There is plenty to explore as you see. Discover Venice on my site and get more information about this Italian city.
Return from 'Hotel Lisbona Venice' to 'Venice Italy Hotels'
Continue Reading: